Madame Morbid is Brooklyn's only locally owned and operated haunted history tour company, which will give another, darker view of Brooklyn!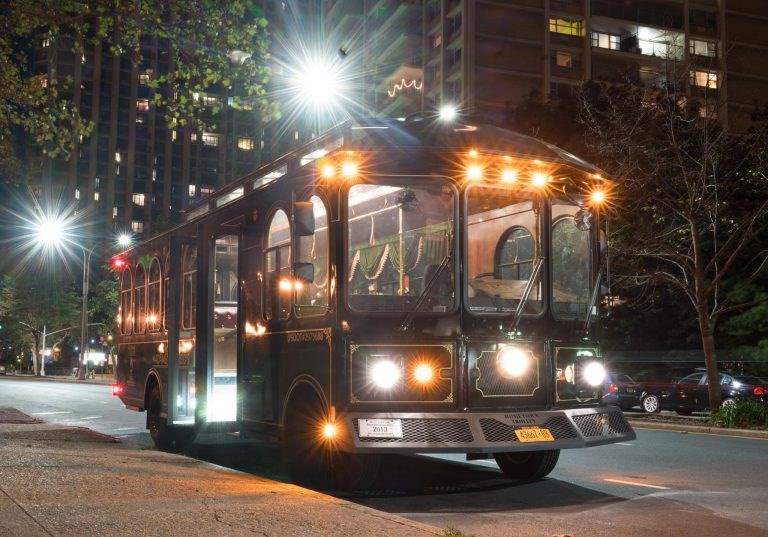 With an aesthetic of Wednesday Adams having arrived in Brooklyn in her funeral-parlor inspired trolley, Madame Morbid tours will take your through Brooklyn's history like no other. From intriguing deaths to turn of the century medicine, this tour will have you looking at New York City's dark history with eyes wide open!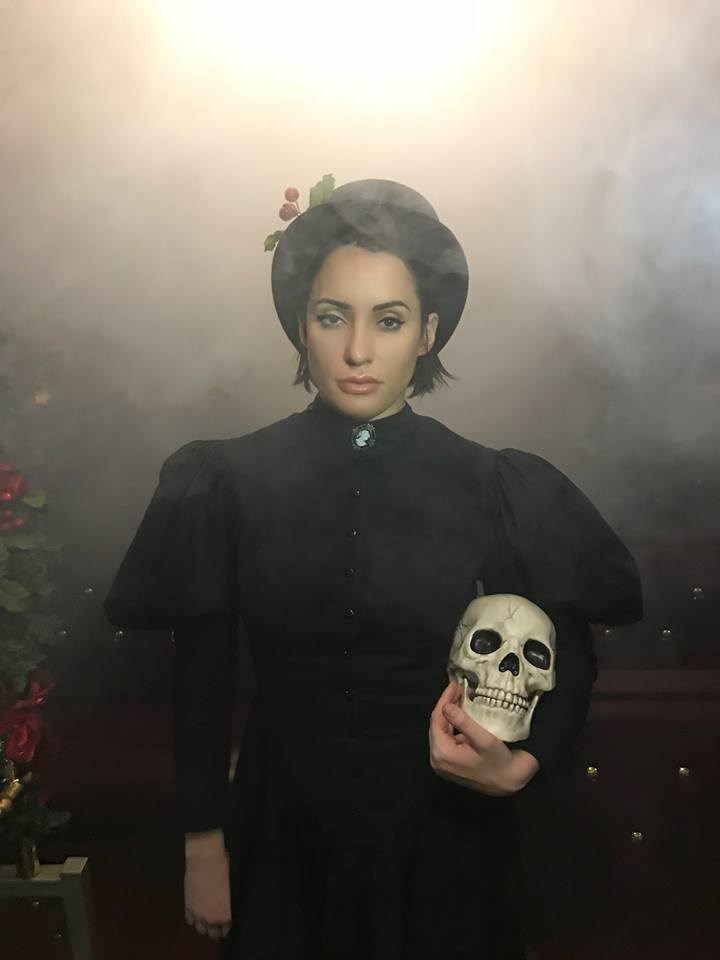 Explore Brooklyn: You grew up in Hartford, Connecticut and went to school in New York City at the School of Visual Arts. What was it about Brooklyn that made you create a tour here?
Madame Morbid: Well, I was in Manhattan for ten years and I always said I would never leave, even though I hated [living there]. One day, I just decided that I was either going to move to Boston or someplace else, but I thought that Brooklyn was just the baby step of getting out of New York altogether, but literally the day I moved [to Brooklyn], I fell in love, and it was like a whole different [place].
EBK: How did you form the idea to construct tours that focus on ghosts, murders and spooky stories of the past?
MM: Since I was like three years old, I have always been obsessed with ghosts. It's my family's favorite topic — while none of us believe in ghosts. [However,] we are obsessed with them and the idea of them. I mean, I don't want to see one — well, do I? I tell people that it's like time travel, it's not an [actual] thing but it's such a fascinating topic.
EBK: Where does the tour take us, and how does it present Brooklyn?
MM: The tour goes to Williamsburg, the Brooklyn Navy Yard, DUMBO, Boerum Hill, Park Slope, Gowanus, and Prospect Heights, while we explore prohibition throughout Brooklyn in the '20s.
Brooklyn [has always been thought of as] more of a neighborhood tour rather than a "city tour," and especially tourists tend to venture out to Brooklyn less. So, this is a way [to visit]. If your friends or family are visiting, you can [experience] the borough, and learn about each of the neighborhoods' histories. So basically, we tell the unflattering stuff that other tours don't want to tell— you know the stuff that makes Brooklyn, not look bad, but what made it what it is today, and how's it evolved.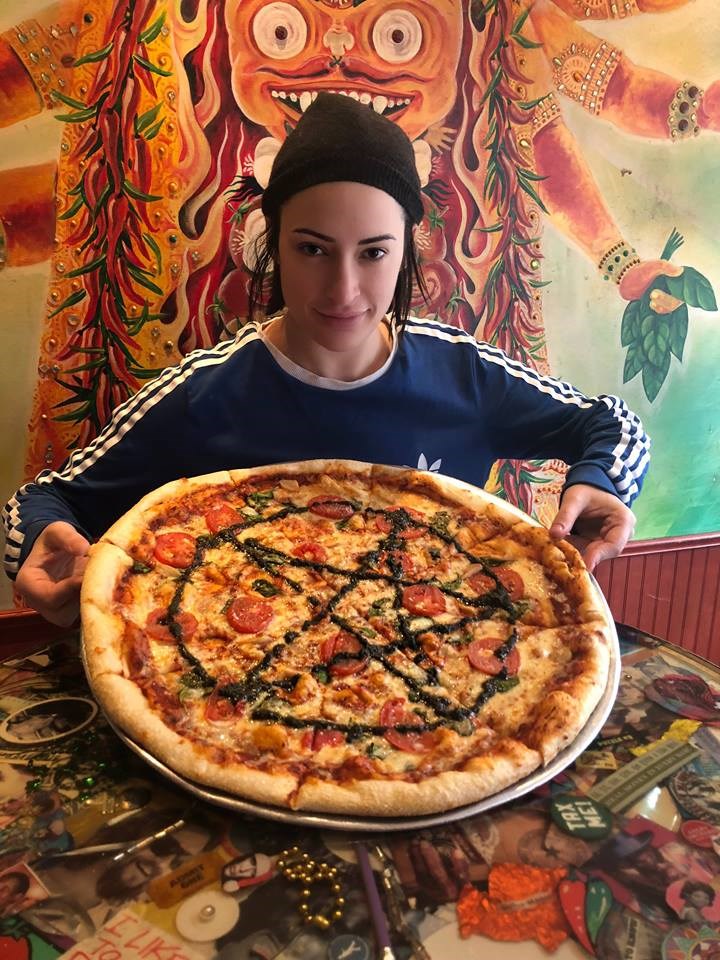 EBK: The idea of sitting in a funeral parlor-inspired trolley outfitted with cushioned leather seats, chandeliers and velvet curtains is already drawing me in as a first-time rider. How did you come up with the design for the trolley?
MM: Well, [it looks old, but] it had to be new because old things freak me out and smell weird. I thought it would be great to go places in it that aren't so obvious, like the places that people don't venture out to as much. There is so much cool history that's untapped and no one realizes it, [such as] Edgar Allen Poe has a house in the Bronx, so there are many cool [historical] things that we don't inquire about.
EBK: Tell me a bit more about your partnership with Two Boots pizza and how your Madame Morbid slice came about?
MM: We try to partner with neighborhood favorites and staples, so right now we're working on different partnerships, one with Two Boots, and one with Brooklyn Brewery, which is really exciting.
EBK: If there were three things people could take away from experiencing your tour, what would they be?
MM: I would like everyone to be an amateur Brooklyn historian when they get off [the tour]. You'll see it's not so much of a ghost tour as a true crime tour. I want [the guests] to be shocked by some of the information they hear. [Sometimes] people think they know everything about a place and say, "why would I want to ride around Brooklyn? You won't usually hear these [so-called] morbid things anywhere else, which makes this tour special. I named it the "morbid tour" because we focus more on just the death and the practices around the world as well. It's so fun, it's more of a show on wheels — you'll see.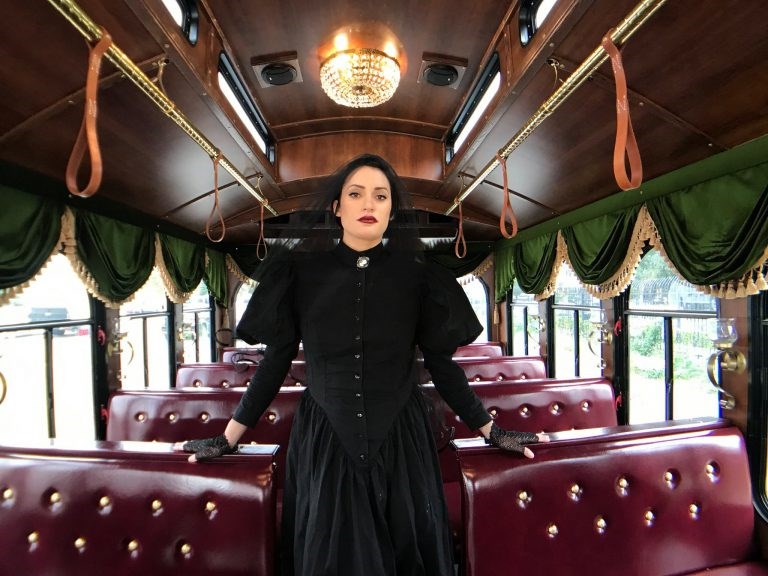 EBK: What is your ultimate favorite haunted location in Brooklyn and why?
MM: Well, there is a spot where a plane crashed down in the middle of the street in the 1960's, like a commercial jet, and people who have lived here their whole lives barely remembered it, or had heard of it, because it had been wiped away from the news.
Lately, I've been into [the history of] turn of the century medicine, and we talk about that a lot relating to the Brooklyn Navy Yard, which is where modern anesthesia was invented, so I am super into that lately, that part of the hospitals and experimentation period. It's funny — you'll hear about it, I don't want to spoil the tour.