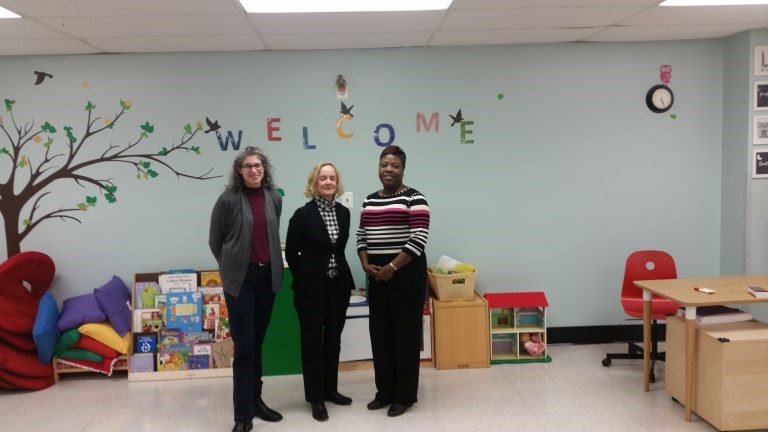 It's no longer rocket science: Studies show that the support you receive as a child has a strong correlation with the type of opportunities you have later on in life.
In Brooklyn, the City's most populous borough, all too often young parents and small children-- both in very vulnerable stages of their lives-- can easily slip through the cracks. Fortunately for Brooklynites, there is help: the Nurse-Family Partnership for first-time mothers.
The Nurse-Family Partnership in Brownsville is an arm of the SCO Family Of Service. NFP is a nationally recognized, evidence-based program of counseling and support. Their specially trained nurses make home visits to expectant mothers during the early stages of pregnancy and through the child's second birthday, to ensure parents deliver healthy babies and become good parents.
"They are our foot soldiers," said Magalie Joseph, a nursing supervisor with NFP. "These nurse visitors wear many hats-- life coaches, case managers and other things. It's a very unique role for nurses to have."
At any given time, the Nurse-Family Partnership supports up to 400 families in Brooklyn.
Maggie Petrosky, the director of the Nurse Family Partnership, further elaborates on the role Nursing Visitors play: " We make sure the expecting mother is connected to medical services, and that she is staying healthy and making smart choices. The Visiting Nurses usually meet with their clients twice a month."
In addition to all this, the NFP makes sure its clients are continuing their education, whether that means staying in high school or applying to college. Having a confidential ear for these mothers can be quite a boon for these young mothers.
"A lot of our clients can be in crisis mode during those trying first months of pregnancy or motherhood," explained Hillary Fairbanks, another NFP supervisor. "[Our goal] s to empower these mothers to not only be the best parent they can be, but also help them figure out what kind of person they want to be as well."
The Nurse-Family Partnership hopes to improve their visibility in Brooklyn.
"There are a lot of people who aren't aware of who we are and what we do yet," said Joseph. " Our program is open to any mother looking for help with their firstborn."
Faribanks added, "Our program is inclusive. We aren't just for mothers, but often the mothers' partners are closely involved with our process."
At the end of November, Fairbanks, Joseph and Petrosky recently said goodbye to a handful of their clients during a graduation ceremony.
"It's always great to hear our candidates speaking about their experiences and to see how far they've come in two years. In the beginning, most of our clients are uncertain if they can keep a two year commitment," said Joseph. "However, near the end, mothers are always wishing they can stay on with us longer,"
For more information about the Nurse-Family Partnership or to refer someone, visit their website or call 311.