All Senator Zellnor Myrie wants for his birthday is for New Yorkers to vote.
The chair of the Senate Elections Committee, who was aptly born on Nov. 3, held a press conference Saturday morning in front of the Brooklyn Museum, where voters lined up to cast their ballots on the first day of early voting in New York City.
"We want to encourage as many people to take advantage of early voting as possible," Myrie, who authored the bill that made early voting possible in 2019, said.
He added: "There are things to be sad and distraught about, but today is a day of hope and we stand here hopeful because reports of our democracy's demise are greatly exaggerated."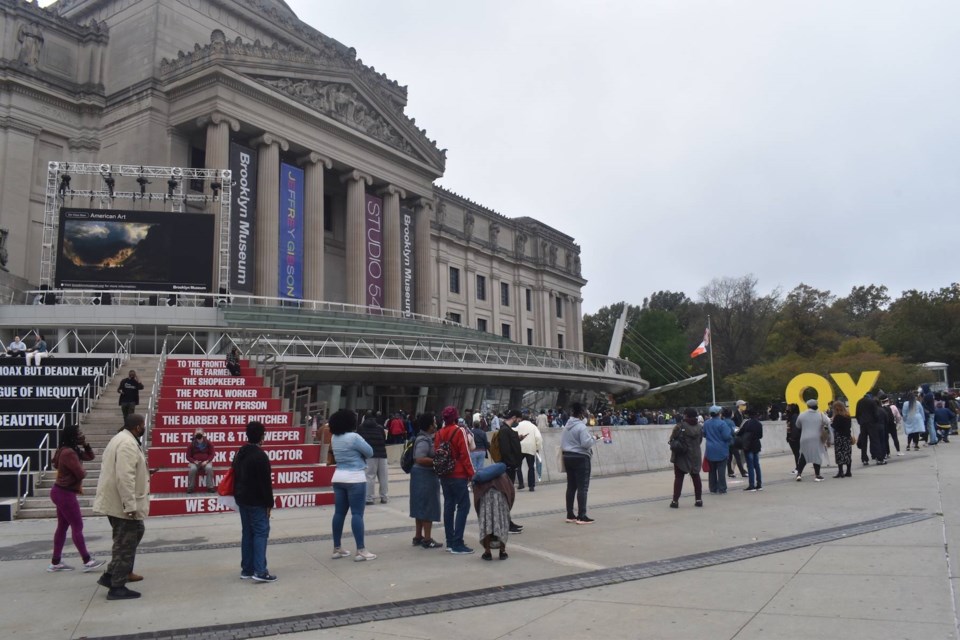 Alongside Myrie were Attorney General Letitia James, Representative Hakeem Jeffries, Public Advocate Jumaane Williams, Representative Yvette Clarke, Assembly Member Diana Richardson and Senator Kevin Parker, among others. Councilwoman Laurie Cumbo joined later after spending her morning at the Barclays Center polling site.
While early voting was sparsely used during the 2019 elections and the 2020 primary, Saturday marked the first time this option was available to New Yorkers during a presidential election.
Enthusiasm was high, and according to Myrie some voters showed up to the site as early as 6 a.m. Socially distanced lines stretched alongside the museum and around the corner down Washington Street, as a mosaic of Brooklynites patiently waited to participate in the historic day.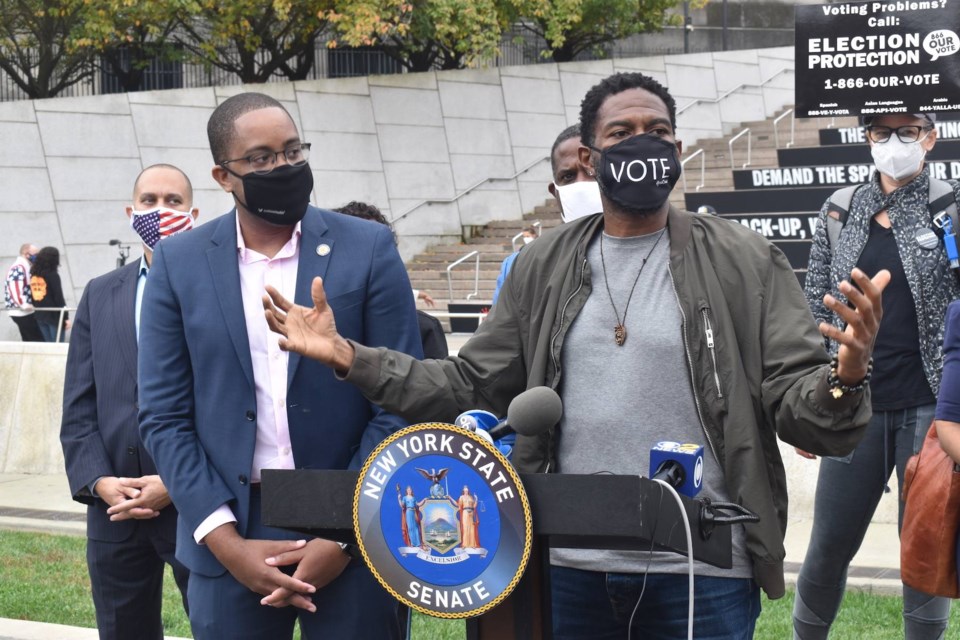 Speakers were optimistic long wait times would not scare voters away.
"I'm hoping that people do not get discouraged by seeing these lines. You should feel encouraged that people are participating," Williams said, adding defiantly "it don't look like a ghost town to me."
According to an unofficial count by the NYC Board of Elections, 93,830 ballots were cast citywide on the first day of early voting, including 29,411 in Brooklyn, by far the most of any borough. By the end of the weekend, that number had climbed to 193,915, of which 61,315 voters were from Brooklyn.
The message from elected officials was clear.
"This administration represents an existential threat to all that we believe in," James said, a sentiment echoed by the other speakers.
Clarke, who brought her parents with her Saturday to vote, called it "the election of our lifetime," and while looking out at the throngs of voters said, "the cavalry is pulling up and has arrived."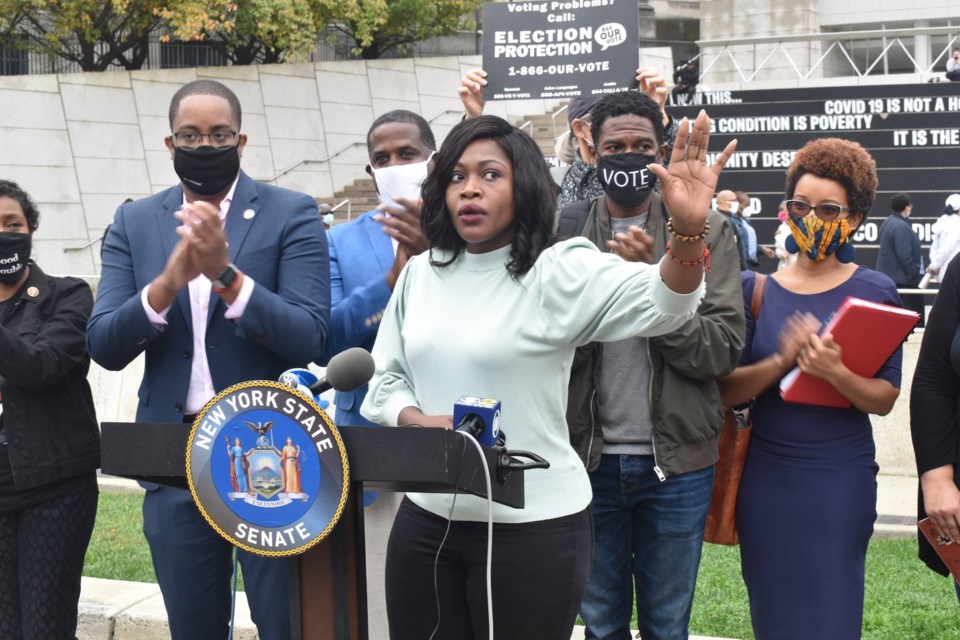 Several officials specifically pointed to the work of voting rights advocates like Lurie Daniels-Favors, interim executive director of the Center for Law and Social Justice at Medgar Evers College and Susan Lerner, executive director of Common Cause NY.
"I cannot stress the importance of this moment," Daniels-Favors said. "For New Yorkers of African descent we only got access to civil rights in this country in 1964. We only got access to the ballot without facing lynch mobs in 1965."
She said those who fought for these rights didn't do so for "some altruistic slice of Americana pie," but instead because they saw "in this society the equitable distribution of political power and resources relies on a voting basis."
Early voting will continue every day through Sunday Nov. 1 at 88 sites citywide. Election Day is on Tuesday Nov. 3.
Myrie said he expected "that we are going to carry that momentum through all nine days."