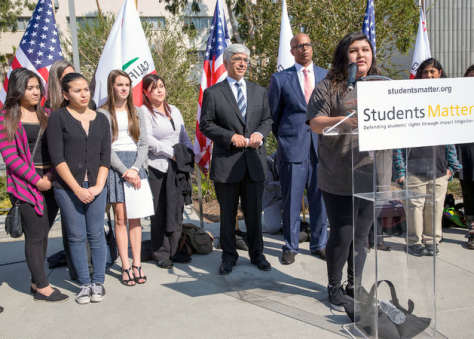 A Los Angeles court ruled on Tuesday that teacher tenure laws are unconstitutional because they protect the jobs of bad teachers and deprive students of their constitutional right to an education, reports the New York Times.
A group of student plaintiffs in the case, Vergara v. California, argued that state tenure laws had deprived them of a decent education by leaving bad teachers in place.
Judge Rolf M. Treu of Los Angeles Superior Court wrote in the ruling, "The evidence is compelling. Indeed, it shocks the conscience," noting how current teacher tenure laws so disproportionately impact poor and minority students.
The landmark decision was a big blow to unions and will likely set up legal actions in many other states.
"We believe the judge fell victim to the anti-union, anti-teacher rhetoric and one of America's finest corporate law firms that set out to scapegoat teachers for the real problems that exist in public education," said Joshua Pechthalt, the president of the California Federation of Teachers. "There are real problems in our schools, but this decision in no way helps us move the ball forward."
The teachers' unions said Tuesday that they planned to appeal.
But a spokesman for the state's attorney general, Kamala D. Harris, said she was reviewing the ruling with Gov. Jerry Brown and state education officials before making a decision on any plans for an appeal.