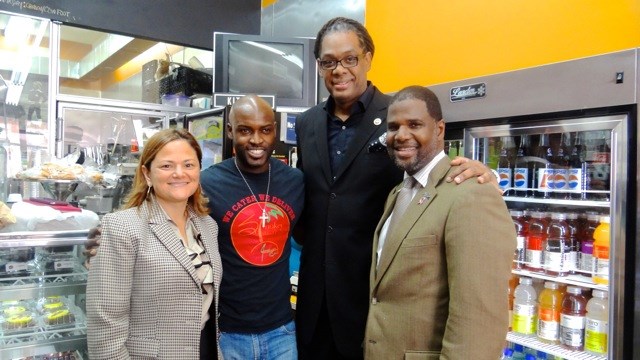 Thursday afternoon, City Council Speaker Melissa Mark-Viverito made a lunch date with City Councilmember Rob E. Cornegy, Jr. and Michael Lambert, executive director of the Bed-Stuy Gateway Business Improvement District.
The plan? A stroll down Fulton Street in Bed-Stuy to soak up the sounds, sights and vibes of the fast-developing commercial corridor.
The three met up at the newly opened Smokey Island Grille on Fulton St and Nostrand Ave, where the Speaker chatted with the restaurant's co-owner Tai Walker about his experience as a new business merchant.
The three made themselves a hot plate of yummy Jamaican food to-go, and then it they were off on their leisurely stroll!
They walked east along Fulton, as Cornegy and Lambert shared with the Speaker some of the highlights of the business district, including the area's retail diversity, emerging markets and recent beautification efforts.
"Michael has worked very hard on retail diversity because there was a time where there was nothing but hair salon, nail salons, liquor stores," said Cornegy. "But now, as you can see, there is a great degree of retail diversity.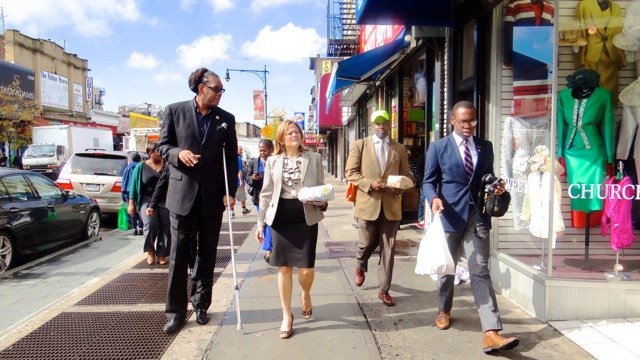 "I'm dying to set up a BID in my district," said Mark-Viverito, waving to passersby. "We have a business corridor—not as big as this—but we want to preserve and have it thrive in the same way."
Cornegy also talked about some of the recent challenges some of the businesses have faced with the longstanding construction along Nostrand Avenue that has caused traffic congestion, impeded parking and, in some cases, depressed retail sales.
"But it's wrapping up now, actually," said Lambert. "They're going to do the final paving of this stretch Saturday morning."
After stopping into a few more storefronts to greet the owners, the group ended the short tour at Cornegy's office at Restoration Plaza, where they had lunch in the councilman's conference room.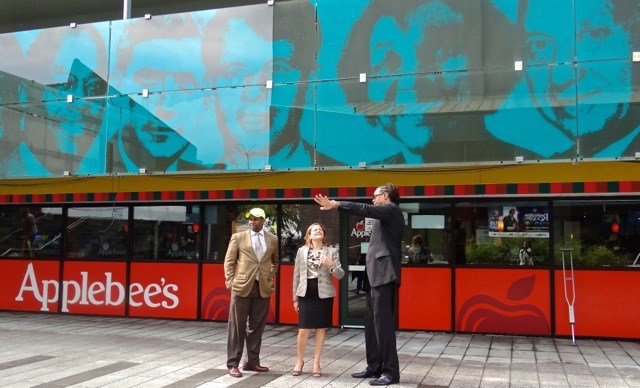 "I didn't know much [about Bed-Stuy]," said Mark-Viverito. "So it was good to take a walk and a stroll and check it out. And it's a great way to gain an appreciation, because every neighborhood is unique. So obviously the goal and function of a BID changes because the needs of each neighborhood are very different.
"But really what's amazing in this BID is the vibrancy of the family of businesses. It's very diverse. So the importance of the BID is so much more so here. I'm trying to get a BID in my district in East Harlem," she said.
"But keeping a diverse mix of mom-and-pop shops with larger retail is important. And I think that's what a BID is really good at doing-- standing in strong support of the community to keep that diversity in existence which becomes threatened when a neighborhood grows quickly as this one has."