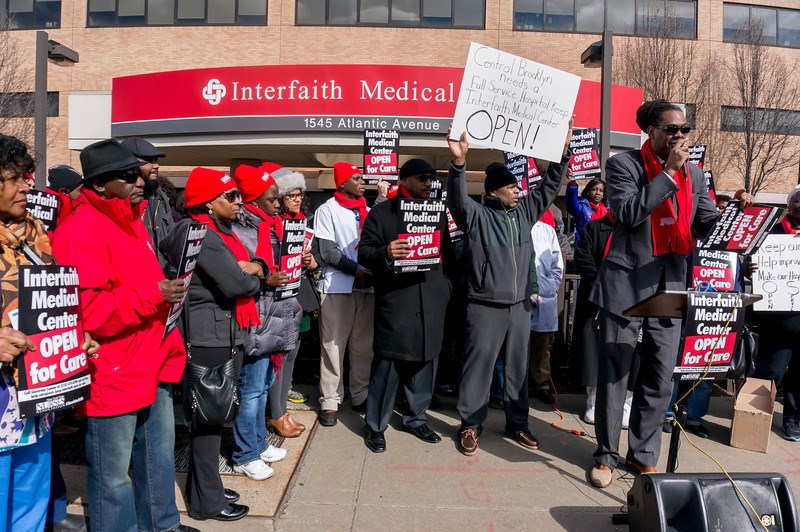 Following what has been a year-long battle between the public versus the state, Interfaith Hospital-- the cash-strapped Brooklyn medical facility in Bed-Stuy-- is expected to close shortly after Christmas, according to hospital officials.
On Monday, a judge is expected to order the closure of the hospital, said a spokesman for the judge handling the case, reported New York 1.
Officials say the 287-bed facility, which employs around 1,500 people and serves over a quarter million residents of central Brooklyn, has been operating at a loss of $3 million per month. The Bedford-Stuyvesant hospital filed for bankruptcy a year ago. And since that time, the community creditors, unions and hospital officials have rallied tirelessly, filing proposal after proposal of ways to keep it open.
Interfaith has had a long history of financial problems rooted, reportedly, in the mismanagement of money.
Or, perhaps, it is a lack thereof.
A scan of the last decade shows that Interfaith's financial woes are not singular nor are they unique: Since 2000, an astounding 19 hospital have been shuttered across the city, all owing to financial problems.
Interfaith's money woes seemed to worsen beginning in 2010, following a cut in Medicare reimbursements which cost it half its revenue. And the battle to save Interfaith has been lockstep with another fight mounted almost simultaneously on behalf of Long Island Community Hospital in Cobble Hill.
"Both institutions realize that this is not an individualized attack on hospitals," said District Leader and City Councilman-elect Robert Cornegy, Jr. (56th AD), who has been at the forefront of the battle to save the financially troubled hospital. "It is an overall attack on healthcare delivery for the borough of Brooklyn. So individual institutions are beginning to see the need to collaborate."
Cornegy pointed out that Interfaith has had several stays of execution, the first one in August when Mayor-elect Bill de Blasio filed a TRO (Temporary Restraining Order).
Then, in October, a temporary infusion of cash was precisely the life support Interfaith needed-- well, enough to at least last through the new year.
Public pressure has been and continues to be the hospital's only hope. Just this past Tuesday, the SUNY downstate board of trustees responsible for the legal administration of LICH successfully voted down a controversial proposal which would have converted a majority of the struggling hospital into luxury condos.
The vote against the proposal may have been due in part to strong and widespread opposition which, as the New York Times reported, may have swayed the vote of at least one trustee, Joseph W Belluck.
There is one key circumstantial difference between SUNY and LICH, Cornegy noted, namely that Interfaith "being a private facility doesn't succumb to the same city and state pressure that a LICH would."
However, many have come to see the struggles of LICH and Interfaith as fundamentally intertwined.
As the year comes to an end, hospital's advocates have entered into new mediation talks on how to keep the hospital on life support. And on Saturday morning, local, state and city officials met once more to strategize on a brand-new plan of action, with a defense organized around public advocate-elect Letitia James.
The hospital clearly still has a pulse. But has the time finally come to unplug the cord?
On Monday, a judge will decide.