The move to observe America's native populations first began over 40 years ago, in 1977, by participants at the United Nations International Conference on Discrimination against Indigenous Populations in the Americas.
And with each passing year, an increasing number of people are choosing Columbus Day and Thanksgiving to also honor Native-American culture, as its land and people were devastated by the very things we, as Americans, celebrate.
This year marks the first time a U.S. president has officially recognized Indigenous Peoples' Day, with President Joe Biden issuing a proclamation to observe this Monday, Oct. 11 as a day to honor Native Americans.
"Since time immemorial, American Indians, Alaska Natives, and Native Hawaiians have built vibrant and diverse cultures â€" safeguarding land, language, spirit, knowledge, and tradition across the generations," Biden said in the proclamation.
"On Indigenous Peoples' Day, our Nation celebrates the invaluable contributions and resilience of Indigenous peoples, recognizes their inherent sovereignty, and commits to honoring the Federal Government's trust and treaty obligations to Tribal Nations."
He added that for generations, Federal policies sought to assimilate and displace Native people and eradicate Native cultures.  "Today, we recognize Indigenous peoples' resilience and strength as well as the immeasurable positive impact that they have made on every aspect of American society," he said.
"We also recommit to supporting a new, brighter future of promise and equity for Tribal Nations â€" a future grounded in Tribal sovereignty and respect for the human rights of Indigenous people in the Americas and around the world."
Native American culture and history will be celebrated in Brooklyn this Monday through educational events at Brooklyn Children's Museum and Brooklyn Public Library.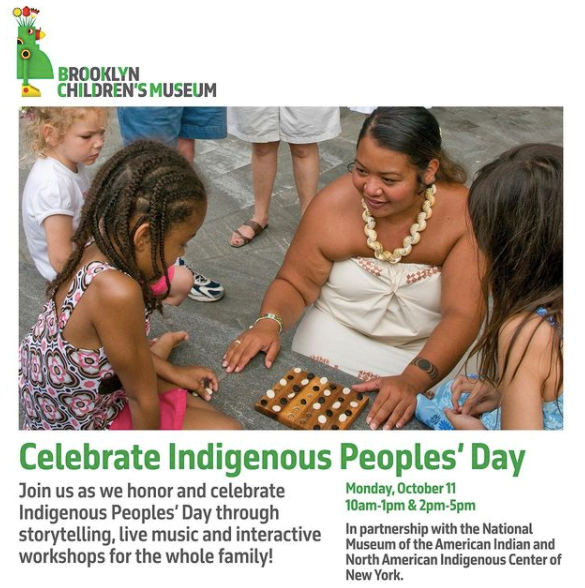 Brooklyn Children's Museum will be celebrating indigenous histories, cultures and heritages with storytelling, performance, games and art-making on the museum's rooftop. The museum is partnering with the National Museum of the American Indian and North American Indigenous Center of New York for the day of programming. You can purchase tickets for the day here.
Later in the day, Brooklyn Public Library is hosting an online film screening for Indigenous Peoples' Day. Smoke Signals, a comedy/drama, directed by Chris Eyre, is centers on how Native American man Adam Beach deals with the death of his estranged father.
The library's Services for Older Adults and Land Acknowledgement Committee will meet at 7:00pm for an Indigenous Peoples Day pre-discussion on Zoom.  The Zoom link will be emailed to registrants at 4:00pm the day of the film.
During pre-discussion, the registered audience members will receive a streaming link and additional instructions in order to view the film, which will begin promptly at 7:30pm. You can register for the event here.