Shavone Charles was a babe in the woods, barely out of college when Twitter hired her as the company's first head of global music and culture communications. So successful was she in that role that in 2015, Instagram snagged her to serve as its first head of music and youth culture.
While at Instagram, she created the social media platform's first-ever Black History Month campaign in 2018, which reached more than 19 million followers and featured a series of other first-time initiatives, including a #BlackGirlMagic partnership with Spotify and the launch of the #CelebrateBlackCreatives program.
And that's not all: Aside from setting "firsts" in the boardroom, Shavone C is also a respected artist, rapper and musician. She's the embodiment of the term "lead generator." She's a "creative influencer," a "tech marketing maven," a "culture connoisseur..." And... she's just getting started!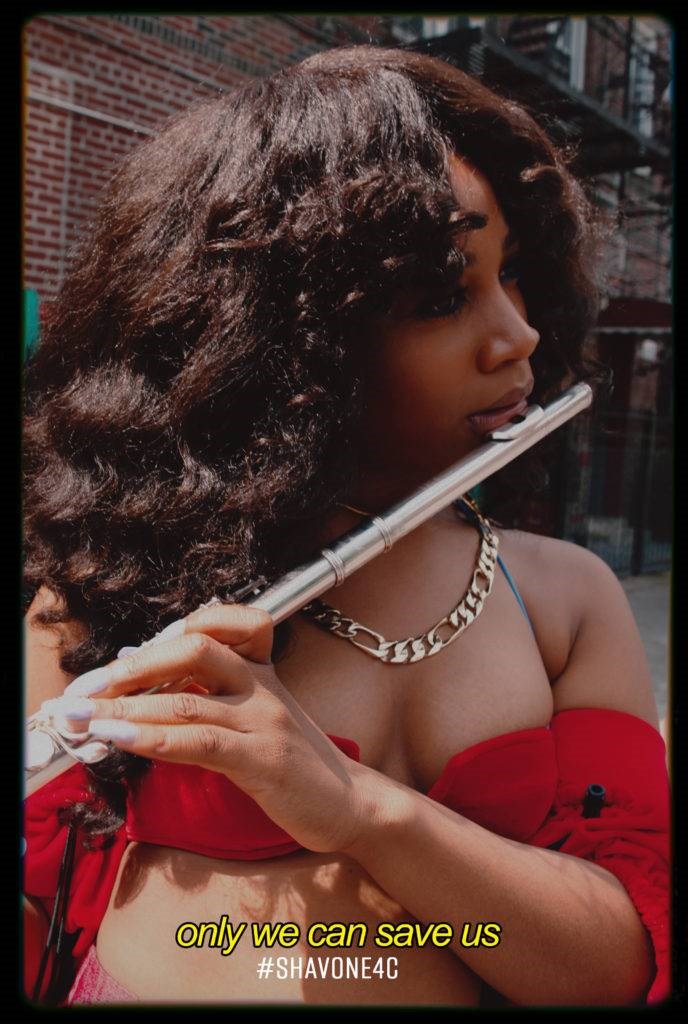 Forbes Magazine peeped all of it and selected Shavone C as one of its 2019 "30 Under 30" in marketing and advertising.
Clearly, Shavone is "doing it for the culture." And clearly, she's one to watch.
Now everyone can do just that-- watch her, that is-- with the debut of a new video she released today entitled, "C4."
Shot in East New York, Brooklyn, with creative direction by Curtis Taylor, Jr. (Magic in Her Melanin), the video is a nod to Women's History Month and serves up an earful and eyeful of #BlackGirlMagic by celebrating the diversity and beauty of black women through their relationship with each other and... their hair.
The video features 25 of today's most-influential next-gen voices in fashion, beauty, activism and art with special nods to Nigerian dancer Nestraya; Instagram beauty star Nnenna B.; Mental health activist and Sad Girls Club founder Elyse Fox; body positivity activist and makeup artist Raisa; the Art Hoe Collective's Gabrielle Richardson; Muslim activist and Equality For Her founder Blair Imani and others.
BK Reader had a chance to sit and chat with Shavone to learn more about her background, her influences, her thought processes, and where she's headed next in her creative journey to the top.
---
BK Reader: What exactly is a "culture communicator," and what has serving in that role meant for you, the tech industry and your target audiences?
Shavone Charles: My mission was about bridging the gap. I think the world is super late as it relates to mainstream coverage and the influence of people of color. They act like it's a new phenomenon. But it's not. People of color and faces of color are the most savvy; we are the pulse of what's cool, what's relevant. Now, people are starting to wake up to see the importance of offline communities and influences like Black Twitter and social movements and activism. Being a woman of color and being a musician, I was able to combine all my interest and create value. There was a lot of educating I had to do in making them understanding how important we are to their growth and why our voices matter. I was able to put 2 and 2 together about what's informational. That's how I kept myself honest with the resources on hand... by giving space for people of color and storytelling.
BKR: What sparked your interest in creating this video, specifically the choice to focus on hair?
SC: My mother owned a hair salon for about 25 years. Just my experience growing up in the salon and what it meant for black women and also the black community at large. Thinking about this black beauty ritual... the hair salon is therapy where we talk and strip ourselves down and build back up. I got to live there, grow there, experienced tragedy there. It was like this haven where you could be your true self. So what I wanted to show was the cross section of black women. We are so different, so nuanced yet bonded by similar experiences. I wanted to make this to shine a light on them around what makes them special and makes them magic.
BKR: The video is entitled "4C." What does that stand for?
SC: In the natural hair community, 4C is a hair texture, a curl pattern that people have a hard time with mending. There's a lot of tension with our relationship with our hair. Like in the hair salon, there's triumph and pain in the transformation process. So 4C is a declaration of unapologetic truth and standing in your truth.
BKR: You were born and raised in California. And you're still based in Cali. What made you choose East New York, Brooklyn, as the backdrop for this video, featuring all of these Brooklyn women icons?
SC: Why Brooklyn? Well, my mom is a huge hip-hop head. She introduced me to Roxanne Shante, Slick Rick, Tribe Called Quest, Mary J. Blige... That was her aesthetic. So my influence in music comes from New York City. The East Coast has always been a part of my idea of what hip hop should sound like.. Also, I chose Susy's hair salon in East Brooklyn, because I've been following Susy on Tumbler, just from keeping myself informed with culture trends, and I've watched her popularity grow. Susy was a huge reason for me to go to East Brooklyn, to her shop to cultivate a new version of the experience I grew up in with my mom. I felt there was something special happening with her, and I wanted the world to see her, as well as see the other women in their native environment.
BKR: What do you hope is the biggest takeaway for people with this video?
SC: I want to show women of color celebrating one another in their true self and in their truth. There's a theme and that's everybody digging their truth-- what's positive but, also, the pain, the tension we walk around with and the struggle that goes into being us and how we wanna communicate that. You see greatness, you see smiles and you see moments of seriousness. That's a representation of the climate we're in. It's not all bad, but it's not all good either. It's a mixture of what we make it... truly letting everybody have a seat at the table when you're talking about women or black girl magic. In the video, I say, "Grandma keep praying, brown bodies still swaying…" It's us trying to find self-care, being unified and having each other's back. We have to stay awoke and stay protected. You'll also notice there are a couple of males in the video. You can't erase them in the dialogue, we need them as allies... having their gaze included in this project and the people I worked with was important for me.
BKR: We've been hearing about #BlackGirlMagic for a few years now. It means different things to different people. What does it mean to you?
SC: Black Girl Magic is gravity. Black Girl Magic is what's found in our strength, our grace, our beauty and resilience; how we survive. I definitely think about my aunt and my mother and my grandmother. I think about the power that we as women wield in the world. Women, period, are supreme beings. And when you match that with melanin, we are superwomen, because we have to be.
You can follow Shavone C on Instagram, Facebook and Twitter.