A new Maternal Health Taskforce has been set up by Brooklyn Borough President Antonio Reynoso to reduce the racial disparities seen in maternal mortality and morbidity rates in Brooklyn. Currently, Black women in New York City are 8 times more likely to die due to a pregnancy-related cause than white women.
Reynoso has made tackling the issue a key part of his agenda as borough president and says he intends to allocate a majority of his capital funding for 2023 to the three Brooklyn public hospitals to upgrade birthing facilities at each.
The upgrades, he says, would include implementing new technology to improve patient safety, expanding birthing options, providing new opportunities for patient education, improving continuity of care, and prioritizing privacy and infection control.
The new taskforce has been set up to guide Reynoso's strategy, and he said the initial members brought "decades of expertise in maternal healthcare, wraparound services, community engagement, advocacy, and other spaces that are needed to holistically approach the crisis of maternal mortality disparities seen in our communities."
"I look forward to working with these experts and literally saving lives."
The taskforce is co-chaired by NYC Health + Hospitals Chief Women's Health Service Officer Dr. Wendy Wilcox and NYC Health + Hospitals/Woodhull Director of Midwifery Services Helena Grant. Other members include former Councilmember Hon. Una Clarke, Department of Health and Mental Hygiene Brooklyn Neighborhood Health Assistant Commissioner Dr. Zahirah McNatt, Brooklyn Perinatal Network, Inc. Executive Director Ngozi Moses and mental health advocate Christina Sparrock.

The taskforce comes as reports begin to show the toll the pandemic took on pregnant women of color, who often found themselves alone in hospital with no one to advocate on their behalf. A recent report from the National Center for Health Statistic showed that deaths during pregnancy and the first six weeks after childbirth sharply increased during the pandemic, especially for Black and Hispanic women.
In 2016, a study found nearly half of first and second year medical students believed Black people have thicker skin than white people and experience less pain than white people. A 2019 study analyzing data from 14 previously published studies on pain management found Black patients were 40% less likely to receive medication for acute pain compared to white patients.
And the discrimination doesn't stop in the hospital room.
At a 2021 town hall that tackled the issues women of color face while pregnant, Spirit of a Woman CEO Shawnee Benton-Gibson shared the story of how her own daughter died after having a C-section, and she remembered first responders arriving and repeatedly asking if her daughter used drugs, questioning if she was seeking a high.
And she went on to talk about how she herself struggled with mental health issues through the birth of her three children to illustrate the importance of support both through pregnancy and after birth.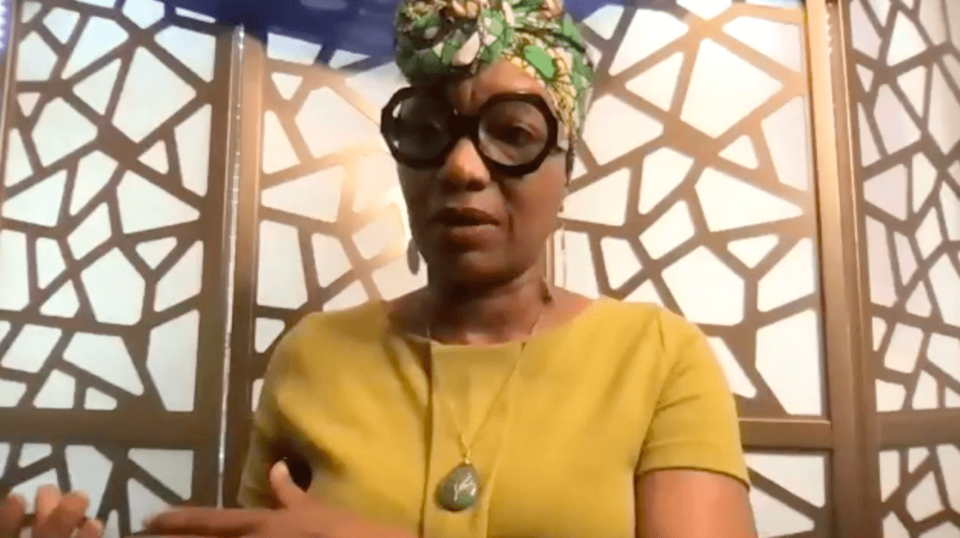 She said pregnancy-related mental health issues could show up in different forms. She experienced, at different times, depression during pregnancy, post-partum depression, hyper-vigilance with her baby, thoughts of harming her child and herself, listlessness and lack of energy.
Reynoso has said he will also be supporting outpatient services, such as social services and community care models, that address underlying issues facing people of color, increasing health insurance access for all birthing people, and taking other steps.
And he's not the only Brooklyn politician throwing their weight behind the issue.
Assemblymember Rodneyse Bichotte Hermelyn — who represents parts of East Flatbush, Flatbush, Ditmas Park and Midwood — has long been fighting for changes in the maternal health care system, especially for women of color, and for her, the fight is very personal.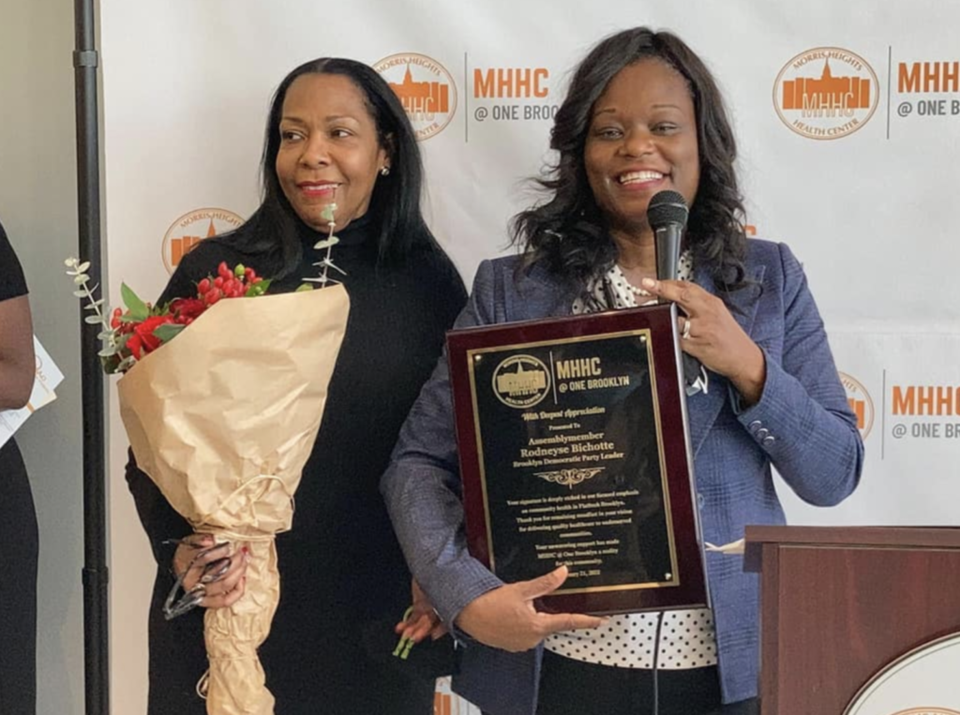 Addressing the crowds at recent march to improve insurance options, Bichotte Hermelyn said she lost her baby boy, Jonah Bichotte Cowen, in 2016 after going into pre-term labor and being turned away from NewYork-Presbyterian hospital because she didn't have the right insurance.
"It did not care about my life. It did not care about my son's life," she said. "It cared about insurance and the cost that it would take to try to save our lives. They told us: Go home, go home, and die."
Bichotte Hermelyn said the experience taught her to fight for families and children who are suffering from hospitals making decisions based on their bottom lines. "My son did not die in vain. No more will we sit around and allow hospitals to mistreat us, women, Black women and children. We're going to fight together."
Bichotte Hermelyn was also active in the establishment of a new health center in Flatbush that includes a new maternal health center that aims to "eliminate the racial disparities in Black maternal care." Morris Heights Health Center opened its new health facility, MHHC @ One Brooklyn, at 1095 Flatbush Avenue.
"With the Maternal Health Center of Excellence, MHHC aims to improve health equity in women's health and eliminate racial disparities in Black maternal care," the center said in a press release.
Public Advocate Jumaane D. Williams also recently rallied in Times Square to honor Black and Brown mothers who had lost their lives due to systemic racism and failures of the maternal healthcare system.
Williams spoke out last year about he and his wife's own experiences with systemic racism in New York as they struggled with fertility issues.
In November last year, he released a report into the problems in Black maternal health care in New York City, and he is calling for the passage of legislation supporting equitable maternal health outcomes.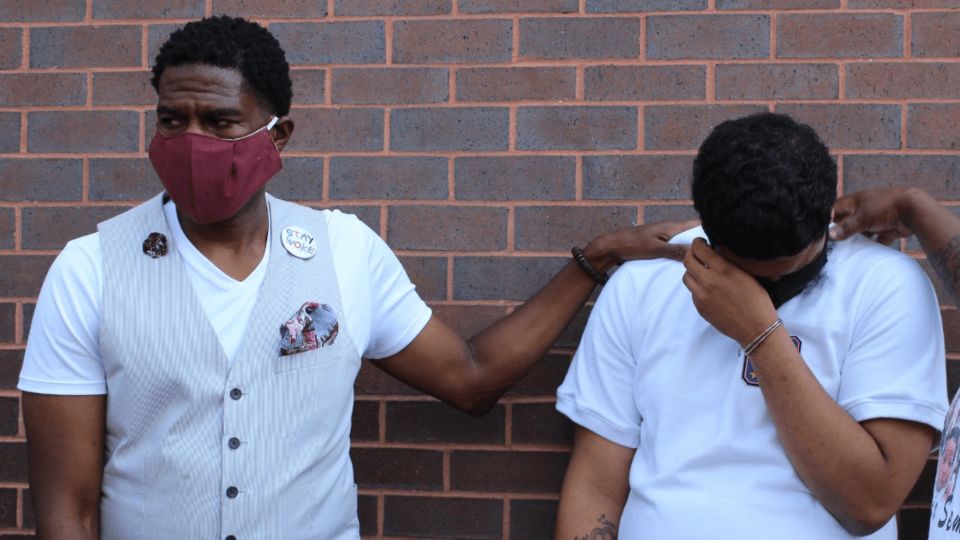 NYC Health + Hospitals Chief Women's Health Service Officer Dr. Wendy Wilcox, co-chair of the new taskforce, said the inequitable maternal health care system in Brooklyn was a "tragic issue" and looked forward to working with Reynoso and other stakeholders in Brooklyn to solve the "complex and difficult problem."
"Every maternal death is a tragedy, not only for the grieving family and community left behind, but for society at large," Wilcox said. "Maternal mortality is a key indicator of the health of a society, and is a reflection of the functioning of the overall health system in the United States."
Other taskforce co-chair, NYC Health + Hospitals/Woodhull Director of Midwifery Services, Helena Grant, said collaborative midwifery care had the power to "reconcile the abysmal statistics in Brooklyn" with other countries through its "relationship-based, shared-decision-making philosophy that addresses issues of reproductive justice, birth equity, health disparities, maternal and infant morbidity and mortality, and primary care."
"I have absolutely no doubt that in this season, under his leadership, shifts will happen that change the trajectory of the birthing experiences and outcomes in the borough of Brooklyn, making it the sought-out place to receive care and give birth in our city."