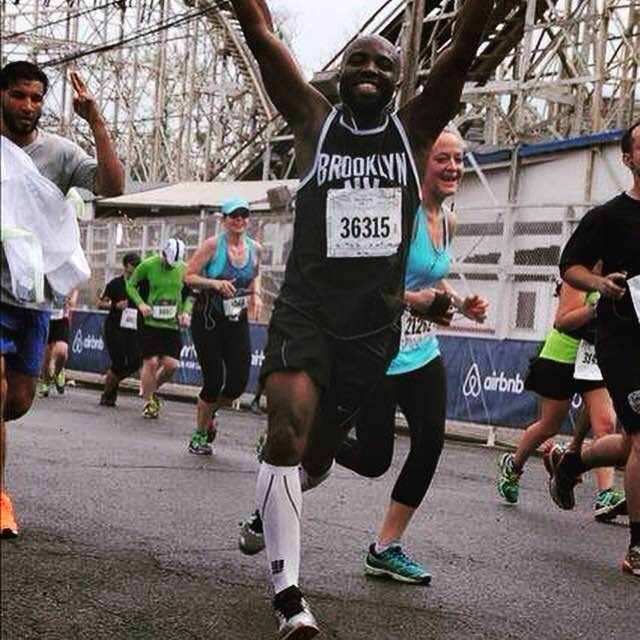 By Tracey Capers, Bedford-Stuyvesant Restoration Corporation, EVP Programs, Organizational Development
In this series, we are highlighting a handful of local residents who will be running the New York City Marathon!
If you see them on the route, be sure to give them a big hand!
Runner: Sean Gay, 42
A life long Brooklynite, Sean Gay moved to Bed Stuy from Canarsie about a year ago. He will be running his first marathon for Team UNICEF where he works as a Facilities Manager.
You ran the Bedford Stuyvesant Restoration 10K a few weeks ago. Had you run the race before? What was the experience like for you?
This was my first Bed Stuy 10K. I ran it with my wife. It was great. You get to see the neighborhood from a different view and in a whole new way. I normally see it driving, biking or just busy. I saw things that I normally wouldn't notice - cool bars, the architecture, the people cheering.
How did you hear about the 10K?
As soon as we moved to the neighborhood, we looked to see how we could get involved. We checked out blogs and websites and were directed to Restoration Plaza as a place to visit. Later, we started to look for local races, and then searched and found that Restoration sponsored a 10K.
What's your training like for the NYC marathon?
This is my first marathon. The training has taken over my life. The day before the Restoration 10K I ran twenty miles. My wife and I originally planned on training together for the marathon, but because she suffered an injury, I am training alone. It is tough. I run at night. I train all day Saturday. Only days to go......
I've run all over New York City. I've run over 3 bridges. I get to see the city from a whole different view. I go to places that I normally wouldn't go to or ever see.
What's your favorite place to run?
Prospect Park
What is goal for the marathon?
I don't have a time that I want to finish in. I just want to finish strong. I want to cross the finish line with something left in the tank. Strong.
Why do you run? Why are you running the marathon?
I really like running. I like the shape that I'm in. I'm in top shape.
There is nothing like crossing the finish line: The accomplishment - you work, train and sacrifice, and then it all comes together.
When you get older, you need different challenges. Through the training, you get healthy, you change your lifestyle. There is a focus. You give it your all. It doesn't matter if you're the last person, but you gave it your all.
Finally, and importantly I am running for Team UNICEF and I've raised nearly $3,000 so that UNICEF can help children around the world who are in need of healthcare, housing, and education. I am thrilled and ready for the marathon.