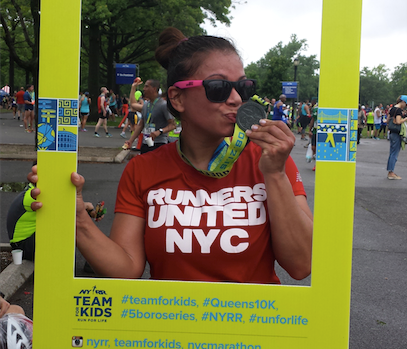 By Tracey Capers, Bedford-Stuyvesant Restoration Corporation, EVP Programs, Organizational Development
In this series, we are highlighting a handful of local residents who will be running the New York City Marathon!
If you see them on the route, be sure to give them a big hand!
Runner: Jazelyn Montañez
Let's all wish Jazelyn Montañez Happy Birthday. She is running her first marathon in honor of her 35th birthday which is a couple of weeks after the marathon. The Pre-School Assistant Teacher at Brooklyn Friends was born in the Bronx but is definitely Brooklyn bred having lived in several neighborhoods since the age of 4. She now lives in Crown Heights. She runs regularly and considers Prospect Park her second home.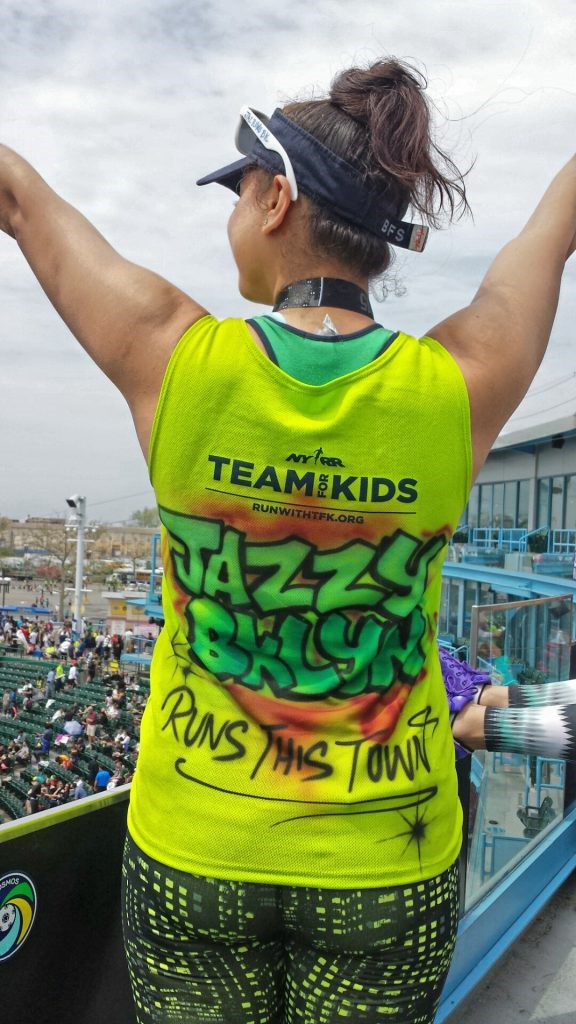 You participated in Bedford Stuyvesant Restoration's 10K. How was your experience?
This was my first Restoration 10K. I found about it last year but had already registered for the Staten Island half marathon which was on the same day. Last year, I decided to make Columbus Day weekend a Brooklyn running weekend. On the Saturday I ran the Rock and Roll Brooklyn Half Marathon, then on Sunday I ran the Restoration 10K. I broke my two personal best times. The Rock and Roll was my fastest half marathon, and the next day I was feeling good and ran my fastest 10K. I finished third overall in my age group.
I loved everything about the run. The weather was perfect. I loved the warm up, I loved the intimacy of the race. I loved running through the streets that I know and being cheered by the volunteers and residents. It was invigorating. It gave me a prelude to the marathon. The race means something: it is about health and taking care of yourself.
This is your first marathon. Tell me about why you are running and your journey to get here.
I'm running the marathon to celebrate my 35th birthday which is in mid November. I've been dreaming about this marathon since I was a child. My uncle ran it three or four times. I grew up in Park Slope on 9th street and 5th avenue. I would walk to 4th avenue to watch runners when I was little. It was a family tradition. So, now it is my time to experience the marathon as a runner. I'm Brooklyn bred. I will be passing the places where I grew up, from my middle school in Park Slope to where my mother lives to Bedford Avenue in Bed Stuy (my grandfather lives in Marcy Projects). Almost half of the marathon is in Brooklyn. Brooklyn is where the runners receive the energy and the life.
I've been working to earn this marathon spot for the last two and a half years. I participated in the Brooklyn Road Runners New Years 5K where I literally ran into the new year 2014. I then joined New York Road Runners " 9 plus 1" program. As part of the program,if you run 9 races with road runners and volunteer for one race, you are a guaranteed a marathon slot for the following year.
How long have you been running?
Starting at PS 107, I was a runner as part of Colgate Women's Game at age 7. I ran for the Prospect Park Flyers. I started as a speed runner and hurdler so Distance running is a whole other animal.
Why do you run?
Running is metaphor for life. It's my therapy. You set goals, you work hard, then you encounter challenges along the way. You might be down, but then something gives you life. The spectators along the race route do that for me. The first and hardest step is getting out of bed.
I'm trying to go back to school. Running gives me the energy and the support. It keeps my spirit alive. As I turn 35, I am excited for the rest of my life. I know things are only going to get better.
I've run about 50 races. For each of the races, I get a small token which reminds me that I put in the work. .
What's your goal for the marathon?
I'd like to finish in about 4 hours and 30 minutes. I hit some roadblocks during my training because of a past injury. I'm competitive, but I have to listen to my body connection 1st and run smart not fast, that's the key.
Mostly, I just want to finish the race. When I see my people along the route, I want to stop and take a selfie with them, get some energy and love, and keep on trucking.
What new goals do you have?
My goal is to do the entire five borough series with NYRR and another Marathon in NYC. I love running and I want to see where it takes me next, perhaps The Puerto Rico Marathon Series can be in my future!