On Starr Street in Bushwick lies a botanical kingdom of wild flowerbeds, painted benches and imaginative sculptures.
This playful, untamed ecosystem, perched between between Wyckoff and Irving Avenues, is made entirely out of reclaimed materials, including the plants.
This award-winning wonderland is part of Seed Streets Brooklyn, an environmentally-friendly project conceived by a "domestic graffiti" artist who goes by the alias FoodBabySoul.
Despite the winter chill, FoodBabySoul can be regularly spotted in her painted coveralls and long grey braids pruning, sweeping and planting bulbs for the upcoming spring. While she's waiting for these to bloom, she's pivoted to community projects in order to keep the block teeming with life year round.
This week, she held a holiday party for the neighbors and nearby businesses, and raised nearly $2,000 to install more artisanal tree guards made by local Bushwick artist Ty Tripoli.
There, she raffled off a neighborhood artist's work and commissioned Sydney Burtis and Tommy Wasiuta, local tap dancers, to perform on a stage painted by Brooklyn painter Riisa Boogie. Neighbors lingered over the hot drinks and brought dozens of homemade cookies.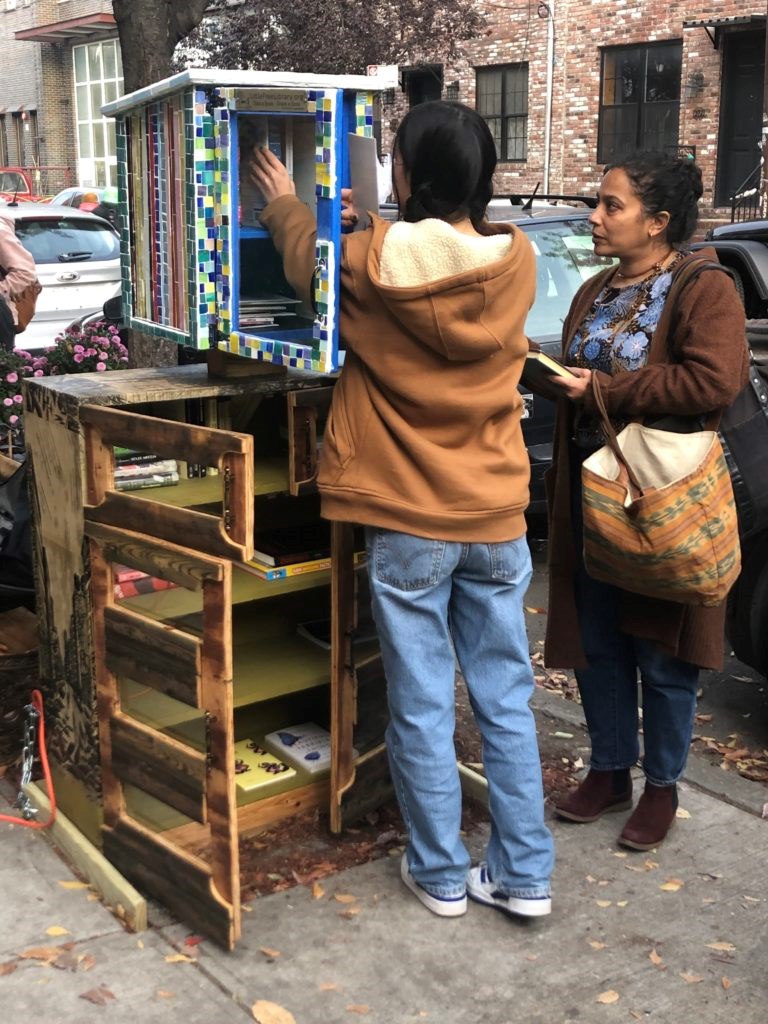 The most recent addition to FoodBabySoul's vision for the block is the Starr Street Library which was entirely crowdfunded by local businesses and neighbors as well.
The library will have a new theme each month for the free books inside, entirely curated by Jane, a local teenager. Some of the curated months include 'the Mexican Imagination,' 'Trans Poets of the World' and 'Conscious Cooking'.
"It is free for everybody," FoodBabySoul said. "I try to do as many inclusive things as I possibly can. I want to benefit the entire neighborhood, not just me."
Planting the Seeds
FoodBabySoul said her environmental stewardship of Starr began at the onset of the pandemic, as a way to cope with lockdown and deal with the accumulating trash on the streets.
Since then, it has evolved into a community-building, block-wide effort to keep the streets clean and keep flowers, wood and gardening materials out of landfills.
The car mechanic shop on the street lends her their hose, and one of the block's landlords lended his back patio for her to use as a workshop.
The Kings County Brewers Collective nearby gives her the barrels that turn into the flower beds. Local businesses, like Pitanga and Ten Bells, make donations in exchange for having these barrels flank their doors.
Some of the flowers are from the Brooklyn Botanic Garden, and others are 'rescues' donated by the Bushwick Flea Market. The result of her creations are zany, explosive flowerbeds of painted wood, welcoming benches, sculptures and murals.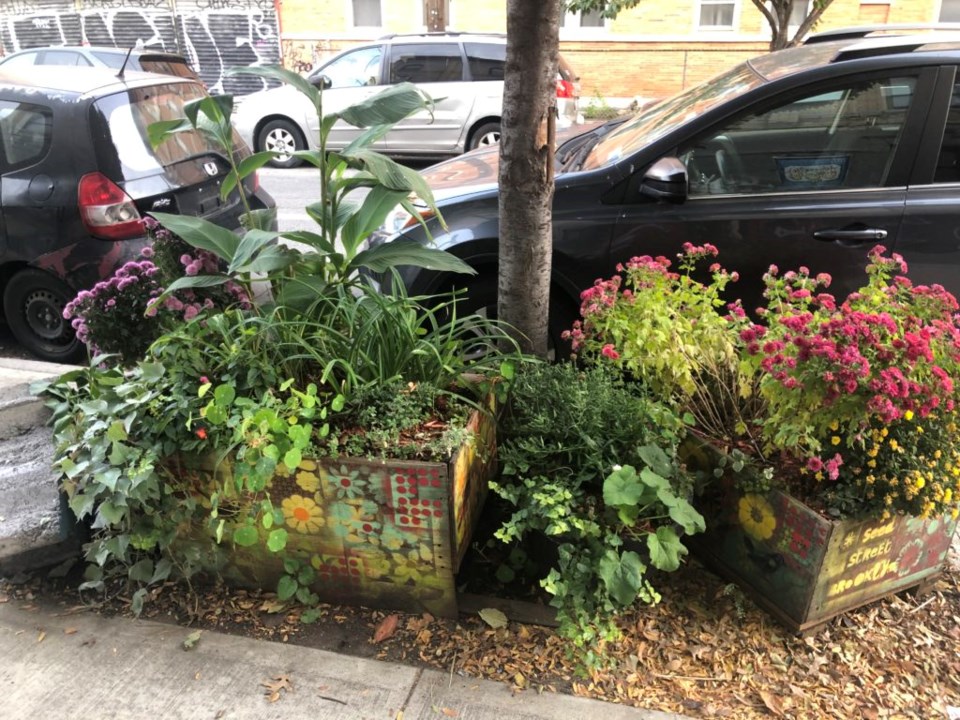 She is on a mission to "to remind people what is possible" when they connect.
"FoodBabySoul has totally changed the block," Monica Worthington, Starr Street resident, said.
"50% is just how great the block looks, and the other 50% is just encountering [FoodBabySoul] every day and having her tell you who she's collaborating with next. She's connecting everyone in the area and it's happening in a way that hasn't happened before. Her work has brought everyone together."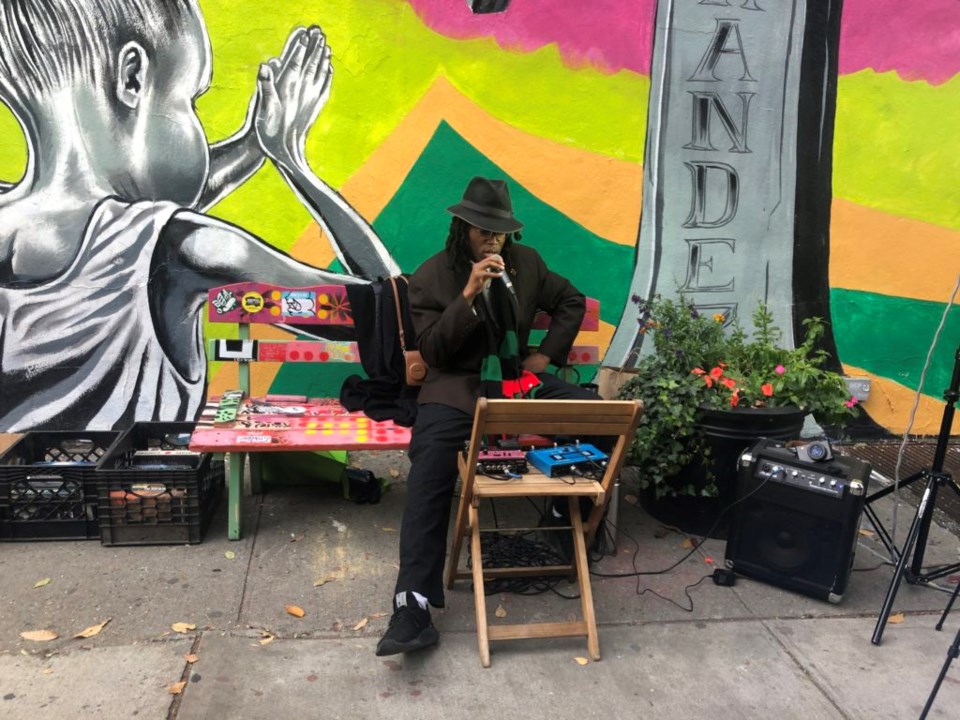 "I can't believe it started just as a response to trash and waste," FoodBabySoul said. "I just want to remind people what's possible when they connect."
"It's Not a Beautification Project"
In all its aesthetic whimsy, there's also a utilitarian impact of her work that extends beyond keeping garden and carpentry materials out of landfills.
"The thing about all of this guerilla carpentry and gardeningâ€"all this repurposing, this replanting, this cleaning upâ€"it creates jobs," FoodBabySoul said.
"It protects local homeowners from fines. It helps all of the businesses in the neighborhood. It salvages things that would otherwise end up in landfills. And it makes people so happy."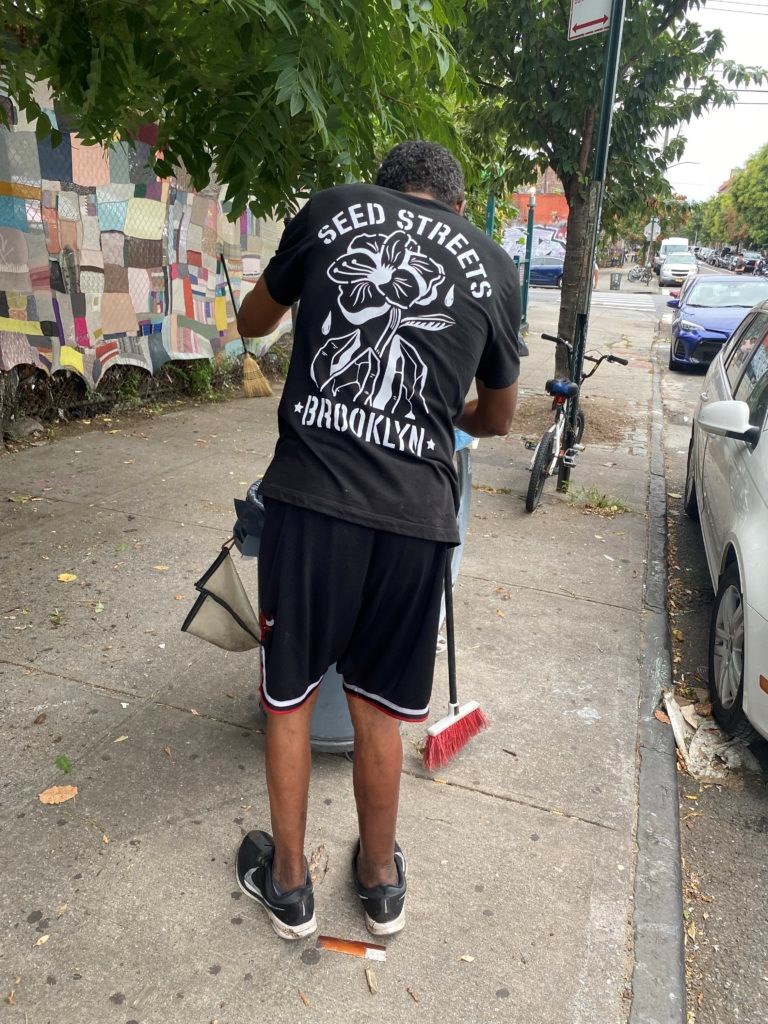 FoodBabySoul has crowdfunded nearly $4,000 total over the past year on behalf of Seed Streets Brooklyn, not including the non-monetary donations of plants, pots, soil and other materials.
The money she's raised goes to local carpenters, metalworkers and painters to create and decorate the tree guards that keep trash and waste off of the plants, the public benches and commissioned artwork for the block. She also hires neighbors to help her maintain the gardens and sweep the streets.
And, when crowdfunding wasn't enough, she paid for some of the block's features out of her own pocket.
"I see this as a living art installation," she said.
"At first glance, people might call this a beautification project, which is really not what this is," FoodBabySoul said.
"All the materials I use and people I work with are already part of the community. If anything, it's more of a preservation project.
"It's just the fact that I didn't have a backyard, and plants happen to be beautiful."