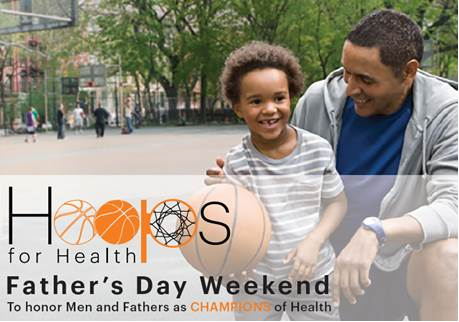 By Matthew Morales, Breastfeeding Empowerment Zone
Come play some ball! Celebrate the Father's Day weekend with Hoops for Health, honoring men and fathers as CHAMPIONS of health. We start bright and early at 10:00am on Saturday, June 20, 2015, and end at 4:00pm. Come to the Brownsville Recreation Center, at 1555 Linden Boulevard, near the corner of Mother Gaston Boulevard and Hegeman Avenue.
The goal of this event is to inform and engage men in the Brownsville community and surrounding areas on the numerous services available to them as residents. We'll also highlight community and parental male involvement and its positive effect on the family through a series of speeches from politicians and physicians invested in empowering fathers and families. The day is hosted by the New York City Department of Health and Mental Hygiene's Breastfeeding Empowerment Zone, in collaboration with the NYC Department of Parks and Recreation's Brownsville Recreation Center.
Fathers, father figures, and families of Brownsville and the surrounding areas are invited. Please wear athletic clothes!
Features of the event include:
Fathers' 3-on-3 basketball tourney
Fatherhood programs
Live DJ, giveaways
Keynote speakers
Employment development info
Face painting and kids' activities
Wellness checks
Community resources
Skills contests (dribble, shoot)
Fathers are encouraged to bring their sons or a young man that they're mentoring. Mothers are also free to bring their sons and/or significant other to enjoy this fun-filled, educational family occasion. Come out and learn, laugh, and join us on the road to a healthier Brooklyn!
Pre-register at www.HoopsforHealthBFEZ.eventbrite.com. Showing up the day of the event is welcomed, but does not guarantee full participation in activities or giveaways.