More than 1,000 pre-foreclosures have been filed by Brooklyn homeowners in the last three months, and the largest number of filings occurred in East Brooklyn, a new report shows.
The number of pre-foreclosures surged a whopping 43 percent to 1,040, according to real estate website Property Shark, which focused in its report on residential properties -- single- and two-family homes, condo and co-op units -- that were scheduled for auction for the first time in the second quarter of 2019.
Also foreclosures have increased: From April to June, 242 Brooklyn homes were foreclosed, presenting a 13 percent uptick compared to the previous quarter, the largest spike seen in the city, and a 7 percent increase from the same period in 2018.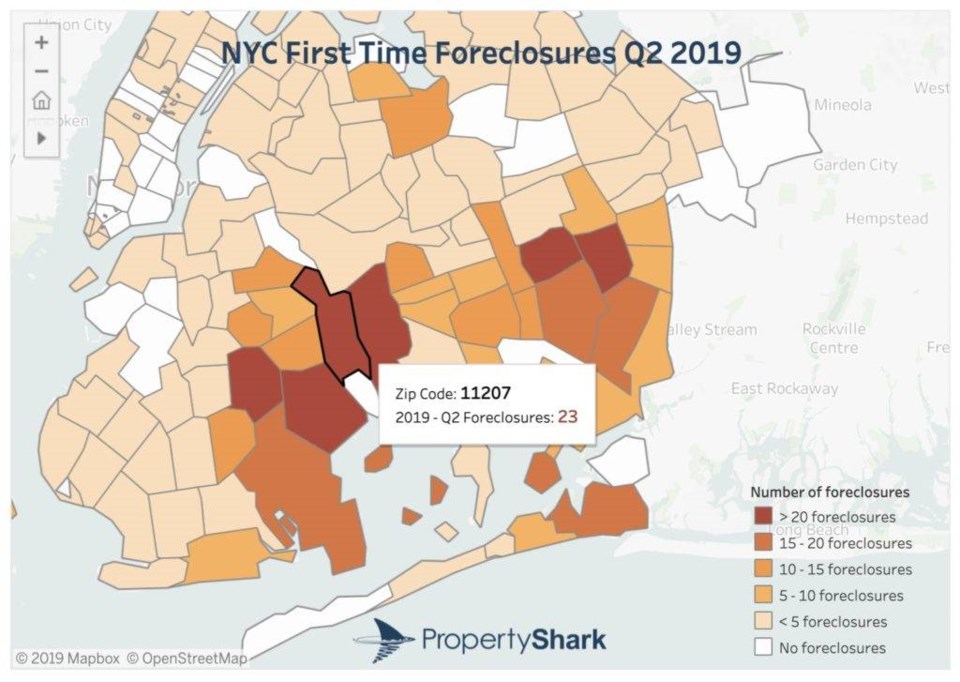 East Brooklyn ZIP codes 11207 and 11208, which cover East New York and a portion of Cypress Hills, lost 23 and 22 homes, respectively. The 11236 ZIP code, which encompasses portions of Canarsie, Flatlands, Marine Park, Mill Basin and Bergen Beach, had the most foreclosures in the borough with 36 cases.
City-wide, Property Shark registered a 31 percent spike of pre-foreclosures from the first to the second quarter of 2019, a trend that is likely to continue.
"The 31 percent quarter-over-quarter pre-foreclosure increase is worth keeping an eye on," Property Shark analysts wrote. "With pre-foreclosures increasing, foreclosures will inevitably see an uptick in forthcoming quarters."