Rain or shine the McCarren Gathering, a community-led organization for Black liberation, convenes nightly at 7 p.m. in McCarren Park in Williamsburg.
The group has evolved greatly since its genesis in May, but one aspect remains the same -- despite the onset of winter, the group has no intention of ending.
"In June, we said we'd be out here in our parkas, so now, are we going to do it? Yes, we're up to the challenge," Michelle, one of the organizers, said. All interviewees for this story asked to be referred to by their first names.
The gathering originated as a vigil for George Floyd, who was murdered by police in Minnesota in late May. Over the past 150+ nights, the event has developed into a nightly gathering with performances, teach-ins, vigils, de-escalation training, protests, group discussion and more.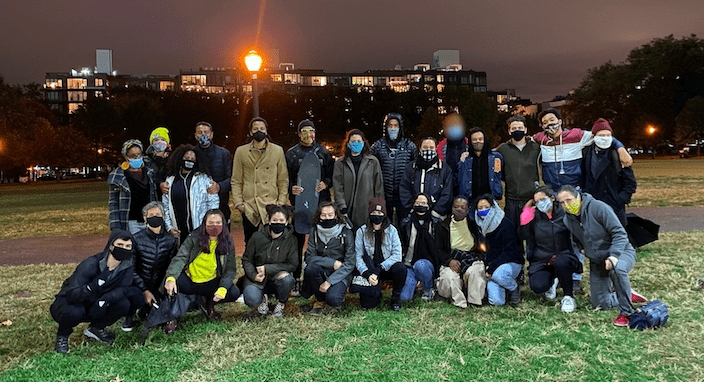 Some nights, over 1000 people have attended and some nights there have been only had eight. On average, organizers said there is a group of approximately 40 people per night, or, as they warmly refer to one another, 'neighbors.'
The current weekly program themes include nights dedicated to abolitionist history with support from the Brooklyn-based Abolition Library Commons, poetry, de-escalation training with the People's School of Conflict, affinity group meetings, a music series called 'amplify' for artists of color, a weekly march and self-care Sundays.
Regular attendees have taken it upon themselves to become organizers as well. Each of these programs has committees of people to plan events.
How the group has evolved
Sofia, one of the organizers, said the first few nights of the gathering were silent vigils for Black people murdered by police.
The first stage of evolution was when the Gathering partnered with a Brooklyn-based group called Micbikes, which provided microphones, allowing for one-way communication, Sofia said. The next development came when organizers posed a question and prompted attendees to talk to the person next to them. By the end of the summer, it went from being a white-led space to a Black-led space, and nightly programming was introduced.
Now, in its current iteration, there are some nights that have more flexibility in programming to allow for discussion and space for growth.
"One of the things that led us away from more rigid programming was the realization that each night had its own following," Sofia said.
"It doesn't mean as much if people are showing up to look at a stage or to watch what's happening," Devon, an organizer, said. The regular gatherers now have a private online platform where they can discuss current events, their group and plan for upcoming weeks.
Goals of the gathering
Devon said the flexibility of the nightly programming was a result of the primary goal -- to show up for Black liberation and become agents of lasting change.
"Dealing with whiteness and anti-Blackness is creating space. This is where the real power lies," Devon said. He later added, "We just create space and have conversations. That leads to action. We construct that way."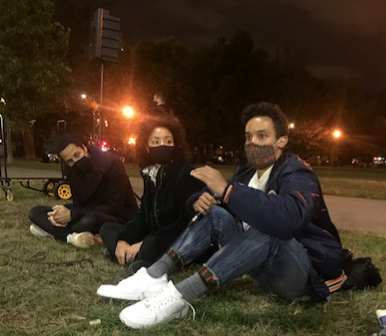 Sofia said a proud moment was when the group revisited Devon's teaching on John Brown, a white abolitionist who died for the cause. The initial prompt for the white gatherers was "how far will you go in your protected white body to stand up for Black liberation?"
"The first time was absolute silence," Devon said.
The second time the topic came up, the conversation, and the group, had evolved. "It's not even that people had answers. It's that they were so thoroughly interrogating whiteness," Devon said.
"It was a really beautiful example of how far we've come in thinking critically as a group," Sofia said.
The group not only supports one another in critical thinking surrounding racism, they also focus on tangible actions and solutions for disenfranchised communities in New York City.
Last Tuesday, the group discussed how to make resources available to people experiencing houselessness and food insecurity and brainstormed ways to partner with the city's Community Council to provide alternatives to police involvement when assisting the houseless.
Michelle said in order for real change to happen, the daily component is crucial.
"We're there every night," Michelle said. "We're addressing this topic, racism, and breaking it down. You want things to be instantaneous, but it's just not."
A staple of the Gathering is its nightly closing remarks. It is often spoken in a call-and-response style and it affirms the mission of the Gathering to defund and dismantle the New York Police Department and invest that money in Black communities and social services.
"This gathering shows the strength of our communities coming together," The closing remarks state. "What we do with that power everyday matters. This cannot be it, for any of us. Use your voices, your resources and your bodies to stand with your Black neighbors and neighbors of color."
And, as always, they'll see you tomorrow at McCarren Park.