This Thursday, five candidates vying to take over Bed-Stuy's 36th District City Council seat from term-limited Councilmember Robert Cornegy Jr. will have the chance to share their visions for the neighborhood's pandemic recovery.
Community Board 3 District Manager Henry L. Butler, community activists John Joyner, Jr., Tahirah Moore and Chi Osse, small business owner Reginald Swiney and Pastor Rev. Dr. Robert Waterman will take part in a forum at Restoration Plaza focused on Bed-Stuy's post-pandemic economic development.
The event, held by Bed-Stuy Gateway BID, Bridge Street Development Corporation and BKLYN Commons, will be live-streamed on Facebook at 6:30pm.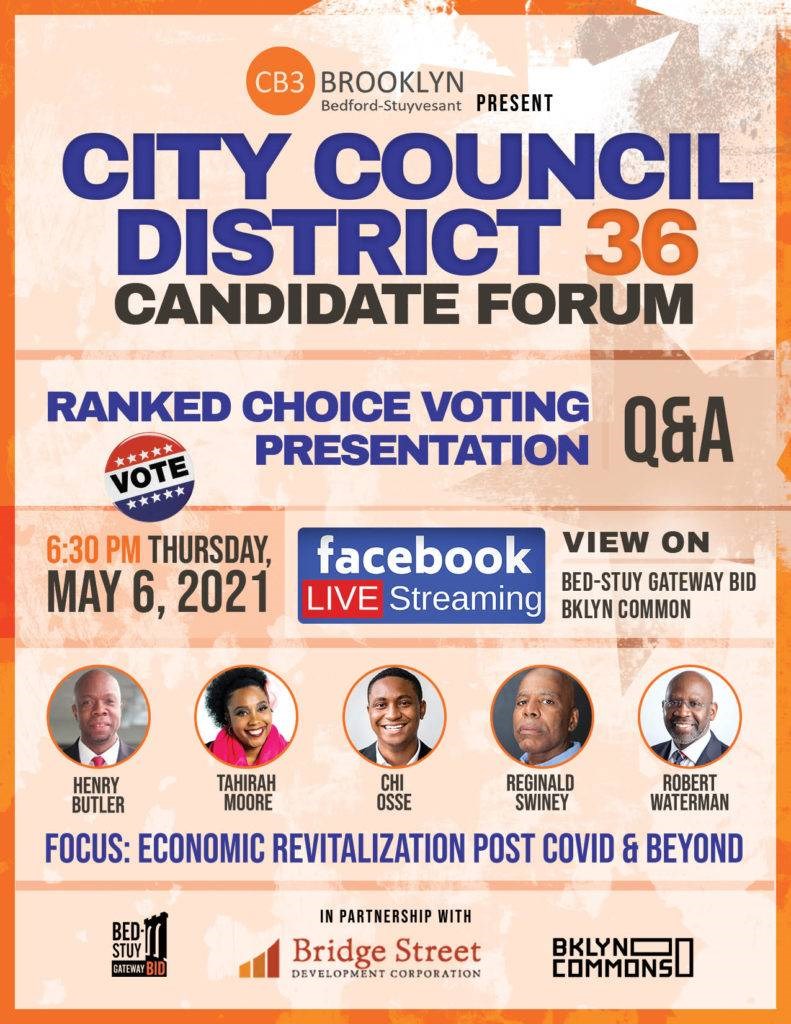 The five of 12 candidates that have filed to run for the seat will have the opportunity to answer questions polled from Bridge Street Development Corporation's Commercial District Needs Assessment Report (CDNA) and will be able to share their economic platforms.
Community Board 3 Chairman Richard Flateau said the candidates would share their plans for job creation, small business development and entrepreneurship, so voters could make an informed decision.
"Economic Development is one of the key, but often neglected issues for the diverse Bedford-Stuyvesant and Crown Heights communities as we struggle to recover from the health, psychic and business impacts of COVID-19," Flateau said.
In a press release, CB3 said during the pandemic a record number of shops were forced to close in the neighborhood, while others sought relief from federal funding.
It added that Bridge Street Development's Bedford Stuyvesant CDNA report showed vacancy rates currently exceed 30%, with merchants listing declines in sales, rent/lease options and low foot traffic as major concerns and hurdles. Sanitation, store front improvement and a lack of events were listed as consumers top concerns.
As part of the hybrid-virtual forum, a video will be screened explaining the new ranked choice voting system.
To tune in, head to Bed-Stuy Gateway BID or BKLYN Common's Facebook page at 6:30pm this Thursday.