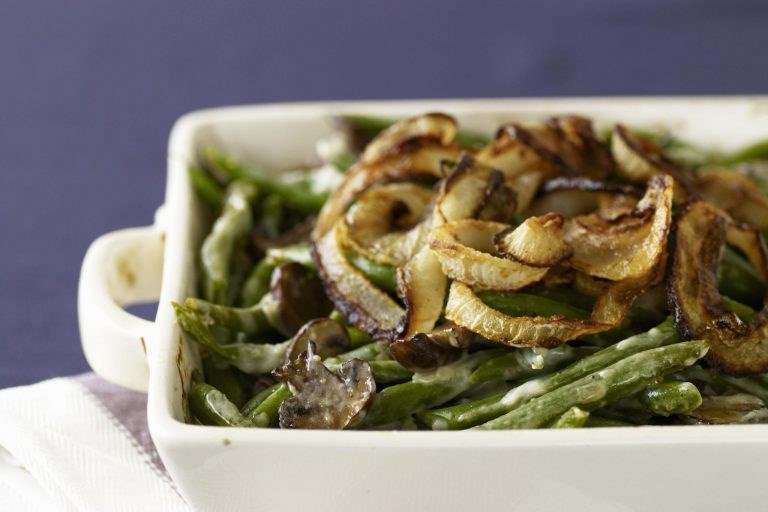 Typically, a classic bean casserole is anything but healthy. But with few twist and tweaks, you can enjoy this classic dish with zero guilt, but maximum flavor - nobody will never know the difference…Try your hand at this for the Thanksgiving table!
Mean Bean Casserole; Serves 8
Prep time: 5 minutes
Cook time: 30 minutes
Ingredients
• 2 9-ounce bags frozen green beans (or one bag of green beans and one bag of a second vegetable, to add more vitamins)
• 1 pint button mushrooms, sliced
• 1 onion (half thinly sliced, half chopped)
• 1 can healthier cream of mushroom soup (low-sodium, reduced fat)
• 3/4 cup 1 percent or skim milk (or non-dairy milk, if preferred)
• Salt and Pepper
• Cooking spray
• 2 tbs. flour
Directions:
1. Preheat the oven to 400 degrees. Combine the flour and a pinch of salt and pepper in a small bowl. Toss sliced onions in mixture until well coated.
2. Spray a rimmed baking sheet with cooking spray. Spread the onion strips on the tray. Bake for approximately 10-15 minutes or until crisp.
3. While the crispy onions are baking, sauté the chopped onion and mushrooms until just soft. Combine in a casserole dish with the frozen veggies, soup and milk. Season with salt and pepper to taste.
4. Bake the casserole for about 30 minutes or until warmed through. Five minutes before it's done, top with the baked onion strips.