Healthy Families Brookdale, is an evidenced-based, voluntary, intensive home visiting program. The program is part of the Healthy Families New York multi-site system and is housed at The Brookdale Hospital Medical Center, operating out of the OBGYN Department.
On Friday, August 14, 2015, the program celebrated its fourth annual Graduation/ Closing Ceremony for its program participants. Our families are enrolled prenatally or within the first 12 weeks of the target child's birth. Families are ready for graduation when the family has been enrolled for more than 3 years; the target child is at least 3 years old: the child is ready to enroll in Kindergarten, enrolled in a Head Start or nurturing daycare program; and the family has met their goals, having no need for crisis intervention in their recent history.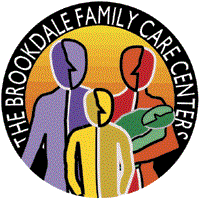 Our families are screened and/or assessed by a Family Assessment Worker (FAW), prior to enrollment into home visiting. The FAW is trained to conduct a strength-based, family focused interview in a non-judgmental manner; using conversational weave to gather information needed for the standardized assessment. Families that meet enrollment criteria and are interested in home visiting services are transferred to the Family Support Worker (FSW) who is determined to be the best match for them based on information gathered during the assessment.
The FSW immediately begin building trust and supporting the family in developing a Family Goal Plan, including goals for the family and the target child. FSWs also regularly conduct screens for parental stress, depression and child development. On a typical visit, the FSW uses curriculum to engage the family in fun activities designed to promote positive parent-child relationships, healthy child and family development and family functioning. We also ultimately aim to prevent incidences of child abuse and neglect.
We are very fortunate to have our home at Brookdale Hospital Medical Center. Approximately 50% of our families are identified through Brookdale's OBGYN Providers. Other families are identified through referrals from Community Based Providers, Other Hospitals & Clinics, and friends & family of program participants. Some families also benefit from home visits assisted by Brookdale's Pediatric Residents, where they are afforded the opportunity to ask medical questions about the child's health and development in the comfort of their home.
We are very proud of the accomplishments of our families. Most are graduating after four to five years of participation in our program services. Many have attended program events such as parenting/ fatherhood groups, educational workshops, and fun-filled events such as: Harvest Fest, Baby Showers, Family Fun Day in the Park and our End of Year Celebrations. Termination is a difficult process for both the staff and the families after building positive, supportive relationships over the years. However, we applaud their accomplishments and we look forward to hearing stories of their continued success.