For the last thirty Thanksgivings, Pete Valentine has filled his car with as many turkeys and bags of groceries as he can and driven back towards his home neighborhood of East New York.
He makes the same trip through his old neighborhood to Cypress Hills every Christmas, but this time his car is filled with toys and gifts.
On both occasions, his destination is the Cypress Hills Child Care Corporation, a nonprofit child care organization that empowers vulnerable families, many of whom are immigrants to New York, by providing access to resources that are normally out of their reach.
And according to the corporation's executive director, Maria Collier, Valentine and his wife Francis have been "guardian angels" to the families it serves for the past three decades.
This Thanksgiving, Valentine donated more than seventy Turkeys to the child care corporation, and now he and Frances are finishing their toy shopping with plans to drop the presents off in Brooklyn next week.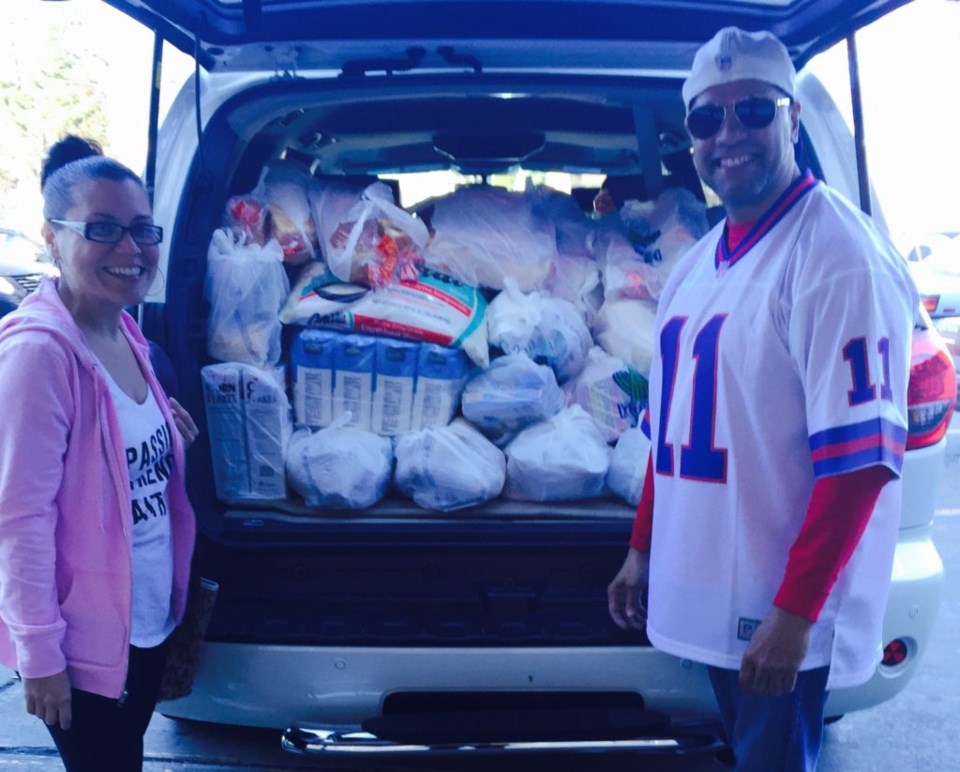 Valentine, who now works as a resident manager in a building in Manhattan, first started giving to a local Brooklyn church in 1987. It started with a single bag of groceries, which at the time was about all he could afford.
His giving spirit, he told BK Reader, dates back to the early 70s when he remembers as a child, living with his nine sisters in East New York, looking into the pantry at Thanksgiving and only finding one can of beans â€" something he says he didn't think anything of.
"I knew we had no Turkey, we had no food. But by the grace of God, someone knocked on the door and it was a someone from a church - there were a few people - who asked my mother, 'would you like some groceries?' and she said sure.
"So the groceries had, I remember like it was yesterday, a large chicken, rice and beans, bread and some fruit juices, and that's how we got to have our Thanksgiving dinner."
Valentine remembers saying to himself then that as soon as he was older and started working he would pass that feeling and kindness on to other families.
"I started off small with a small bag and I would walk it off either have to the church or the firehouse," he says, adding that even now he knows every little bit helps.
After finding out about Cypress Hills Child Care Corporation and the level of need amongst the families the nonprofit serves, he started channeling his donations straight to those families. And as his budget has grown, and now with his wife Frances on board, so too have the number of bags filling his car each year.
He remembers, around 1995, being asked to play Santa Claus and handing out the presents to the children and their families. He said yes, but says the experience broke his heart. "I can give you all the toys you want, but I can't just go to people's homes, to see the kids and how they react, and the parents."
Valentine's generosity doesn't stop in his old neighborhood. Currently, he's organizing a coat drive in the building where he works and he says whenever he sees someone homeless or in need of some food he makes sure to stop and buy them a coffee and something to eat, and pass them a few dollars "just for them to get by."
He says he hopes that his giving triggers the same feelings he got from being on the other side of it, and encourages others to give when they can.
"My advice is, one can of beans will make a difference…you just need to take the first step, it will change a life."
Valentine's wife Frances says her husband has passed that giving spirit to her, especially given his back story of growing up without a lot of money or food in the house.
"He has had done so much and tries to help so much of the community, it's amazing," she says.
"And even though he doesn't live in Brooklyn anymore, he never forgets his roots and where he came from."