Join the Brooklyn Public Library on Saturday, May 17 for the 2nd annual Bike the Branches, a fun one-day bike ride where you can discover the borough in an exciting way and support Brooklyn Public Library at the same time!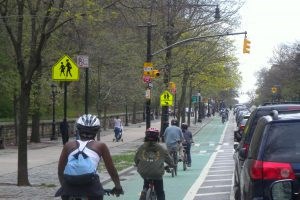 You can set your own pace and choose one of the suggested routes, curated by the Brooklyn Collection. Or, create one yourself and make an adventure out of exploring the library's network of 60 neighborhood libraries.
Last year, more than 400 cyclists participate. This year's event is shaping up to be even bigger:
Read-alouds by local authors
Visits from elected officials
Fun programs for people of all ages
Get your Branch Passport stamped at as many branches as you can visit between 10:00am and 5:00pm. Throughout the day, stop in at select branches to recharge and enjoy entertainment and fun activities, and top off the day at Central Library's Finish Line Celebration from 5:00pm — 7:00pm.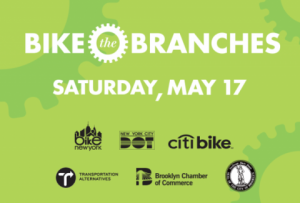 First-, second- and third-place prizes will go to adults and children that visit the most branches!
The first 100 people who sign up will be entered into a special drawing, and everyone who participates will help BPL open the doors to discovery at all of the library branches.
Sign up to bike solo or cruise along with family or friends. Walkers and runners welcome, too!
Space is limited. Register here today!