Changes are in store for scores of Brooklyn voters.
Gov. Kathy Hochul approved New York's new congressional and legislative maps Thursday, codifying sweeping changes expected to improve the Democratic Party's dominance for at least a decade, as state Republicans begin to mount legal challenges.
The maps were presented to Hochul by the Democratic-led State Legislature, which drafted the maps after a so-called bipartisan redistricting committee failed to do so, instead presenting two sets of opposing maps. The new maps would give Democrats an advantage in 22 of the state's 26 congressional districts; currently Republicans hold eight of the state's 27 congressional seats.
New York Republican chair Nick Langworthy accused the Democrats of gerrymandering to "rig themselves into permanent power."
To see how the new maps affect you, use Center for Urban Research online tool, where you can enter your address to see if your district lines have changed.
Senate District Map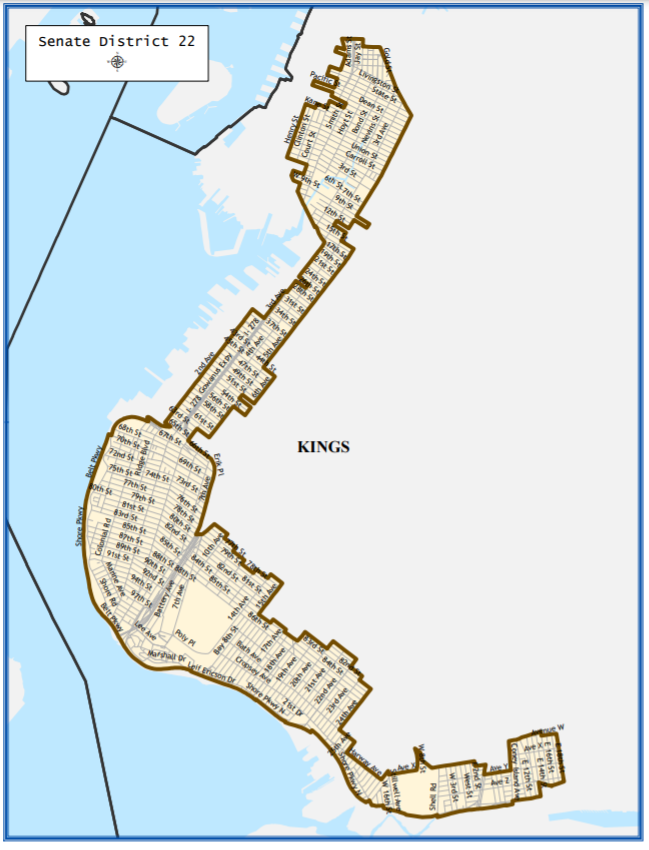 For most Brooklynites, the biggest changes are in State Senate districts. The new map adds two more Senate districts in New York City, amplifying the city's power, as well as the impact of Asian and Hispanic voters, as The City reports.
In Brooklyn, a new district will pull together residents of Sunset Park, Bensonhurst, Windsor Terrace and Gravesend and be plurality Asian. The redrawing recognizes the population growth of the borough's Asian community reported in the 2020 Census.
Two of the most notable changes come to district 22 and 23 in South Brooklyn. Sen. Andrew Gounardes' SD 22 is based in South Brooklyn and includes Bay Ridge, Dyker Heights, Bath Beach, Bensonhurst and Gravesend. The new map incorporates less of South Brooklyn and shifts north to Sunset Park and portions of Boerum Hill and Gowanus.
SD 23 is currently based in Staten Island and includes Coney Island, Brighton Beach, Gravesend and a bit of Bensonhurst. The new map has been redrawn to incorporate more liberal voters toward the Downtown Brooklyn area, holding on to Coney Island and Brighton Beach but replacing sections of South Brooklyn with parts of Red Hook, Sunset Park's waterfront, DUMBO, Cobble Hill and Brooklyn Heights.
Under the new map, Sen. Simcha Felder's current SD 17 would become the newly rearranged SD 26. It would still contain most of Borough Park, but adds more of Sheepshead Bay, Midwood and Manhattan Beach.
There are smaller changes to the other senate districts in Brooklyn. For example, Sen. Zellnor Myrie's Central Brooklyn SD 20 would lose Sunset Park. However, it adds the portion of Park Slope that's currently in Sen. Kevin Parker's neighboring SD 21.
Sen. Jabari Brisport's SD 25 currently sits mainly in Bedford-Stuyvesant, Fort Greene and Boerum Hill. Under the new map, it stays that way but loses Red Hook , which would transfer to SD 23.
Assembly District Map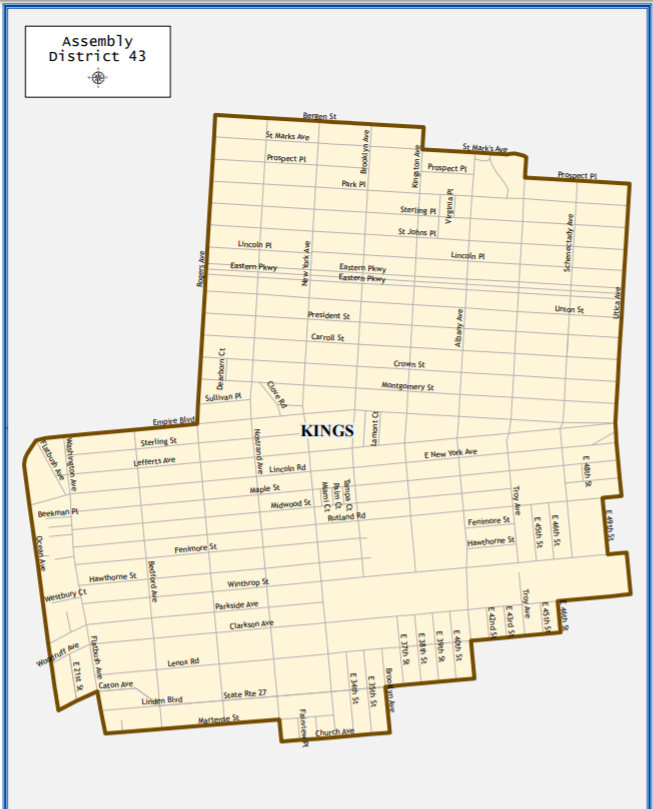 Most Brooklyn voters won't notice changes in their assembly districts. Democrats had a majority in the chamber during the last redistricting process in 2012, so only slight changes were made this time.
One of the typical changes includes Assemblymember Diana Richardson's current Assembly District 43, anchored in Crown Heights, shifting several blocks into Assemblymember Stefani Zinerman's AD 56 in Bedford-Stuyvesant, along Utica Avenue toward Prospect Place. Zinerman's district would edge a bit on one end toward Bushwick.
Assemblymember Latrice Walker's AD 55, would remain largely unchanged, centered in Brownsville and Ocean Hill, but shrink at the corner that extends toward Cypress Hills and expand into a portion of East New York.
Congressional District Map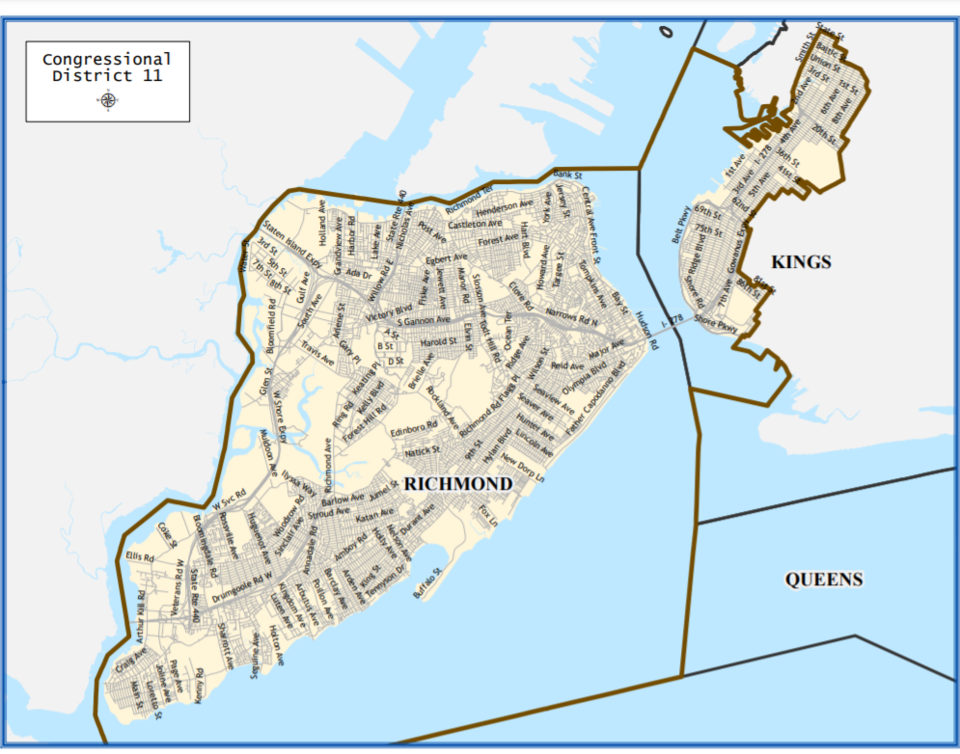 After the 2020 census, New York lost a seat in Congress. That prompted Albany Democrats to redraw the map in a way that's likely to give the party an advantage in 22 of the state's 26 House districts in the 2022 midterms.
Under the congressional map, the changes would affect some Brooklynites currently residing in Rep. Nydia Velázquez's CD 7 and CD 11, held currently by Republican Nicole Malliotakis.
Malliotakis' district would remain anchored in Staten Island but has been redrawn to include Democratic areas of Brooklyn, including Park Slope and Sunset Park. Those areas were taken from Velázquez's current district.
The decision to sever Sunset Park from Velázquez's longstanding district didn't sit well with a number of Brooklyn elected and community leaders. They penned a letter to the State Senate and Assembly leaders to express their opposition.
"Continuing to keep the Chinatowns of Lower Manhattan and Sunset Park, and their surrounding Latino communities united with North Brooklyn is especially important as we confront the rise in anti-Asian hate and seek to empower communities of color," the letter stated.