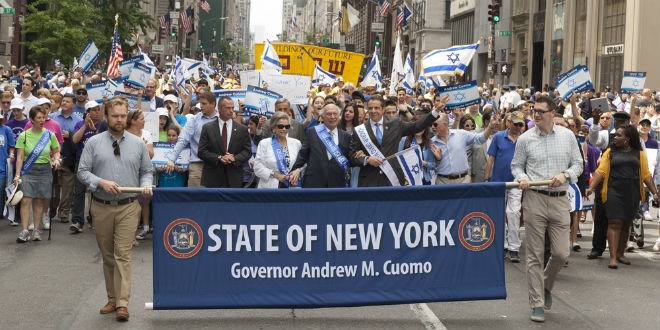 Thousands of Jewish men and women gathered on Sunday, June 5, in New York City for the Celebrate Israel Parade, which pulled influential politicians, community leaders and locals together in support of a group that represents a large portion of New York residents.
In addition to the parade, June 5 also marked the date that New York Governor Andrew Cuomo formally announced an executive order prohibiting state agencies from dealing with companies that support the global Boycott, Divestment and Sanctions Movement (BDS).
The BDS movement is widely recognized as a global campaign that aims to put economic and political pressure on Israel in order to move toward equal rights for Palestinians and to call for an end to the Israeli occupation of certain Palestinian territories. Supporters of the BDS movement also point to the fact that boycotts have long been used by the public and social justice movements when urgent change is necessary.
Under Cuomo's new order, New York will become the first U.S. state to enact an anti-BDS bill. The legislation effectively ensures that the state has a curated list of organizations and companies who have participated in the boycott, divestment or sanction activity that targets Israel directly or through another subsidiary. If these organizations are listed as BDS supporters, they simply will no longer be able to do business with stage agencies and certain New York companies.
"In New York, we lead by example. We are also a place of action. We want to take immediate action because we want Israel to know that we are on their side. It's very simple: If you boycott against Israel, New York will boycott you," Cuomo proclaimed.

https://www.youtube.com/watch?v=UHr20ZkR4PM
Many New York City residents agree with Cuomo's decision: Considering New York's sizable population of Jewish residents and considering what is politically and financially at stake, many believe that remaining an ally of Israel is in the best interest of all.
Critics of the decision, however, point out that it is in conflict with Americans' right to freedom of speech-- one that enables citizens to freely pick and choose which organizations that they want to support.
The Brooklyn Reader wants to know: What do you think? Is Gov. Cuomo's executive order a smart move?