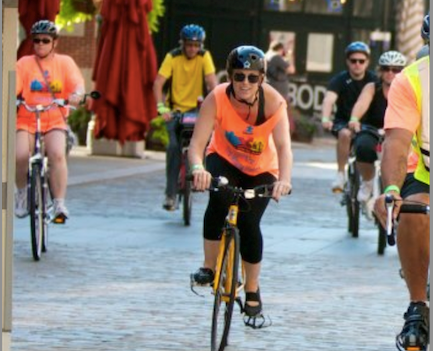 Talk about going the extra mile for something you believe in...
Hillary Neal of Fort Greene will be going a few extra miles-- 427 miles, to be exact-- for a local elementary school, Trilok Fusion Arts, in the RAGRAI Annual Bike Tour, a seven-day bicycle ride across the state of Iowa.
The 34-year-old Neal said she first learned about the race while growing up in her hometown of East Moline, Illinois, as it was close to one of the stops on the two-wheeled tour.
If you grew up on the East or West Coast, you might not have ever heard of RAGBRAI. But for Midwesterners and cyclists alike, the race is well known: Founded in 1973 as a six-day ride across the state of Iowa, it is the oldest and longest bicycle touring event in the world!
Every year, the race kicks off somewhere along Iowa's western border on the Missouri River and ends along the eastern border on the Mississippi River, averaging 468 miles over a terrain that is not necessarily flat.
Neal, who has a four-year-old and a six-year-old that attend Trilok, said she decided to take the tour after becoming the school's "accidental event planner," and seeing first-hand how a large part of the school's budget depends upon fundraising efforts.
"This is their third year, and we love it," said Neal of her children's attendance at the school. "And now, I've become very aware of the money we raise and how much it impacts my children. "The school is growing and will be adding another grade this year.
So we need to raise enough money to afford more teachers so it can continue to provide the one-on-one specialized focus."
Neal has only been cycling seriously for six years. But already her training routine matches that of a semi-professional; she rides almost every day and does a distance ride of at least 100 miles 1-2 times a month.
"I was just like, I should really do the Rag ride. It was always something on my radar," she said. "So, I figured, even if I asked my friends and family and other parents to pledge 5 dollars a piece, I could potentially raise a lot of money."
"The individualized attention the teachers and administration give to each child, it's truly remarkable," said Neal of Trilok. "Just this past Saturday, I let in a church group that needed to use the space... It's really a community enter that happens to also be a school.
"They share everything they have with the community, they're always giving back. So I wanted to do the same thing for them."
To make a donation, visit her GoFundMe page here.