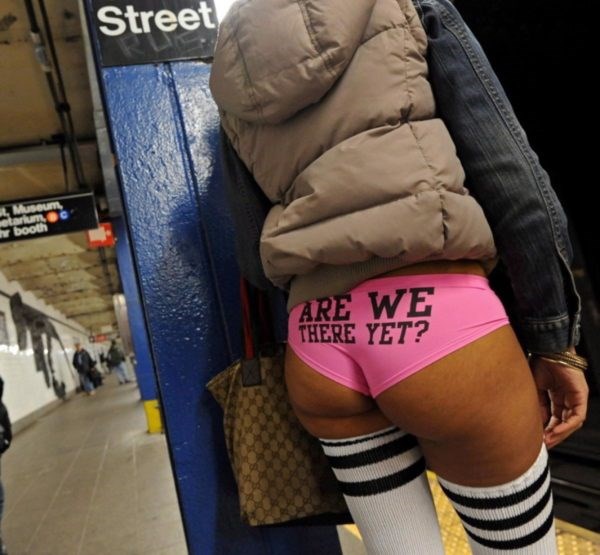 This Sunday at 3:00 pm, you can be doing a lot of things: From watching the Buffalo Bills lose their first playoff game since 1999, to breaking your resolution of abstaining from alcohol with a boozy brunch in Bed-Stuy. Another option is to participate in the 2018 No Pants Subway Ride, which, considering the Bomb Cyclone that has abused the city and the residual icy conditions and frigid temperatures that will prevail all weekend, would make you a certified masochist. But I'm not here to judge.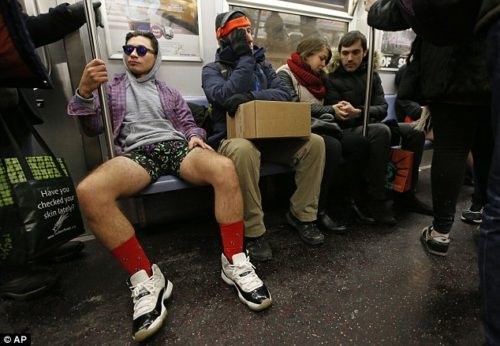 Ok, maybe a little judgment! I mean, the Bomb Cyclone was so bad, bodegas ran out of condoms, chopped cheese and Heineken by midday. It was so bad, that Melania Trump could have lost her little English. The Bomb Cyclone was so bad, it made Brooklyn gentrifiers wistful of their mid-west winters...which, for the most part, is probably who are attracted to such insanity!
Ain't nobody got time for that! The subway is type filthy, the platforms are run by packs of rats and that itchy dude by the door is conducting a stop and frisk in his pants! I know it's all in fun, and the event massages the low-key exhibitionist in us all, but maybe this year is the one to skip? Not only is it freezing, but New York is wildly creepy right now with everyone being accused of inappropriate touching and sexual shenanigans, or even worse! Granted you got some ironic undies for Christmas from your ironic NYC transplant friends, but do we all need to see 'em?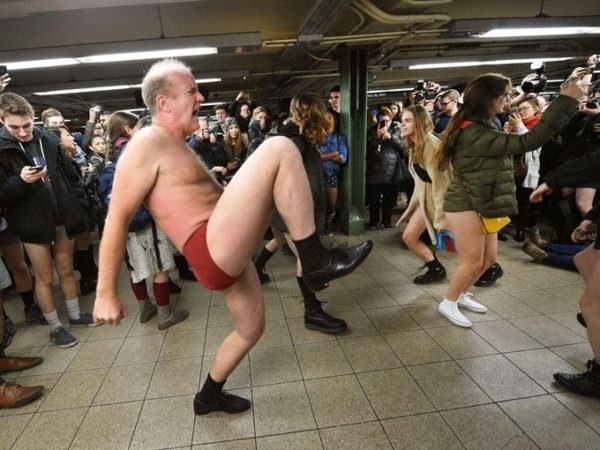 I get it, they don't have a subway system in Iowa and hence you never got a chance to sport your Game Of Thrones draws in front of old ladies going to and from church, impressionable kids and gawking men who will get cursed out by their wives and girlfriends - but you doing it all for the 'gram, right? In the worst possible scenario, someone is going to do "Showtime" while wearing no pants, and then flying feet won't be the only body part to possibly smack you in the face!
With the current state of the MTA, it's a good chance the no pants riders will get stuck in a tunnel for thirty minutes, in which case the itchy dude doing sign language in his pants might start to fixate on the Khaleesi on your crotch...'cause errbody likes dragons!
OK, maybe it's not all gentrifiers doing the No Pants Subway Ride. Maybe you've been living in Brooklyn for mad long, yet you still think it's a good idea to hop on the D train with a pair of tighty whities, acting like everything is normal...I bet you're dating somebody from Montana or Minnesota and they talked you into it! I see you, son!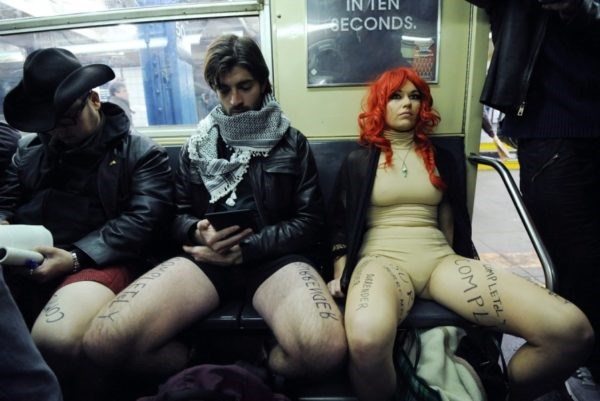 In any case, please don't catch pneumonia in your left buttocks when participating in this yearly ride. To be honest, it is funny. It is kinda brave, and I am mocking you about the whole thing. But for real tho, this is like a polar bear club thing, but way dirtier and more dangerous...so just be careful if you do it!