Good news first: the L train will continue to run throughout the extensive Canarsie Tunnel repairs starting April 26, with reduced service on nights and weekends.
Initially, a complete shutdown of the busy subway line seemed unavoidable to repair the 100-year-old tunnel, which connects Brooklyn with Manhattan, and its corroded power cables and bench walls that were damaged during Superstorm Sandy in 2012.
Governor Andrew Cuomo pulled the breaks on the shutdown plans in January, after a panel of engineering experts determined that a complete closure of the L train tunnel is unnecessary. The repairs are still expected to take 15 to 20 months, but the MTA expressed hopes during its latest board meeting that the project could be completed in 15 months.
And this is what we know — for now: L train service will continue as normal from 5:00am to 8:00pm on weekdays. On weeknights and weekends, trains will run every 20 minutes between Bedford Avenue and Manhattan, and every ten minutes between Lorimer Avenue and Canarsie.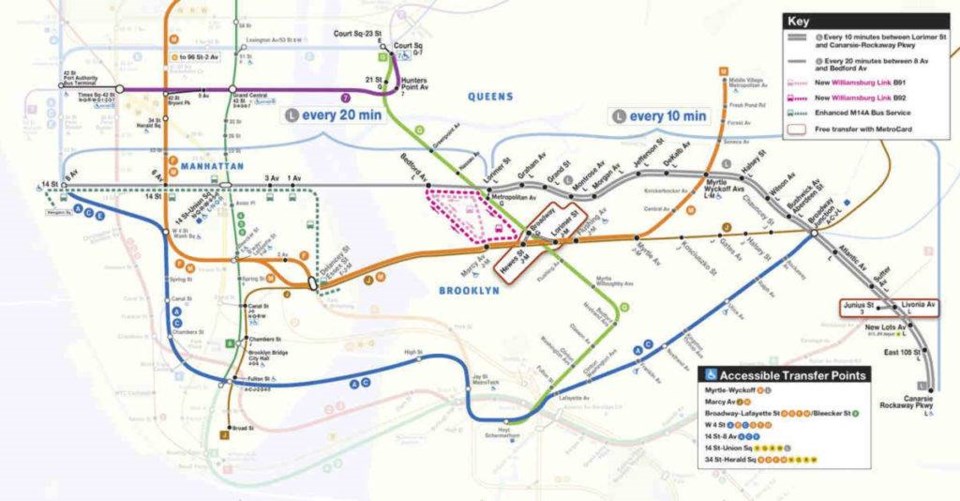 Yet, earlier this week, the MTA asked subway riders to prepare for longer travel times.
"In Manhattan and at Bedford Av, the L will arrive every ~20 minutes, but at certain times, it may be too crowded to board the first train," the authority tweeted on Monday.
The MTA will add extra M, G, 7 trains and bus service to give straphangers alternative options, including two special Williamsburg Link bus routes.
"Subways are still the fastest way to get around, so our plan is focused on connecting you with a subway line as quickly as possible," the transit authority stated.
To travel between the boroughs, the MTA issued the following recommendations:
If you use the Bedford Ave or Lorimer St. L stations, considering starting your trip at your closest M or G station. You can also take one of the new Williamsburg Link buses to get to the M and G lines.
Between DeKalb Ave and Lorimer St., consider starting your trip at your closest M station. You might also consider taking the G and switching to the 7 line at Court Sq.
From Bushwick Ave-Aberdeen St to Myrtle-Wyckoff Ave, transfer to the M line at Myrtle-Wyckoff Avs for service into Manhattan.
Between Canarsie-Rockaway Pkwy and Broadway Junction, consider transferring to the A, C or J lines at Broadway Junction.
If you take the L from a station between Canarsie-Rockaway Pkwy and Livonia Ave, you can also consider transferring for free with your MetroCard to the 3 line at Junius St.
There are also new free transfers with a MetroCard between Hewes St. (J/M trains), Broadway (G train) and Lorimer St. (J/M trains).
Part of the city's initial mitigation plan was also to close sections of 14th Street in Manhattan to make room for the increase in bus and pedestrian traffic, and to implement a 14th Street Select Bus Service. And indeed, the city confirmed today, according to amNY, that private cars will be banned on 14th Street between Third and Ninth Avenues as part of a new pilot street design to help speed up buses, beginning in June.
For commuters who may consider the bike a viable transportation option, there is good news: Citi Bike officially launched its service in Bushwick last week.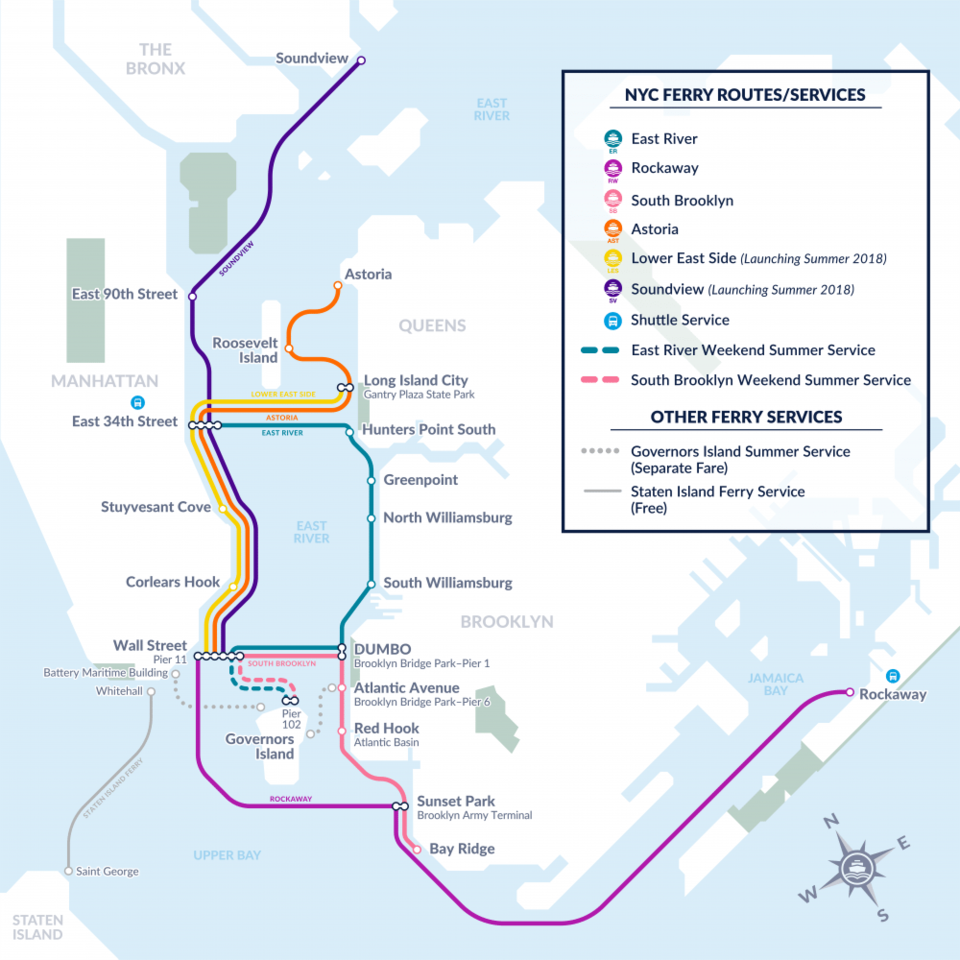 And then there is also the newly-expanded NYC Ferry service: Brooklynites who live nearby the ferry stations at Brooklyn Bridge, Navy Yard or South and North Williamsburg, may want to consider leaving the sticky, crowded subway hassle behind for a scenic, stress-free, yet quite expeditious trip on the East River. Unfortunately, your MetroCard won't cover the ride.
Go here, for a complete list of service changes and project updates, or download the "My MTA" app.