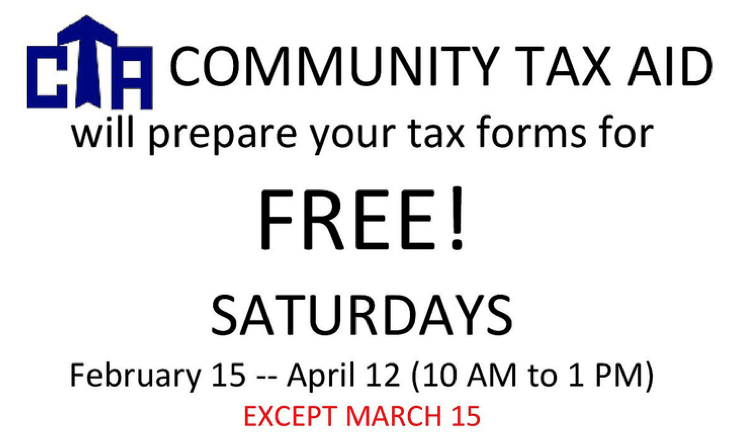 Community Tax AID is volunteering to prepare your tax forms for FREE!
All SATURDAYS, February 15 through April 12 (10 AM to 1 PM)
EXCEPT MARCH 15
Pratt Area Community Council's (PACC) Community Room
226 Lefferts Place, Corner of Franklin Avenue
Take the C train, B25 or B49 to Franklin Avenue
To qualify your income must be less than or equal to $25,000 if you are an individual OR less than or equal to $50,000 for all others.
When you come please bring:
* Photo ID and proof of your SSN or ITIN.
* Your last filed tax return if you can find it.
* All of your tax papers (W-2's, 1099's and any others you have) plus any letters from the IRS or NYS Tax Dept.
* Post-secondary students (accredited schools) should bring their 1098-T and a bursar's receipt if possible. Receipts for books and supplies as well. They may be needed.
* Self-employed people should bring a listing of expenses and income.
All questions will be answered by Community Tax AID Professionals at the filing session. If you'd like to see other sites that are offering free tax prep services, visit www.nyc.gov/ofe