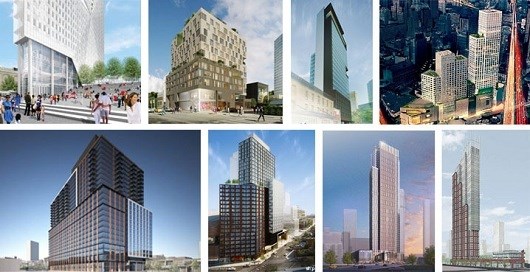 There's a building boom that is taking place in Downtown Brooklyn, with thousands of new residential units on the way.
As many as 1,100 affordable units will be built over the next three years and will be made available to the public through a lottery process, with at least 50 percent of the units set aside for local residents.
The transformation taking place in Downtown Brooklyn is astounding as thousands of new apartments in new buildings are coming online at a rapid pace, said HPD Commissioner Vicki Been.
"What people cannot see is that many apartments in these gleaming towers are set aside as affordable and as such are required to be rented through HPD's lottery process," said Bean. "All of these affordable apartments have a preference for residents of the neighborhood."
Despite this, developers often have a hard time filling that quota, with lottery applicants often deemed ineligible for minor errors in their applications or poor credit.
If you are interested in placing yourself in this lottery and increasing your chances of being selected, then come take part in this unique program: Five free seminars will be offered for local residents to better compete for the units coming online.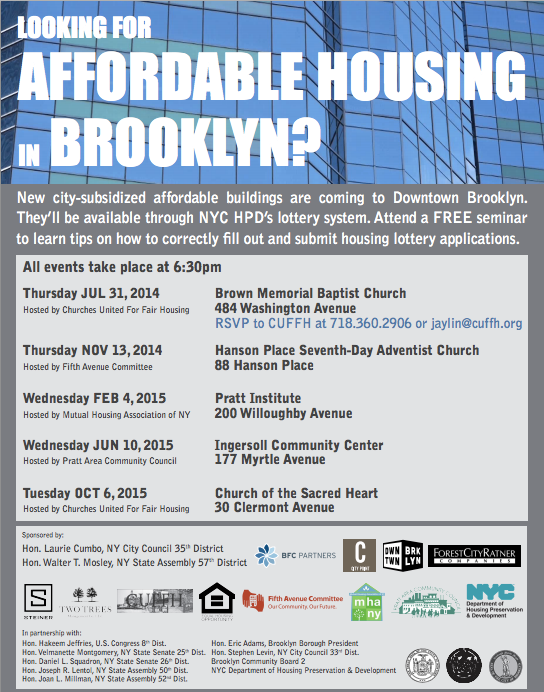 The program is spearheaded by the Downtown Brooklyn Partnership, in conjunction with State Assemblyman Walter Mosley and City Council Member Laurie Cumbo and some of the area's largest real estate developers including Acadia Realty Trust/Washington Square Partners, BFC Partners, Forest City Ratner Companies, Steiner NYC LLC, and Two Trees Management Company.
"This effort is coming at a key juncture to help ensure that the growth happening in our neighborhood benefits those who have long called it home," said Downtown Brooklyn Partnership President Tucker Reed.
The first seminar will take place this Thursday, July 31 at 6:30 pm at Brown Memorial Baptist Church, 484 Washington Avenue. RSVP to Churches United for Fair Housing (CUFFH) at jaylin@cuffh.org.
The remaining seminars will be held at 6:30pm on:
November 13, 2014 at the Hanson Place Seventh-Day Adventist Church (88 Hanson Place); hosted by Fifth Avenue Committee
February 4, 2015 at Pratt Institute (200 Willoughby Avenue); hosted by Mutual Housing Association of New York
June 10, 2015 at Ingersoll Community Center (177 Myrtle Avenue); hosted by Pratt Area Community Council
October 6, 2015 at Church of the Sacred Heart (30 Clermont Avenue); hosted by CUFFH