From the outside, Franklin Cellars may look like many other wine and spirits shops, but the unique legacy it carries sets it apart.
The shop at 126 Putnam Ave was once the site of Kaqvet Liquor Store, a well-known Bed-Stuy establishment owned for more than 25 years by a man from the Caribbean named Ernest.
What's known as a "Bulletproof" liquor store, Kaqvet, with plexiglass to protect merchandise from robbery, was a far cry from Franklin Cellars' open shelving displaying an assortment of fine wines.
"It was very uninviting," said Mike Gittens of Kaqvet. Gittens is one of one Franklin Cellars' three owners. A Bed-Stuy native who grew up not far from the old liquor store, he remembers it well.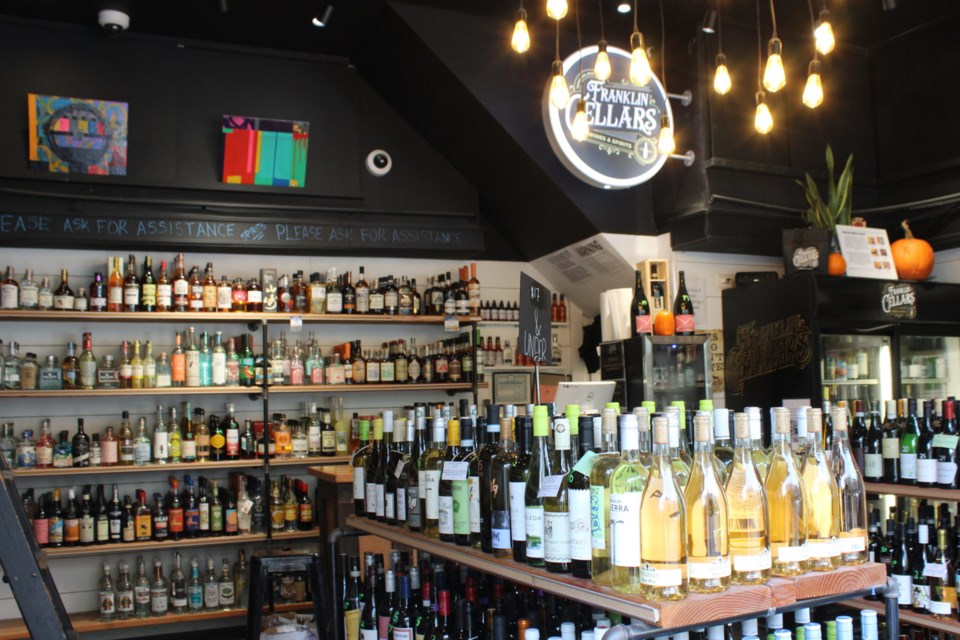 In 2019, when Gittens heard Ernest was selling Kaqvet and moving back to his home country, he and his friends from the corporate world Alphonse Janvier Jr. and Elliott Bey saw an opportunity.
"It was sort of like the perfect storm," said Bey of the opportunity to continue Ernest's legacy at the very same location. The trio decided to change Kaqvet from an old-school liquor store to a modern wine and spirits shop.
But the co-founders had their fair share of challenges ahead. For one, there was the pandemic. Franklin Cellars pushed back its opening a few months before finally opening in June of 2020, amid the ongoing pandemic.
"It was challenging because the base of customers, they were at home," Janvier said. But the team made sure customers, many of whom were familiar with the previous liquor store, knew they were open for business.
"They'd come, they'd taste some wine, we'd have an assortment of wine, people would come in, it would be almost like a minibar," Janvier said of their first few months.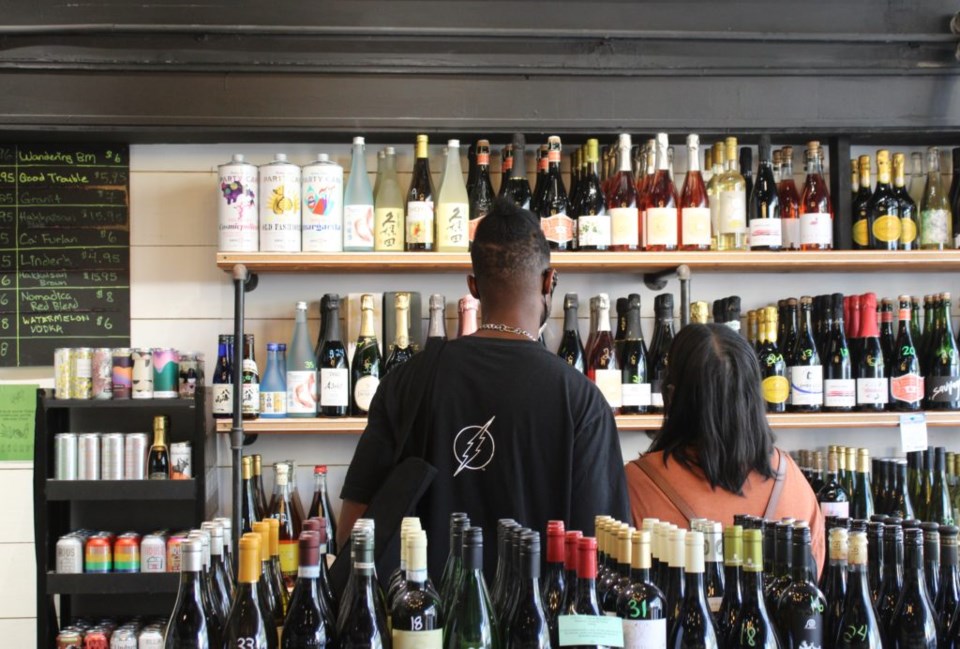 "I think we grew a big following and we got the neighborhood to embrace us because you used to be able to just come in and have a conversation."
Franklin Cellars' distinctive collection of wines including organic wines and wines produced by Black-owned companies are key to keeping customers coming back.
"We try to stay away from the mass-produced wines people are used to," said Lam Lai, a brand strategist for Franklin Cellars. "I think that the product that you offer the neighborhood has an impact on the quality of life of the people living here."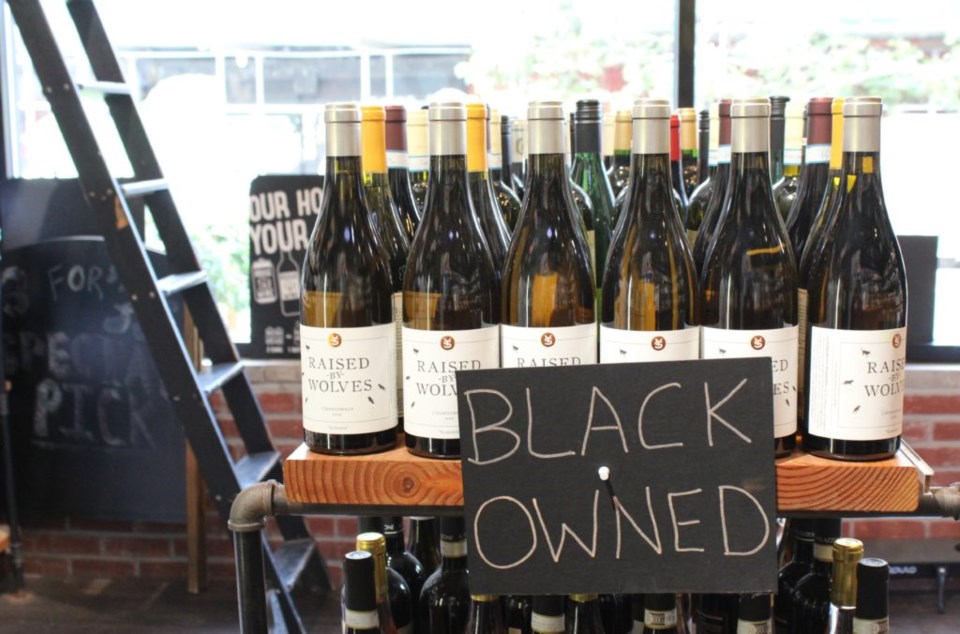 The shop's affordable pricing, with wines ranging from $12 to $45 doesn't hurt business either. "Good wine doesn't have to be expensive wine," Gittens said. "It's about your palate at the end of the day."
Despite building a steady following over the past year, Franklin Cellars is keenly aware of the obstacles faced by many small, Black-owned businesses in places like Bed-Stuy.
"Businesses that were owned and occupied by people who lived in the community for 40, 50 years, they've sold," Gittens said. "Those businesses are now being occupied by people that are new to the neighborhood."
Gittens envisions a "community-based business network" in the area. "This part of Bed-Stuy is not as established, you know, but hopefully we could be one of the anchors that helps you know create that network that we're thinking about."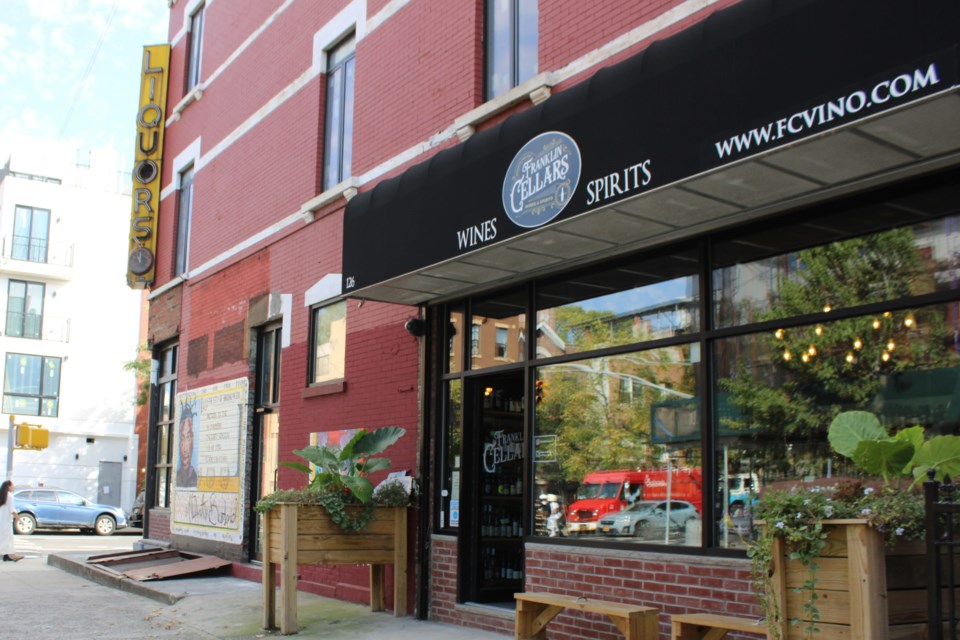 Though Franklin Cellars sits on a quiet street, there's hope for such a network. The shop is adjacent to two upcoming commercial lots and a large residential building. It's also right next a touristy mural of Brooklyn rapper OBD, and on the nearby corner of Franklin and Putnam, there's the bright yellow "Liquors" sign from the shop's days as Kaqvet Liquor Store.
"We could be a business that just extracts value out of the neighborhood, but we plan to be a business that gives value to the neighborhood." Said Gittens.
"That's what we're trying to figure out, how do we continue to build more equity stake in neighborhoods that we grew up in."