It's a Brooklyn story of Big Fish Eats Little Fish-- a cautionary tale far too common in an era of hyper-gentrification.
And while some socially conscious real estate developers in New York City have begun to rethink their approach to building in vulnerable, low-income communities, many of the city's long-term residents continue to bear the greatest losses.
In Bedford - Stuyvesant, for example-- a neighborhood with the city's largest collection of unaltered, million-dollar brownstones-- preserving a family home from the onslaught of thirsty developers and skyrocketing property taxes is a challenge that grows more daunting with each passing year.
It's something Adreinne Waheed, a professional photographer and a Bed-Stuy resident, knows all too well.
A dream home becomes a nightmare
Waheed saved money for nearly two years to purchase her first home at 533 Franklin Avenue in 2000. At age 28, she was the first member of her family to become a homeowner.
"I was extremely proud to be able to buy my first home," she told BK Reader. "And to own in Bed-Stuy was a dream come true to me."
By early 2016, she and her neighbors heard that a developer bought the property next door to Waheed's house.
The company, Empire Management & Construction, planned to demolish the two-story building, which housed a Key Food supermarket, to construct a massive 8-story, 116-unit luxury apartment building, at 1134 Fulton Street.
Soon after, the construction company sent a representative to ask Waheed to sign an access agreement, which would allow workers to enter her property to facilitate construction. She promptly hired a lawyer.
VIDEO
The developer agreed to pay Waheed to access her property. In hindsight, that amounted to pennies compared to the damage, loss of tenants and disrespect she endured for four years.
"I had no idea what I was in store for," she reflected.
Waheed said her first attorney was inexperienced in real estate law and was no match for the high-priced legal team representing the developer.
"I ended up signing a bad contract," she said. "It gave them a lot of leeway."
In addition to the many cracks and crumbling the construction inflicted on the brownstone, her backyard was ruined. And her basement flooded, destroying hundreds of valuable photographs and negatives.
The worst of it came in September 2017 when earth moving equipment apparently cracked the foundation of her house.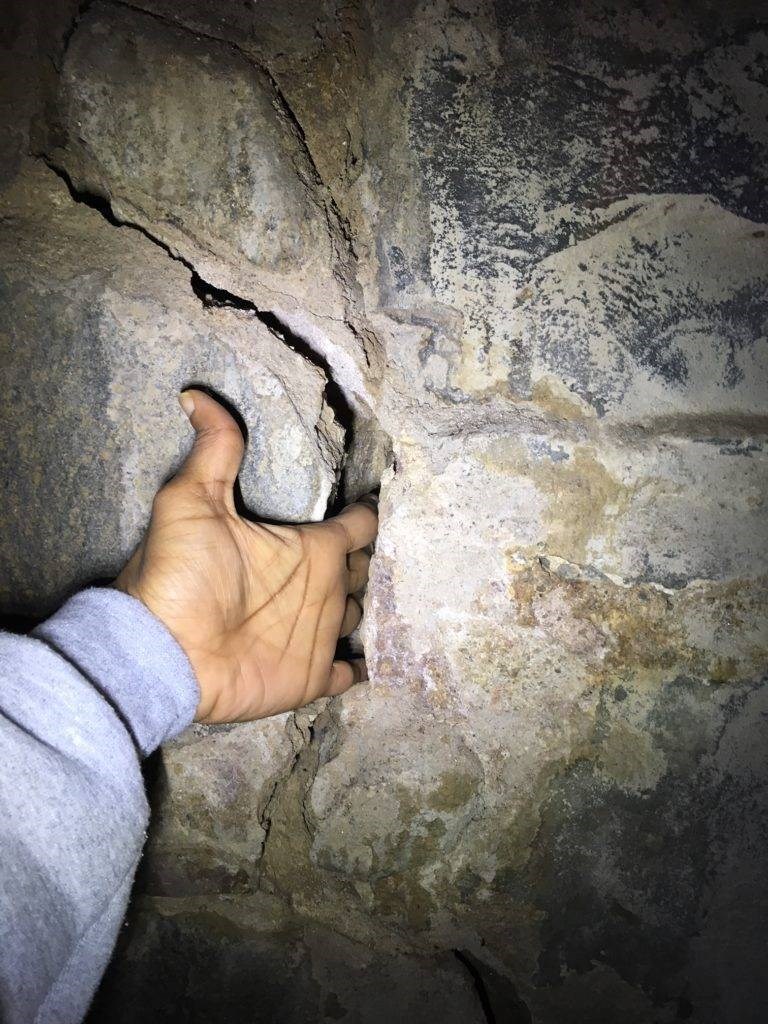 Complaints fall on deaf ears
She complained vigorously to the site manager, Luzey Weiss, who routinely denied that his construction caused damages. He would send someone to make "shoddy" fixes, according to Waheed, and then promise to come back later to make permanent repairs.
According to Waheed, Weiss used bullying tactics throughout her ordeal, a charge that the block association president, Isis Sapp-Grant-- who also had many encounters with Weiss-- confirmed to BK Reader.
BK Reader reached out to Empire Management & Construction and the management company, Bruman Realty-- one of the largest landlords in Brooklyn owned-- and received no response.
Still, after the project was completed, Weiss apologized in a February 2020 letter, viewed by BK Reader, for his "conduct in communicating with the neighbors."
However, no action accompanied the apology, said Waheed.
Impact on the community
Sapp-Grant recalled that during construction, in December 2019, the builders plugged into the area's electric infrastructure and ignited an underground fire that caused widespread power outages to houses near the site.
"It didn't seem to register for anybody else as important enough," Sapp-Grant recalled. "People would say 'That was messed up,' But what could we do?"
She reached out to her City Councilmember, Robert Cornegy, as well as her Community Board District Manager Henry L. Butler, who visited Waheed's house to view the damage.
Butler, stated that it was a legal matter and that he and the community board did as much as they could to help, declining to comment further. Cornegy did not respond to a request for comments.
What can homeowners do?
"If homeowners don't have really good legal representation, it often ends up bad for the homeowner," Pat Julien, director of homeowner services at Impacct Brooklyn, told BK Reader.
"Don't sign anything. Don't do any handshake agreements," Julien warned.
"Access agreements give developers permission to be on your property. But if you don't read it and put in the clauses and stipulations you want to have in the agreement, it's going to favor the developer."
It's best to work out the detail, from the start, with the developer about what happens when construction occurs next to your home. There's much to consider when negotiating an access agreement, she added.
The New York City Department of Buildings (DOB) is closely involved in new construction and serves as a regulatory enforcement agency, Andrew Rudansky, press secretary for the agency, told BK Reader.
Although the DOB does not provide legal services nor enforce access agreements, there are legal requirements to protect neighboring properties, said Rudansky, pointing to Chapter 33 of the NYC Building Codes related to the protection of adjacent properties during ongoing construction activity.
Prior to the project, DOB sends letters to adjoining property owners when work is being proposed and after the permit is issued. The purpose is to inform the neighbors about upcoming construction projects, including the contractor's insurance information.
Homeowners can also report potentially unsafe conditions by submitting a formal 311 complaint. The DOB will then dispatch a field inspection to investigate.
"Complaints of potential hazards at construction sites endangering adjacent properties are taken very seriously by the department," Rudansky added. "We respond to these specific types of complaints within 24 hours of when they are filed."
Waheed contacted DOB after her foundation cracked, and the inspector shut down construction for more than a month.
"During that time, the developer was made to revise his plans for underpinning my home," she recalled. "After the plans were revised, he was given the greenlight and resumed construction."
At this point, Waheed has an uphill battle. After hiring a third lawyer, she is suing Porter Ave Holdings LLC, which is affiliated with Empire, for failing to the make the repairs they agreed to in a third amendment to their original contract.
"At this moment, I'm still fighting for justice," said Waheed, exasperated and tired.
"I just want my home fixed."