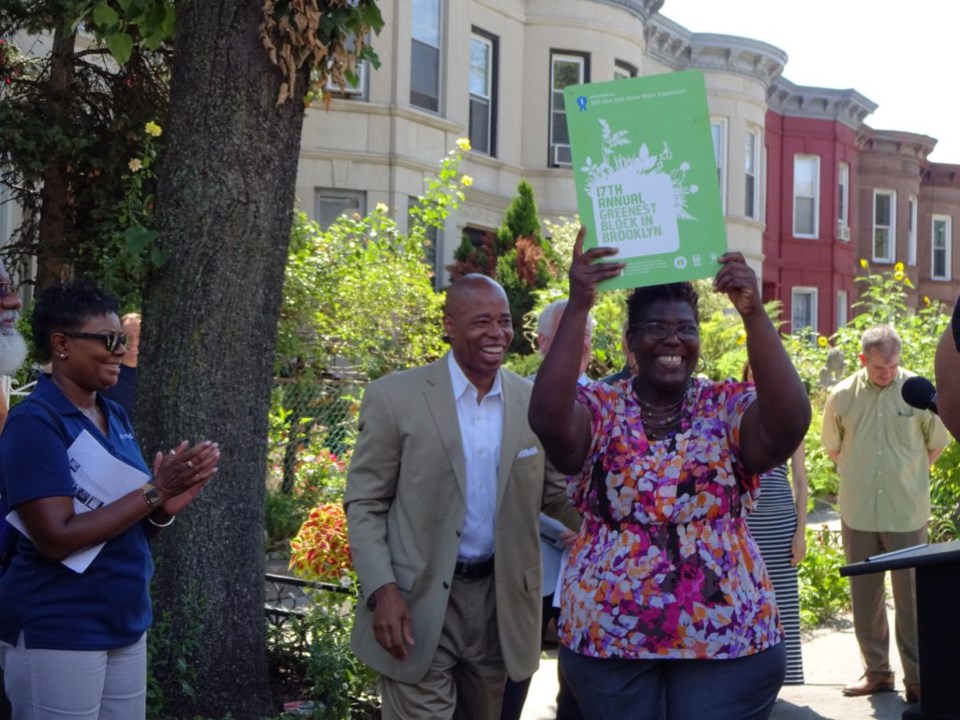 Brooklyn's Olympics of gardening, the 'Greenest Block in Brooklyn Contest' wrapped up today with East 25th Street Clarendon Road and Avenue D crowned as the 'Greenest Residential Block in Brooklyn.'
The colorful Flatbush street competed against more than 150 other blocks from all over the borough to receive this honor, along with a $300 check from the Brooklyn Botanic Garden.
According to Brooklyn Botanic Garden President Scot Medbury, the contest is a very competitive affair that is judged by expert panel of Brooklyn Botanic Garden staff, horticulture professionals and local journalists, whose criteria include variety of plants, street tree care, the use of color and resident participation.
Brooklyn Borough President Eric Adams could easily see that East 25th Street was a winner. He said, "Right now when you walk on the block and you see the diversity of the greenery, you realize that there is a communication that you don't need a translator for. It is saying that we are in one with nature."
Residents of East 25th Street seemed to appreciate the recognition; however, they are not strangers to gardening awards. Signs for the 'Greenest Block in Brooklyn' contest of prior years were displayed on the fences of a few homes on the street, showing off years of dedication to beautifying their block.
A nine-year resident of East 25th Street, Gloria Thomas explained, "I met a young lady this morning. She asked me if they are paying us. I said no. So she said, 'Why you all doing so much?' I said if you live on the block and everyone beautifying the place, of course you'd want to get involved and beautify your place too."
Sisley Legere, who has lived in a house on the block for 26 years added, "Here is where we live. We do it for us and if when the competition time comes and we win, that's it."
In addition to the Greenest Residential Block in Brooklyn, the Brooklyn Botanic Garden also announced the winners of the contest's other categories. The full list of winners is featured on the Brooklyn Botanic Garden's website.