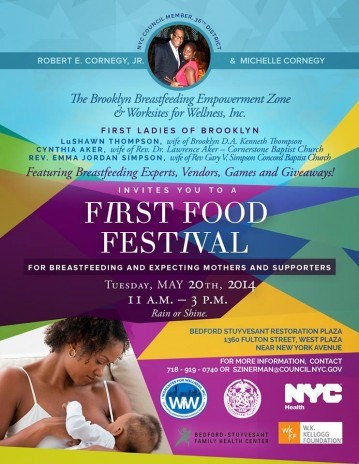 Brooklyn's first annual First Food Festival will be held on Tuesday, May 20, from 11:00am - 3:00pm, at the office of City Councilmember Robert E. Cornegy.
The public is invited to take part in this special day, as the Councilmember, the Brooklyn District Public Health Office and the First Ladies of Brooklyn-- LuShawn Thompson, wife of Brooklyn D.A. Kenneth Thompson; Cynthia Aker, wife of Rev. Dr. Lawrence Aker; and Rev. Emma Jordan Simpson, wife of Rev. Gary V. Simpson-- will come together to help raise awareness of the community's first Community Lactation Station in the borough's first Breastfeeding Empowerment Zone.
Mothers will share breastfeeding stories and other special invited guests will share their personal journeys in parenting.
A panel entitled Meet Your Breastfeeding Support Team will introduce families to the wide array of breastfeeding support services available in Bedford Stuyvesant and Brownsville, from WIC Peer Counselors to International Board Certified Lactation Counselors (IBCLC's).
First Food Festival will be a fun and interactive event educating mothers, residents and employers to the benefits of breastfeeding.
The event will be held at Restoration Plaza West, located at 1360 Fulton Street (near New York Avenue).