The Linwood Park Apartments building has officially opened to residents in East New York. The building at 315 Linwood St is the first to be opened following the neighborhood's rezoning in 2016, which was designed to increase affordable housing stock.
The building, developed by B&B Urban and L+M Development Partners and designed by MHG Architects PC, has 100 apartments and includes supportive housing for formerly homeless families. It is one of the first affordable buildings to open in New York City since the onset of the COVID-19 pandemic.
The 10-story building includes 10 affordable housing units for families earning less than 50% of Area Median Income. In New York City, AMI is $79,600 for a single person household and $102,400 for a family of three, meaning 50% of AMI would equate to is $39,800 for a single person household, $45,500 for two-person household and $51,200 for a family of three.
The building also includes 59 units for families earning under 60% of AMI and an additional 30 units of supportive housing for formerly homeless families. On-site services for these tenants will be provided by HousingPlus.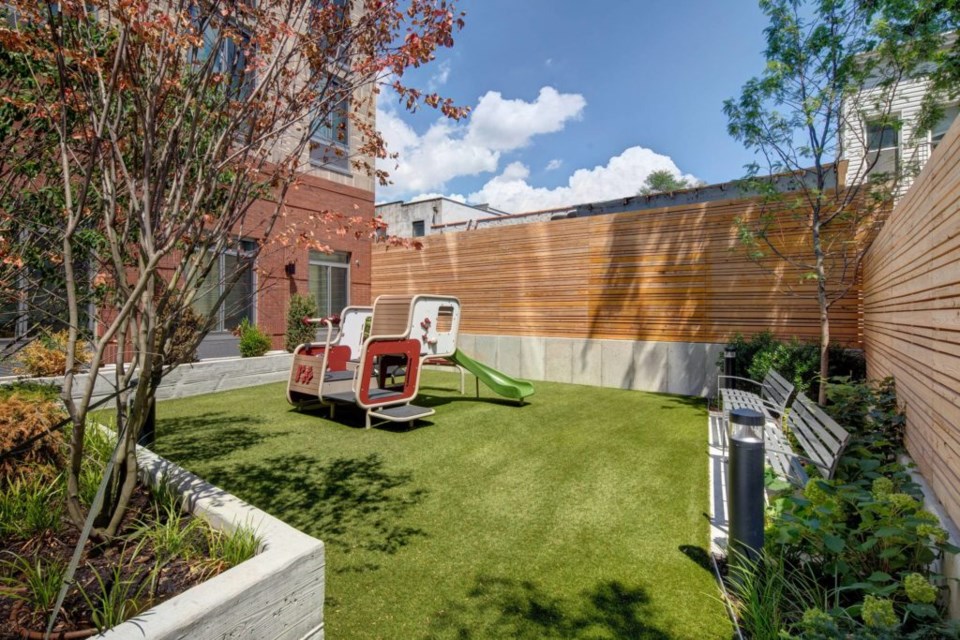 New York State Homes and Community Renewal Commissioner RuthAnne Visnauskas said the COVID pandemic had disproportionately impacted families struggling with housing insecurity and economic hardship and those challenges had been particularly acute in neighborhoods like East New York.
"That is why we are so pleased to see 100 households have moved into Linwood Park Apartments and will have access to resources and support designed to help them move forward and live successful, healthy lives," she said.
"This project builds on Governor Cuomo's ongoing efforts to combat homelessness, improve access to health and housing services and enhance the overall quality of life in Brooklyn's neighborhoods."
Ron Moelis, CEO and Co-Founder of L+M Development Partners, said there had never been a more urgent moment to open new, high-quality affordable housing for New Yorkers in need — especially in an area hit hard by the pandemic like East New York. "We are thrilled to welcome residents to their new homes at Linwood Park Apartments," he said.
Former City Councilmember Rafael Espinal, who helped pushed through the rezoning proposal when he was in office, said the new building embodied the goals of the East New York Neighborhood Plan: to create deeply affordable housing, built on private land, for the people of the community," said
"The apartments bring permanent affordability in a neighborhood that is mostly driven by market rate units, ensuring that East New York continues to be the diverse and inclusive neighborhood I grew up in," he said.