Peppermint Pinwheel Cookies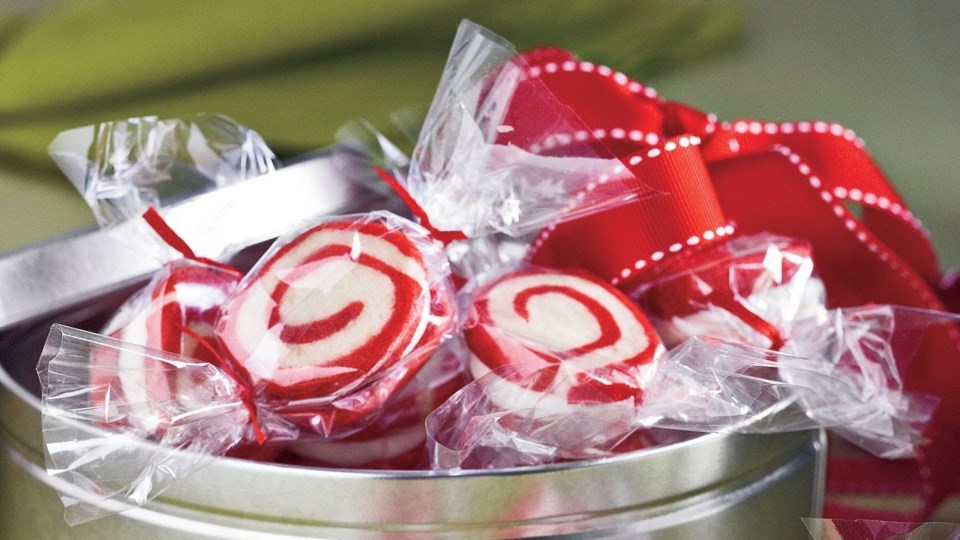 Ingredients
1/2 cup butter, softened
1 cup sugar
1 large egg
1/2 teaspoon vanilla extract
1 3/4 cups all-purpose flour
1/2 teaspoon baking soda
1/4 teaspoon salt
3/4 teaspoon red food coloring paste
Parchment paper
Preparation
1. Beat butter at medium speed with a heavy-duty electric stand mixer until creamy; gradually add sugar, beating until light and fluffy. Add egg and vanilla, beating until blended, scraping bowl as needed.
2. Combine flour, baking soda, and salt; gradually add flour mixture to butter mixture, beating at low speed until blended.
3. Divide dough into 2 equal portions. Roll 1 portion of dough into a 12- x 8-inch rectangle on a piece of lightly floured plastic wrap.
4. Knead food coloring paste into remaining portion of dough while wearing rubber gloves. Roll tinted dough into a rectangle as directed in Step 3. Invert untinted dough onto tinted dough; peel off plastic wrap. Cut dough in half lengthwise, forming 2 (12- x 4-inch) rectangles. Roll up each rectangle, jelly-roll fashion, starting at 1 long side, using bottom piece of plastic wrap as a guide. Wrap in plastic wrap, and freeze 4 hours or up to 1 month.
5. Preheat oven to 350°. Cut ends off each dough log, and discard. Cut dough into 1/4-inch-thick pieces, and place on parchment paper-lined baking sheets.
6. Bake at 350° for 6 to 7 minutes or until puffed and set; cool cookies on baking sheets 5 minutes. Remove to wire racks, and cool completely (about 30 minutes).
7. Place Peppermint Frosting in a heavy-duty zip-top plastic freezer bag. Snip 1 corner of bag to make a small hole. Pipe about 2 tsp. frosting onto half of cookies; top with remaining cookies, gently pressing to form a sandwich.
Note:These cookies are delicious eaten at room temperature, or chill them 30 minutes for a firm, cool filling.
*Peppermint Frosting
Ingredients
1/4 cup butter, softened
1 (3-oz.) package cream cheese, softened
2 cups powdered sugar
1 tablespoon milk
1/8 teaspoon peppermint extract
Preparation
1. Beat butter and cream cheese at medium speed with an electric mixer until creamy. Gradually add powdered sugar, beating at low speed until blended. Increase speed to medium, and gradually add milk and peppermint extract, beating until smooth.