Brooklyn Borough President Eric L. Adams and The Campaign Against Hunger, joined by Councilmember Alicka Ampry-Samuels, presented on Wednesday the "Fresh Vibes Mobile Market," a retrofitted RV that will bring affordable produce, cooking and nutrition workshops combined with social services to underserved Brooklyn neighborhoods.
The initiative kicked off at Kingsbrook Jewish Medical Center in East Flatbush, a community facing some of the highest levels of food insecurity in Brooklyn.
"Hippocrates said to 'let food be thy medicine,'" said Adams. "The 'Fresh Vibes Market' is a vehicle for change, a fresh approach to combating diabetes, heart disease, hypertension, obesity and other chronic illnesses that are preventable and reversible through dietary changes. This RV will help us navigate Brooklynites in need through the challenges of accessing some of the basic services that are just in arms' reach."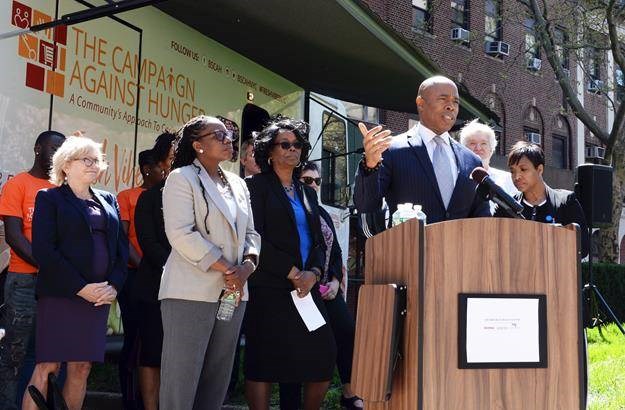 The mobile unit will make three stops per day, five days a week to offer below-market price produce grown locally by TCAH and will accept benefit programs such as Electronic Benefits Transfer (EBT); Farmers' Market Nutrition Program (FMNP), as well as Women, Infants and Children (WIC).
Equipped with a cooktop and refrigeration, produce storage bins, a classroom and a benefits access area, the RV will be staffed with a chef-educator, an outreach worker and a SNAP specialist to offer cooking demonstration and workshops, as well as SNAP screenings, job referral services and even fitness classes.
The "Fresh Vibes Market" targets the most underserved Brooklynites including the elderly, new mothers, children, students, NYCHA residents and undocumented immigrants, allowing TCAH further expand its mission to increase access to healthy foods in high-need areas.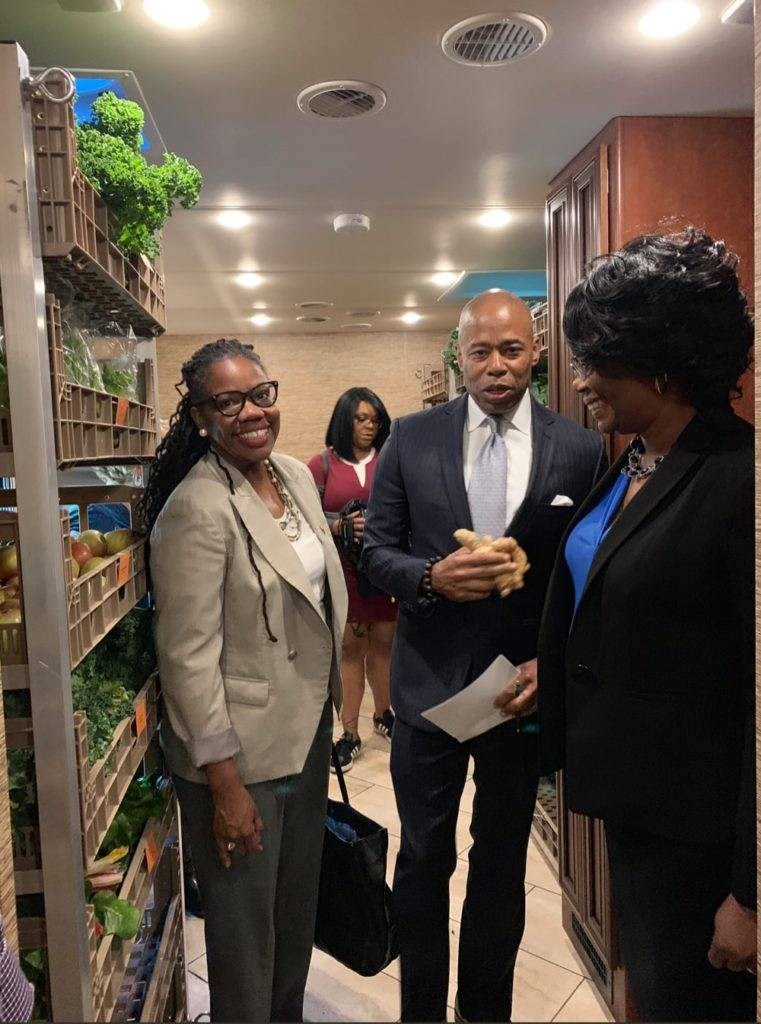 "TCAH's core mission is to empower our neighbors to lead healthier, more productive and self-sufficient lives by increasing their access to nutritious food and related resources," said Dr. Samuels, founder and executive director of TCAH. "Unlike other emergency feeding programs, our primary goal for this vehicle is to increase the consumption of fresh fruits and vegetables by engaging families to make healthier eating choices and to introduce measures that can make a dent in high levels of chronic disease."
The launch of the mobile market also marks the beginning of numerous outreach campaigns, developed by TCAH in partnership with Kingsbrook Jewish Medical Center, to eliminate barriers to food access and social services in the community, officials announced.
"We know that improving access to healthy foods and needed social services are key to one's overall health," said Enid Dillard, director of marketing and public affairs at Kingsbrook Jewish Medical Center. "We look forward to growing this partnership and impacting the lives of those who are food insecure within our communities."