Brownsville's Brooklyn Democracy Academy has received four, brand-new indoor hydroponic farm units to grow leafy greens and herbs for the surrounding community, announced Brooklyn Borough President Eric Adams at a press conference on Tuesday.
The $20,000 project, made possible with funding from the borough president, will integrate the vertical farm units into the curriculum to teach students hydroponics, the urban farm practice of growing produce in a nutrient-dense solution with no soil. Additionally, the students will learn how to write code and create applications to maintain the vegetation units.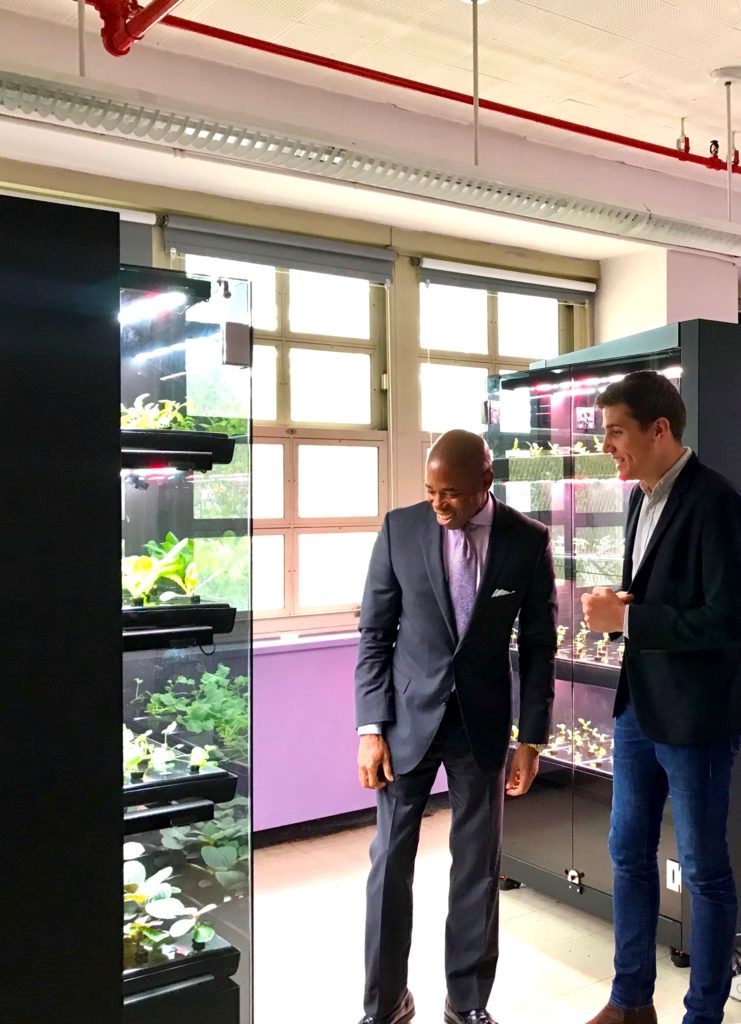 "With this initiative, we're teaching students to grow healthy food in state-of-the-art vertical farming units that will go to nourish our neighbors in need," said Adams. "We can solve our food desert crisis while educating our youth for the urban agriculture careers that will drive our future. I couldn't be more excited!"
The hydroponic farm units are provided by Farmshelf, a vertical farming start-up located at the Brooklyn Navy Yard.
To help improve access to healthy, organic food in Brownsville, all of the produce grown by the students will be distributed to nearby senior centers, NYCHA residents and other community-based organizations on an ongoing basis.
A 2016 Food Bank for New York City report revealed that Brooklyn had a food insecurity rate of 20 percent. Brownsville was one of the worst performing neighborhoods regarding access to fresh food as well as high rates of diabetes, obesity and lower life expectancy.
Adams was very excited about the prospect that the hydroponic farm units at the Brownsville school will help to tackle the issue of food deserts. However, Judith Atongi, one of the students, had one concern:
"Before I started my hydroponic's class, I already knew how to grow food in soil. So I was curious to learn how to do it without," said Judith.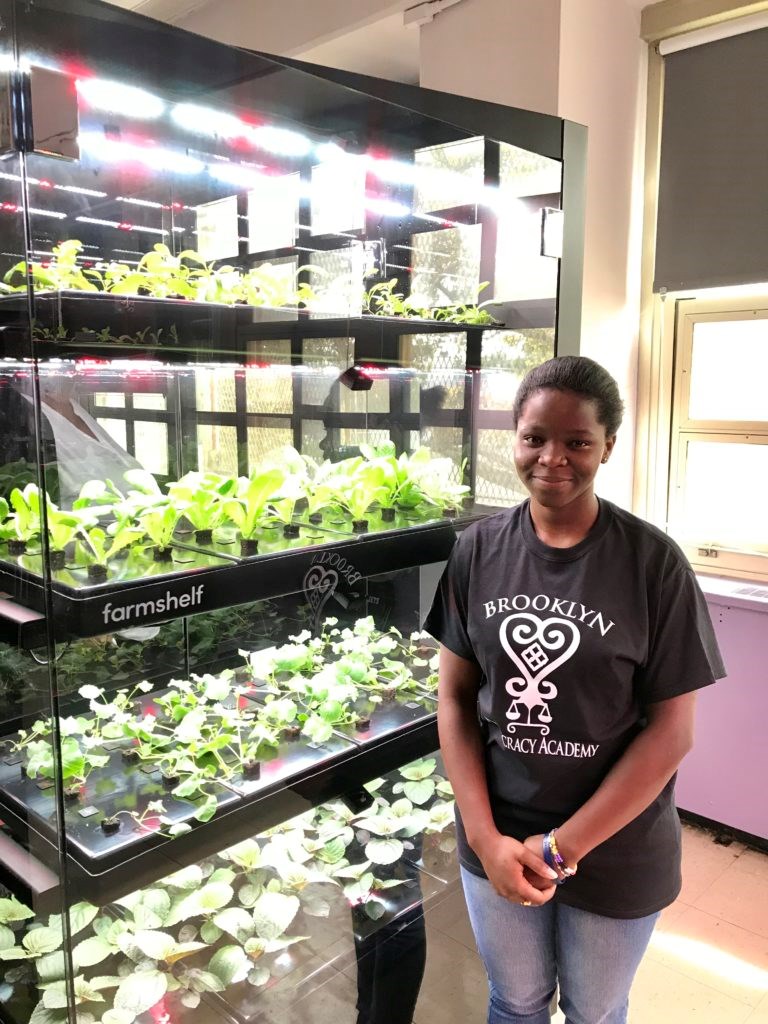 "Then I asked if we can keep the food. And I was told we have to give it away. But I don't like to share my food," she said laughingly. "So I guess, I also had to learn how to share my food."
Farmshelf CEO Andrew Shearer believes that growing food where you live, work, eat and study should be easy.
"We are empowering these students at Brooklyn Democracy Academy to feed their communities and themselves not only to make nutritious food but to also make something that they can be proud of," he said.
The borough president is convinced that this model is a game changer.
"My vision is to use every space we have. We should have greenhouses on every school's rooftop to teach our young people how to grow fruits and vegetables and see the economic benefits of its," said Adams. "The growing urban agricultural movement has the potential to revolutionize our entire food system."