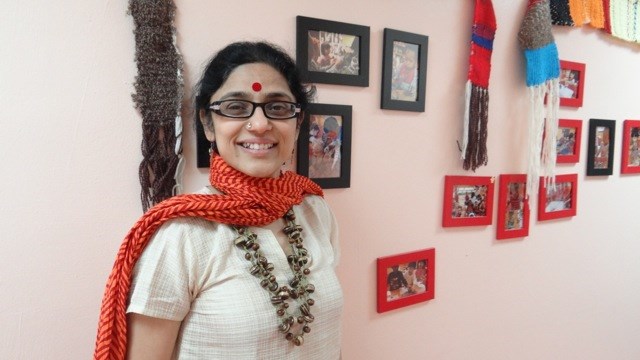 When your first walk into Sudha Seetharaman's sunny office space in Fort Greene, Brooklyn, the first thing you notice is color!
And it's not just because her office is decorated with expressive paintings made by elementary-aged hands. Nor is it due solely to the colorful shalwar Sudha wears.
It is because of the air she exudes—one of someone whose light reflects a wide spectrum of colorful experiences.
Sudha, along with her husband Anand Kamalakar, are the founders of Trilok School, a private arts and science school located at 143 Waverly Avenue (on the corner of Myrtle) in Fort Greene.
"We both are artists. And we both are crazy, awesome people," said Sudha of her husband and business partner.
A classically trained bharatanatyam dancer, Sudha immigrated from India to Oregon in 1992, at age 22. In 1994, she moved to New York City to work on her Ph.D in dance and education at New York University.
But she soon became antsy and decided she would rather "start participating in life."
"I'll get back to working on that Ph.D maybe when I turn 60," laughs Sudha, "but for now, I just want to do real work and give back as much as possible."
In 1995, Sudha founded Trilok Fusion Arts, a non-profit organization that teaches cross-cultural music, dance, theater and social studies. Trilok, a Sanskrit word that means "three worlds," steadily grew in popularity, and soon Sudha and her fusion arts program were being requested at elementary schools all across Brooklyn.
No long afterward, Sudha hooked up with a local jazz band to create an entirely new form of dance performance that she calls "Jazz Natyam," where classical Indian dance is performed to jazz music.
"The authentic aspect is the technique that comes from the book called Natya Shashtra," Sudha says. "As this ancient form of dance traveled to the different parts of India, they used the local classical music, so the dance took on a slightly different form across the 20 different states.
"So I thought, if that is possible, and if I am now in Brooklyn and the local classical music here is jazz, I decided to merge jazz music with the local Indian classical dance to tell stories."
In 2005, Sudha, along with her husband, her jazz band and group of young dancers, choreographed, produced and performed at the Lincoln Center the great Indian epic known as The Ramayana, one of the most important stories to influence Hindu life and culture.
(To watch some videos from that performance, go here).
She counts the performance at Lincoln Center as one of her greatest achievements and proudest moments to date.
Another proud moment came in 2007, when she and her husband went on to found Trilok School, an independent private school on St. Felix Street with just two students (one of whom was her own child).
In 2010, the school had grown to 24 students and moved to 410 Adelphi St. And in 2011, it expanded once more into its current space on Myrtle and Waverly, where it now houses 70 students, grades pre-K through 4th grade.
Trilok school is quite unconventional: The children and the teachers meditate, take many field trips, learn about science and dance and music and food and "saving the earth."
"My school is close to 75 percent green," says Sudha. "Recycling is hugely important; there are very few things we actually go and buy first-hand."
Even their library is recycled, with 100 percent of the books donated.
"We put forth a lot of energy here to make the children understand that we're actually one, and so we should try to share and to live with basic things.
"The change might be just a drop in the ocean. But I think we need to add those drops to the ocean," Sudha says.
"And so, yes, I believe this will be our greatest contribution to the planet and the world."