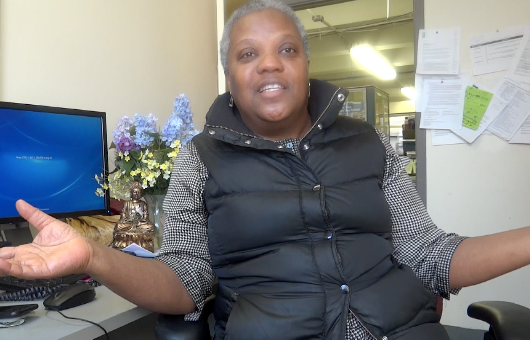 Meet Mireille Massac, the public relations coordinator, trainer, community liaise and all-around "go-to gal" at Child Development Support Corp., a social service agency, located at 352 Classon Avenue in Clinton Hill.
One of Massac's greatest responsibilities is managing and coordinating the food pantry at the agency where, every week, crowds of people-- mostly the elderly-- arrive with their small shopping carts, take a number, sit and wait to be called to receive what often is their only reliable source of weekly food.
For Massac, who has worked at the organization a little more than 20 years, serving as the point person for the food pantry is a responsibility she takes gravely serious-- not only because it's important to Massac that clients can come and leave with dignity, but also, she wants to know they are receiving the healthiest and tastiest food options possible.
So to supplement the packaged and canned goods provided to clients, Massac spends hours each week tending to an indoor hydroponic farm where, tucked away in an area at the back of the building, the organization grows organic fresh vegetables.
The weekly harvest delivers lettuce, bok choy, collard greens and fresh herbs, such as cilantro and basil.
"The patrons that come to us, we learn from them. We learn from their stories and they also learn from us," said Massac.
"We feel it's a group effort teaching each other to take care of each other; it's the whole village concept.
"That's what child development is all about. It's not just a handout; we're helping them to come up with their own solutions."
"I've been here 20 years, and it feels like day-one. The passion hasn't left me."