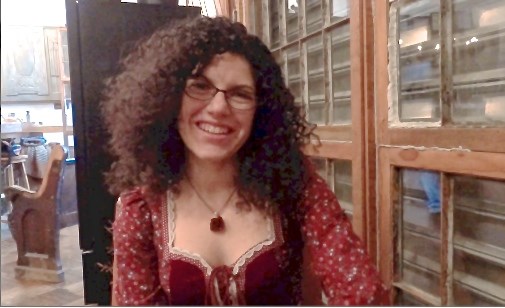 Cuisinartist and Bed-Stuy blogger Jamie Leanse is grateful for many things: her family, her yoga practice, her multi-lingual abilities, her Southwestern upbringing and... her food allergies.
Food allergies? Yes, food allergies. Because, you see, the only thing Jamie probably loves more than cooking, is eating. However, she learned at the age of 10 that she was allergic to dairy. That cut out, oh... maybe 40 percent of everything on life's food menu.
That discovery, along with her younger sister suffering from Celiac's disease-- an autoimmune disorder that impedes the small intestine from properly absorbing nutrients from food-- turned Jamie into a mad food scientist.
She was determined to figure out how to keep the dining experience amazing, without the use of dairy, eggs and processed flour. And so far, from the taste of things, she has succeeded.
Jamie's blog www.jamiescookinnyc.com, is a running list of mouth-watering vegan and gluten-free recipes, along with a few healthy meat dishes (organic, of course).
"Cooking is all about love," said Jamie. "It's about consideration for your ingredients, yourself, your body. There's so much to exchange while you're making food and enjoying food. I really just love the whole process."
Her healthy alternative food items not only often taste better than the original versions, but your stomach actually feels better. (And I say this from my own experience).
To sum it all up, "I nourish," said Jamie.
Jamie offers private cooking lessons, catering services, and she also takes recipe requests: If you have special dietary needs, you can write into the blog and ask her to feature a custom dish.