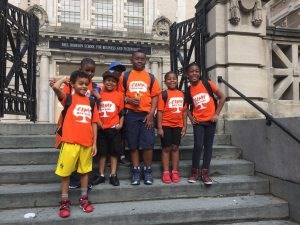 In an era where city-based summer camps often double as full-time babysitters for working parents, a program's curriculum can easily contain a lot of fluff. Amid the snack foods, the touristy field trips and the focus on outdoor activities, every summer resembles the last for some camp goers. In an effort to broaden the horizons of young minds, Camp Bed-Stuy features a carefully curated curriculum, exposure to culture and summer trips that include inspiring destinations outside of New York City.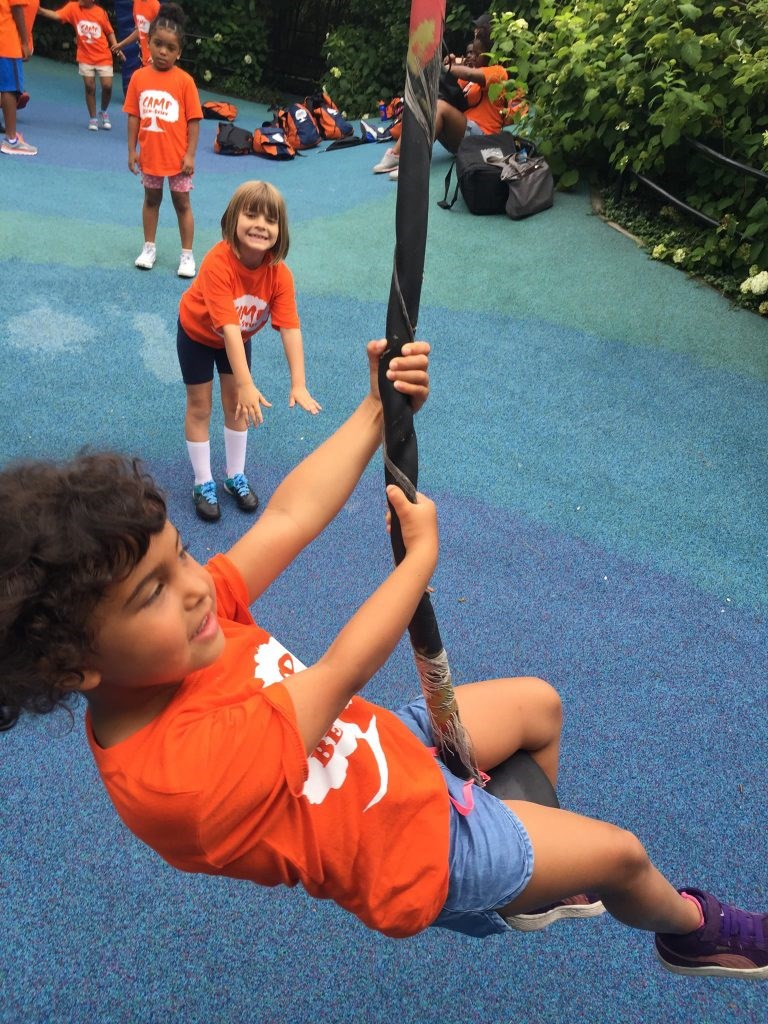 Although the camp is based in the Bedford Stuyvesant section of Brooklyn, they serve children ages 4 to 14 throughout the neighboring communities as well. With passionate teachers and counselors who teach social intelligence, self-control, gratitude, grit, curiosity, optimism and zest, every child enjoys an individualized experience that leaves them wanting more.
Fitted with bright orange Camp Bed-Stuy shirts and backpacks full of summer essentials, it's easy to spot these groups of children as they explore New York City and beyond this summer. In addition to traditional camp activities, these kids are exposed to fencing lessons, skateboarding and even a solid introduction into the world of robotics and engineering.
In an exclusive interview with Camp Bed-Stuy's Robotics & Art Program Director Karioki Crosby, the Brooklyn Reader gets a first-hand look at the atmosphere that the camp produces.
The Brooklyn Reader: There are a plethora of choices for parents when they want to keep the kids busy during the summer. How is Camp Bed Stuy unique in that respect?
Karioki Crosby: Over the years what I've seen is that a lot of summer camps set a goal that most parents understand. They set out to tire out the children. Whether it's through sports or field trips to extremely common New York City attractions, they are most focused on packing their schedule with activities. At Camp Bed-Stuy, we're trying to inspire kids, we're trying to make them think and believe in themselves.
BR: The science and technology offerings seem particularly interesting for the kids. How have they responded to these new opportunities to learn robotics?
Crosby: It's really quite interesting to watch. I've seen young girls come to this program with no interest in robotics and no experience with programming or science-related activities in general. But when they see their peers making a robot follow their command or making something move on the computer screen, they cannot wait to try it. When you watch a young girl recognize that she is more than capable of learning to do these types of things, you see her recognize her own strength in a way. That's something that translates to every aspect of her growth.
BR: Do you think young girls often miss out on these types of opportunities?
Crosby: Absolutely. Parents can unknowingly place kids in certain programs based on a belief that some things are for boys and some things are for girls. With an inclusive curriculum, all the kids have the chance to explore their strengths and weaknesses. Kids find out they have an aptitude for something that they might not have tried otherwise.
BR: How do you find staff that align so seamlessly with Camp Bed Stuy's mission?
Crosby: It really comes down to passion. The Camp Bed-Stuy staff is comprised of avid-learners who recognize the potential that these young minds hold. They are passionate about inspiring the kids, they are passionate about what the city has to offer and they love encouraging the kids to help them reach their full potential.
The camp currently offers two-week sessions that run from July to August. For more information on the Camp Bed-Stuy program, please visit their website.