Governor Andrew Cuomo will be allocating $20 million from the state's 2020 Enacted Budget for the Shirley Chisholm State Park in East New York.
The new 407-acre park, named in honor of the first African-American congresswoman and the first woman and African American to run for president, will stretch along East New York's Jamaica Bay and is scheduled to open this summer.
"State parks are central to New York's thriving tourism economy, and millions of New Yorkers turn to these world-class natural treasures each year for fun, exercise and community engagement," Cuomo said. "This investment will help enhance and modernize our parks while promoting healthy outdoor recreation, preserving our environment and lifting up local economies."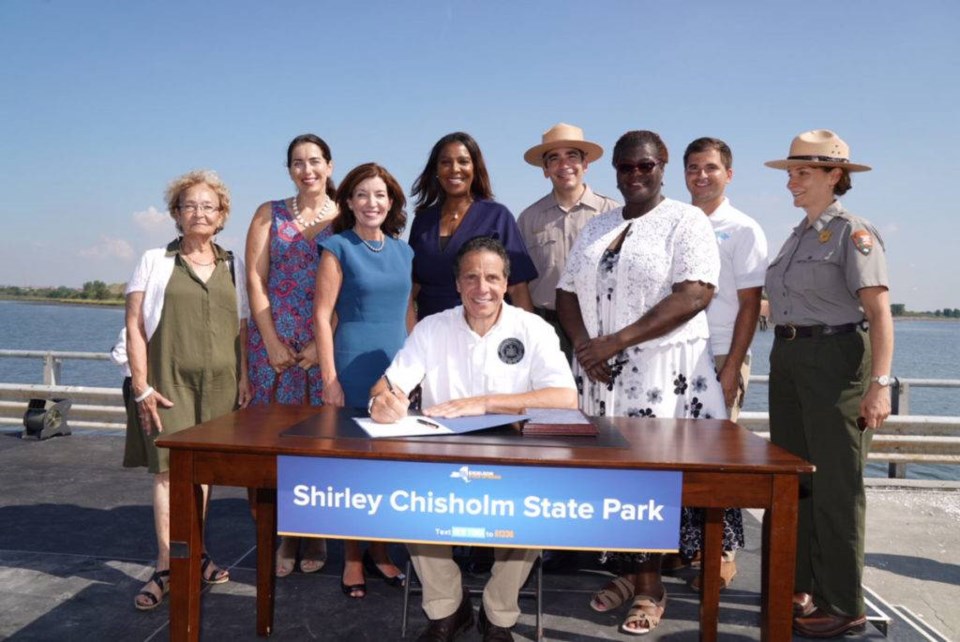 Cuomo's allocation will cover the first of several phases transform East New York's waterfront.
Phase one, expected to be completed by the park's opening, will feature ten miles of trails for hiking and biking, a pier, waterfront access for kayaking, environmental education programs, picnic areas, concessions and comfort facilities. The planning period for the design of phase two will begin in the fall of 2019 and, according to community input, could include an amphitheater, an environmental education center, lawn patios and a cable ferry.
"New York parks are jewels around our state that improve the quality of life for residents and offer great services and experiences," said Senate Majority Leader Andrea Stewart-Cousins. "The Senate Majority was proud to ensure additional funds for our state parks in the final budget. Additionally, the park honoring the accomplishments of Shirley Chisholm is a great way to recognize this trailblazing and glass-ceiling shattering New Yorker."
Upon completion, the park will be New York City's largest state park.