By Maxmillian Robinson
---
In the past year, David Negron has signed with a modeling agency, done photo shoots and been a runway model at fashion shows.
But, at age 38 and in a wheelchair, he's not your typical model.
Fifteen years ago, the Brooklyn man was left paralyzed from the waist down by a drive-by shooting intended for someone else.
"Everything was different since [the incident]," Negron said. "I had to adapt to every single thing. Any and everything I wanted to do I had to adapt, whether it was exercising or something else."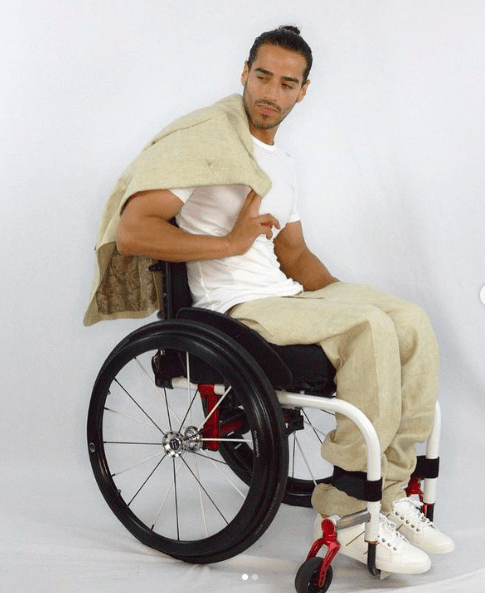 Initially, Negron struggled to get his life back on track. Even once-simple tasks, such as going to the bathroom and getting into bed, became laborious for Negron. It was a big adjustment for the lifelong East New York resident, who had been known as an athletic-type.
"Staying fit was always a hobby of mine, even as a youngster," said Negron, who trained as a boxer and worked on his physique as a weightlifter day after day. "Exercising has always been relevant in my life, even in junior high school."
But Negron's wheelchair-bound lifestyle changed that — and more.
Many of the social activities he enjoyed doing with friends were no longer easily "accessible" for him. Negron, for example, found himself unable to visit some friends' homes because there was "no ramp or elevator" that could help him get inside the house. He ultimately had to part ways with some friends.
But in that process, he found new ones and a new passion.
"I eventually became attracted to disabled people — people like me, people who are in a similar situation as me," Negron said. "I started to gravitate towards them and made new friends. During my first few years disabled, I would often ask other [disabled] members for tips on how to complete daily activities that I would now seem to struggle with on a daily basis."
Negron also learned about new opportunities through his new social circle.
"One day, I opened the [Instagram] app and saw a beautiful picture of a female model," he recalled. "The unique part about her is that while she was posing for the camera, I noticed something different. She was in a wheelchair, like me. My eyes were completely opened in shock, which then led me to finally go after my dreams of becoming a model."
Modeling turned out to be a perfect fit for Negron. The Puerto Rican says he has a unique look that makes him appealing in the industry. His slick back hairstyle, his muscular physique and photogenic appearance helped him to excel in modeling.
"The first thing I noticed was his amazing face," says fashion designer Ray Vincente, who hired Negron for his fashion show. "The bone structure, black hair, is very striking. I noticed that at about the same time as the wheelchair and since I always wanted to work with a wheelchair-bound model for a show, it was a perfect opportunity."
One opportunity led to another. In 2019, Negron became a full-time model, signing with the Via International Transportation agency, which helps him find gigs.
He has been a part of many different fashion events across New York City, such as New York Fashion Week, Brooklyn Fashion Week and Fifi Fashion week. He has also worked with many different designers and always seems to leave a great, lasting impression with others.
"He could inspire so many people given the situation he is in and he shows that anyone can do anything," said Stephen Borst, who was a fellow model in a fashion show alongside Negron. "He stops at nothing and he shows what real grind looks like. I thought his wheelchair was cool as hell!"
---
My name is Maxmillian Robinson. I am the CEO of Millianmade LLC, which specializes in retail products (clothing and accessories). I'm an actor who's been featured in shows such as NBC's The Blacklist, Showtimes City On A Hill, and HBO's Divorce. I also am a content creator (YouTube), model, and athlete as well (Basketball & Track/fitness). On my free time I write for my school's newspaper, The Delphian, read and workout. A motto that I live by everyday is: Change the game, meaning: It does not mater where you start from, but with hard work and determination, you can do anything if you put your mind to it. I'm very blessed and fortunate by God to be doing the things I do.