City officials and community members gathered Friday in East New York to officially cut the ribbon on the newly-revamped City Line Park.
The new park underwent a $5.2 million transformation into a one-acre green space that features amenities such as a multipurpose synthetic field with a perimeter track; a new skate park; a basketball court with sports lighting; an adult fitness area; a new picnic area, seating area and bleachers; and new plantings and landscape improvements.
NYC Parks Commissioner Mitchell J. Silver and City Council Member Rafael L. Espinal Jr. celebrated the park as a great addition to the neighborhood that will encourage residents to stay active and healthy.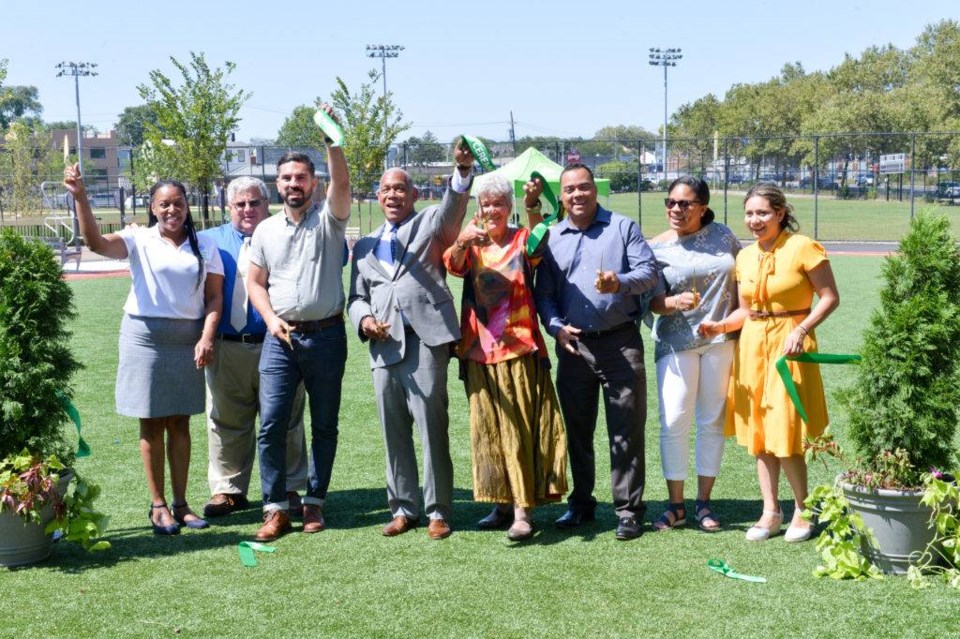 "The transformation of City Line Park is a win for the entire East New York community," said Silver. "With a generous $5.2 million investment, we have brought world-class amenities to the heart of East New York. These improvements will help to strengthen the neighborhood, support growth and development, and position the park to serve as a community hub for generations to come."
The project was funded by a $5.2 million allocation from Mayor Bill de Blasio's Neighborhood Development Fund. The site is part of the larger East New York Neighborhood Plan that includes programs, policies and investments to revitalize the community and revamp spaces that can anchor and support local development.
"City Line Park has been invested in by creating new green space and revamping recreational areas so that Brooklynites in the neighborhood will finally have a local place to be active in their community," said Espinal. "Now this area truly meets the needs of East New York and will support the community for years to come."
The upgraded park comes just in time for the new school year and will also benefit the students of the neighboring East New York High School of Transit Technology, which uses the park's ballfields, handball and basketball courts.