More than 1,000 members of East Brooklyn Congregations (EBC), including faith leaders, NYCHA residents and community members, hosted a virtual assembly Thursday night to outline expectations for local politicians heading into election season.
Brooklyn Borough President Eric Adams, Senator Chuck Schumer, Congressman Hakeem Jeffries and Comptroller Scott Stringer attended the meeting and were identified by EBC as necessary allies moving forward.
Founded in 1979 in Brownsville and East New York, EBC is an organization composed of member institutions, including congregations, schools and homeowners associations. The collective is best known for the construction of the Nehemiah Homes -- over 5,000 affordable units and houses in East Brooklyn.
"EBC led the way forty years ago. We're still here," Father Edward Mason said during Thursday night's opening remarks.
During EBC's first virtual meeting, leaders outlined the organization's vision for the future, focusing on the core issues of police reform, health and mental health, education and housing.
Reform policing while maintaining relationships
Rev. Shaun Lee of Mt. Lebanon Baptist Church addressed the organization's mounting concerns with law enforcement in its communities.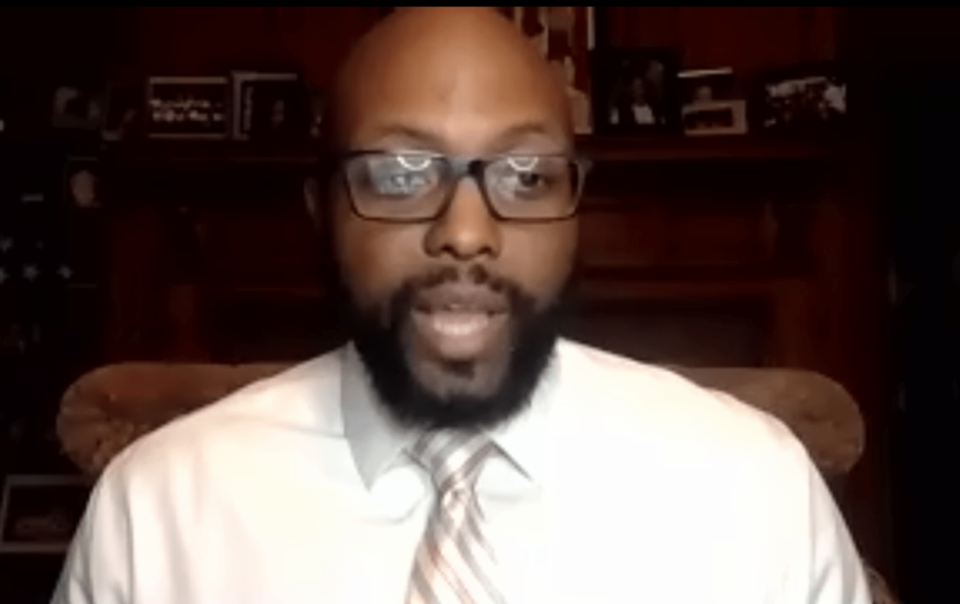 "During the presidential campaign we are hearing terms like law and order," he said. "We know that terms like that are no longer just a dog whistle, it's a bullhorn for police authorities to abuse their power."
EBC called for local leaders to focus their efforts on diversion centers as a primary destination for offenders struggling with mental health, as well as increased investment in non-police crisis personnel. Speakers said the organization did not see itself as being at odds with local precincts, instead EBC wanted to increase opportunities for collaboration.
Specifically, EBC wants to work on projects such as "Do Not Stand Idly By," an effort to hold gun manufacturers accountable, and "COMPSTAT for Cops," which were statistical crime metrics established by the NYPD in the 1990s that could root out "bad apples" within the department.
BP Adams, who helped implement an early iteration of COMPSTAT during his time as a police officer, echoed those sentiments.
The impact of COVID-19
Donna Perry, a member of one of EBC's affiliate churches, spoke on the toll the pandemic has had. Perry, who was infected with the virus along with her mother and sister, said in her church alone 65 members had contracted the disease and 15 had passed away.
The situation made it clear better access to healthcare needed to be a top priority for both EBC and local officials, she said.
Natalie Flores, a student at one of the EBC public schools, said many students at her school were having issues accessing WiFi, a necessity for remote learning. She said many families were unable to pay their bills, making virtual classes impossible to attend.
Senator Schumer said he would advocate for universal access to high-speed internet.
Mismanagement in NYCHA
Mayor Bill de Blasio and the City came under fire for shortcomings in providing safe and liveable public housing for East Brooklyn residents.
NYCHA resident Tawanna Myers said that the only time the city does anything about the "unsanitary, unfair and unsafe conditions is when EBC makes them."
Senator Schumer called out an "immoral lack of investment in NYCHA," and Comptroller Stringer called for a new housing plan centered around the needs of working people. Stringer had put affordable housing at the center of his mayoral bid.
"It's not just bridges, roads and tunnels that are crumbling and need to be repaired. We need to repair our public housing," Congressman Jeffries said, adding public housing needed to be treated with the same level of urgency as other public works.
Some of the most passionate remarks on housing came from BP Adams, who described NYCHA as "a bottomless pit, with the levels of corruption and mismanagement."
Adams stressed his commitment to NYCHA went deeper than empty words. "I want to help people that are living the life that I lived as a child," he said, adding that during the pandemic "when other politicians went to the Hamptons, I went to housing, passing out food and facemasks."
For EBC, the goal of the meeting was to express priorities going into next year's mayoral and municipal elections.
"We are going to work to create a city where we can see ourselves in the picture," Rev. David Brawley said. The four politicians said they would work to support EBC's vision.