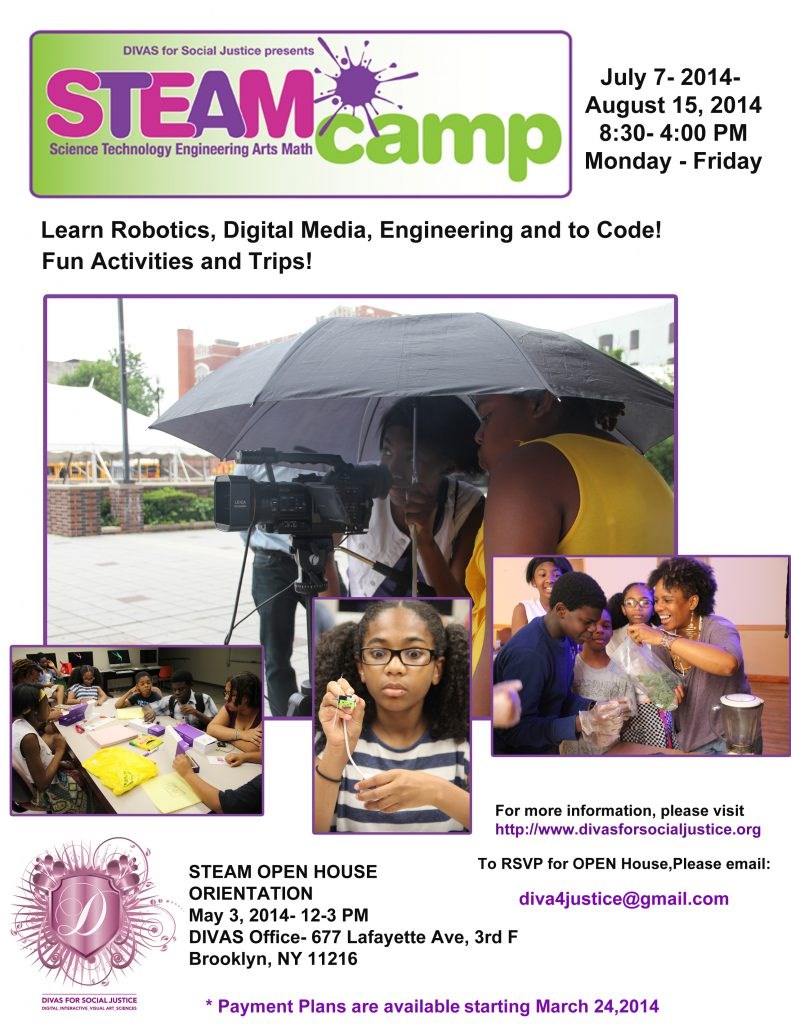 DIVAS for Social Justice is excited to offer STEAM (Science Technology Engineering Arts Math) Camp this summer to Brooklyn! DIVAS for Social Justice encourage youth in underserved communities to use technology for social change. Last year the organization launched STEAM Camp, which received press and recognition from the National Alliance of Media Arts and Culture.
The six -week camp will run from July 7, 2014- August 15, 2015, 8:30-4:00 PM, Monday-Friday
Youth will be trained in digital media, robotics and 3-D Printing. The theme of the STEAM Camp this year will be urban planning and gentrification. Through digital media youth will be trained in investigative reporting.
The Bedford Stuyvesant Restoration Corporation will partner with DIVAS in providing urban planning initiatives. In robotics, youth will build and program a robot that can provide a real life based solutions for creating diverse and just communities.
3-D Printing will encompass recreating a 5- block radius structure in Bedford Stuyvesant and using Google Earth software to see what the makeup of the 5-blocks was 5 years ago and what it is today.
In addition to these activities, youth will also go on technology- based trips to Sony Wonder Lab, The Maker-Bot Lab Store, Pace University and many more. Camp participants will also volunteer at the Quincy Community Garden and practice mindfulness and meditation and at the Brooklyn Zen Center.
DIVAS still has a few spaces open for the camp and is looking for additional partners in creating an interactive urban planning project of Bedford Stuyvesant.
To learn more about STEAM Camp and DIVAS for Social Justice please visit our site or reach out to us at: diva4justice@gmail.com