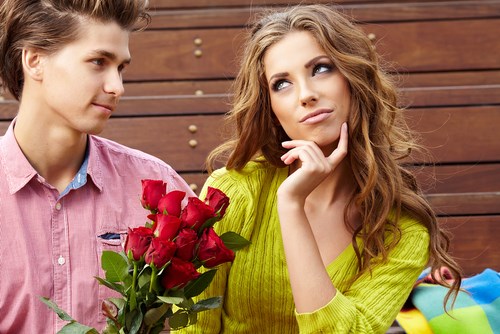 Dear Miss Dinna,
I am a 36 year old single woman living in NY who has had no luck in the dating scene. Recently I went to Tobago and met this amazing young man (21 year old) and had a great time with him.
It was only 2 days, but we have continued to whassapp with each other for 2 months now daily. I feel more connected to him then I have to anyone in years.
I'm feeling like I am really falling for him, and at the same time I feel like the age difference, the distance etc. is just ridiculous. What do you think about dating a man 15 years your junior?
Signed,
Distant Cougar
Dear Distant Cougar —
The amount of years in the age difference is not as much the concern, I believe, as what age each of you are/what developmental stages each of you are in. For instance, if he is 40 and you are 55….well that doesn't seem to be as much of a difference as, for example, 15 and 30, or even 21 and 36.
And then of course, gender has a play in this as well, as, historically, we do understand that men tend to emotionally develop much slower then women. At 21, a person usually (not always) has many more experiences and relationships to explore before he/she is really ready to even begin to understand what they may want for the majority of their future.
But putting all these things aside, which tend to point south for your predicament; let's instead look at what might be going on for you. I'm assuming, despite the age difference, you feel a mental connection with this young man, as well as an emotional care taking/attentiveness that you have been craving and not receiving otherwise.
What's most important is how his presence in your life makes you feel right now, in the moment. If it's positive, and the only negative is thoughts about the reality of a future, then I would try to remain the moment and continue to get to know this man, continue to spend time communicating with him, even possibly make plans to visit with him again and get to know him better face to face.
Tobago is a small island, and if this man (I am assuming he has not) has not traveled much outside of Tobago, if he came to visit you in NY, lived amongst your life here, you might have some reality checks that will drive a, likely, permanent wedge between the two of you.
But you will never know until that time comes, and it makes no sense to ruin the present moment with fears of the future. The future will come regardless — we have a choice in the meantime to spend time worrying about it or not worrying about it. I like the second option.
Use the light that he ignites in you to open yourself up to possibly other meetings in NY. Who knows, he may be just the catalyst you need to feel better about yourself and to find someone here who makes you feel the same way as well. In the long run, if nothing else, you've had an opportunity to meet someone kind and wonderful, regardless of their age.
Best of Luck!
Miss Dinna
On Saturday May 31st, 2014, come join Miss Dinna in hosting her seasonal event — the infamous ArteRotica at Free Candy 905 Atlantic Ave. 2nd floor. Doors are at 9 p.m. show at 11 p.m. sharp. This is an exclusive, invite only event. Must get tickets on www.arteroticaevents.com.
Ask Miss Dinna a question — any question— regarding relationships, sex and sexuality by emailing her at: dinna1974@gmail.com, Subject: "Ask Miss Dinna." She may answer your question personally or in a future column (your name will be kept anonymous).