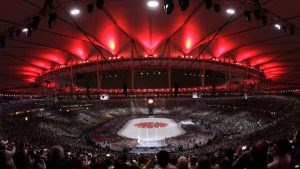 Mixed reviews swirled around last night's finale of the CBS Summer Olympics. The 17 day-long ceremony took place in Rio De Janeiro and was filled with a plethora of amazing athletic performances along with a few mishaps and scares.
"The network couldn't match its robust numbers from four years ago in London. The ratings for the closing ceremony fell a staggering 31 percent from the 2012 Olympics," according to Deadline. "[In fact,] just days before the closing ceremony the Rio Olympics numbers had fallen 17 percent from 2012."
The 16-day sports extravaganza had viewers in an uproar over social media for tape delays, endless commercial breaks, and announcing blunders. Sports fans accustomed to instant streaming via the internet were annoyed about having to wait to see events that actually took place hours before — while sitting through commercials and athlete puff pieces.
But the good news for NBC, whose parent Comcast paid $12 billion for exclusive Olympics broadcast rights in the U.S. through 2032, is that its online live streaming of events surged. Whew. At least there's a silver lining somewhere.
In fact, The Los Angeles Times commented that the Rio Games was the most "economically successful" l in history because of the cumulative audience for coverage on all of NBC Universal's cable networks and NBC's online streaming app.
And while the finale didn't necessarily end the way athletes, performers and audience members would have liked, everyone seemed to make the best of it.
"The world's athletes, shrouded in plastic ponchos and smiling through the rain, seemed an apt ending to an Olympics that was always an uphill climb. With dancers dressed as colorful birds, fiddlers and fireworks, Rio drummed and stomped its way to a happy, sopping, final note before passing the baton to Tokyo, the next host city, and more artificial rain doused the torch," said The Washington Post.
The crowd braved the wet and blustery evening and celebrated with Brazilian regional song and dance, electronica, samba and marching tunes.
Brazil's portion of the Closing Ceremonies had a natural, handmade feel: fruit and feathers, cave paintings and dancers forming craftwork lace. The only departure from the upbeat mood came when the mayor of Rio, Eduardo Paes, was greeted onstage with boos. Yikes.
Carlos Arthur Nuzman, the president of the Rio Olympic Committee, told the crowd that hosting the Games in Rio was a "great challenge," but one that was met with success.
"This is still a magic place," he said.