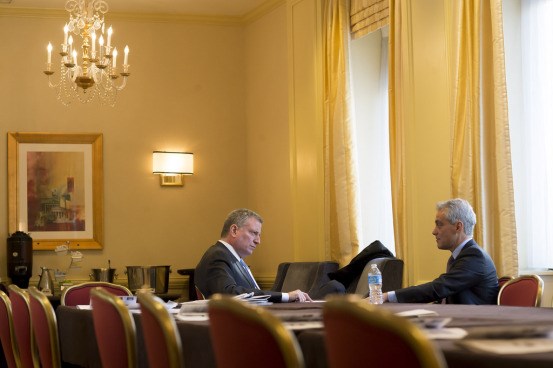 In a speech in front of the U.S. Conference of Mayors Thursday morning in Washington, Mayor Bill de Blasio called on his fellow mayors to forge a "new national urban consensus together," which included priorities like universal Pre-K, paid sick leave, affordable housing and an upgrade in the transportation infrastructure that brings into the 21st-Century, reported Politicker.
De Blasio, who also held a private meeting with Chicago Mayor Rahm Emanuel while he was in town for the visit, went on to tout the power of grassroots organizing to change federal lawmakers' minds.
"If you talk to everyday people in cities all over this country, they know the federal government is not providing the support they need for their cities to thrive. We've got to get their voices to be heard more deeply in Washington," said de Blasio.
"My argument is that the voices of the people and the needs of the people are not breaking through the debate in Washington. It's our job at the grassroots to bring those voices forward."