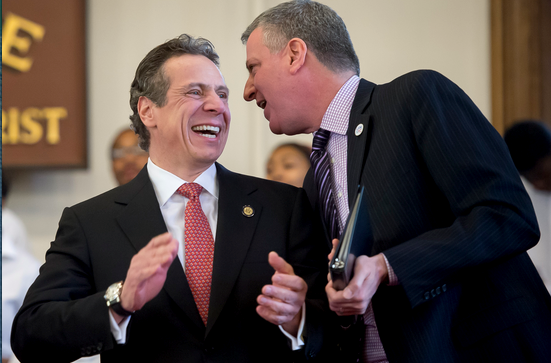 Mayor Bill de Blasio is heralding a proposal Gov. Andrew Cuomo set forth over the weekend to raise the state minimum wage to $10.10 per hour, City & State reports.
The mayor first floated the proposal-- originally introduced by President Barack Obama-- to Cuomo in the early part of his administration of a $10.10 minimum wage with an option for an additional 30 percent increase (just over $13) in New York City.
Cuomo, who previously opposed giving local governments the ability to set their own minimum wage, reportedly caved on that stance as part of the recent deal brokered by de Blasio with the leftist Working Families Party in return for their endorsement of Cuomo.
De Blasio repeatedly has blamed the $7.25 minimum wage on the city's gaping income inequality and the reason why so many New York City residents can no longer afford housing and other basic costs of living in the city.
"[It] has been a huge part of that problem," he said. "Getting to $10.10 immediately, in the next session in 2015, next year, and then giving localities the ability to go farther, is a huge step forward.
"It's a historic step forward. It's going to make a huge difference for New Yorkers."