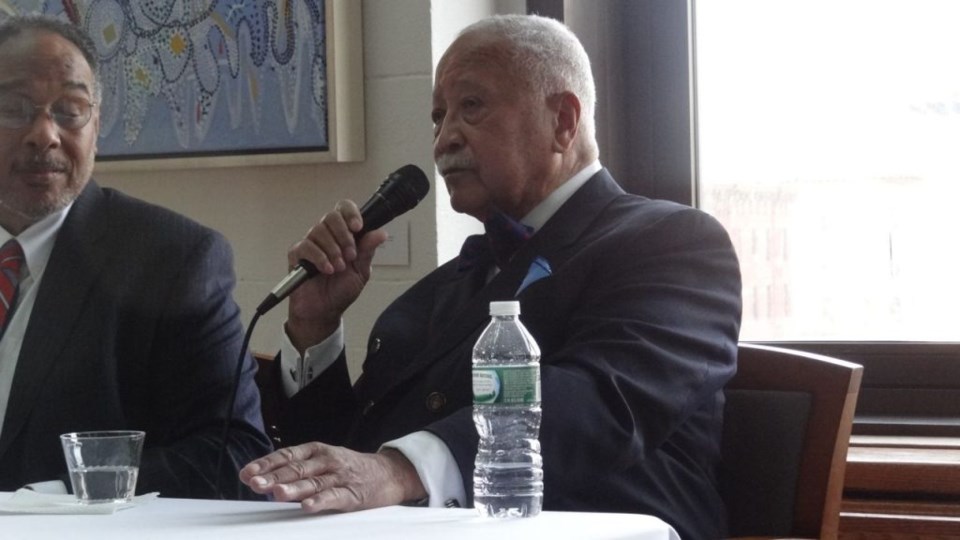 Former New York City Mayor David N. Dinkins was at the Skylight Gallery in Bed-Stuy on Saturday to discuss his new memoirs, "A Mayor's Life: Governing New York's Gorgeous Mosaic."
The book chronicles Dinkins's journey through local New York City politics as an assemblyman, city clerk, Manhattan borough president and as the first and only, African-American mayor of New York City.
Born David Norman Dinkins in 1927 to a domestic worker and barber, David Dinkins spent his childhood years in Trenton, NJ and Harlem, NY. After graduating from high school in Trenton, Dinkins received his Bachelor of Science degree in Mathematics from Howard University.
His studies at Howard were interrupted when he enlisted in the Marine Corps during World War II. Dinkins later married Joyce Burrows, who also attended Howard.
At the urging of his father-in-law Daniel Burrows, who was a state assemblyman, Dinkins began to consider a career in politics, and graduated with a law degree from Brooklyn Law School.
After garnering an impressive track record in the tough field of New York City politics, David Dinkins was elected the first African-American mayor in New York City history. He successfully triumphed in the election over Ed Koch and Rudy Giuliani and served as mayor from 1990 to 1993.
As mayor, Dinkins launched initiatives that continue to positively impact how the city is governed today. Dinkins developed "Safe Streets, Safe City" to combat crime; brokered peace during racial conflicts and began efforts to revitalize Times Square, which saw its transformation into a safer, family-friendly destinations for all New Yorkers and tourists to enjoy.
Although, David Dinkins is no longer an elected official, he remains active in New York City politics and mentors the next generation of public servants as a Professor in the Practice of Public Policy at Columbia University's School of International and Public Affairs.
Saturday's event included a conversation between Mayor Dinkins' former Chief of Staff, John Flateau, followed by a moderated question and answer session and book signings.