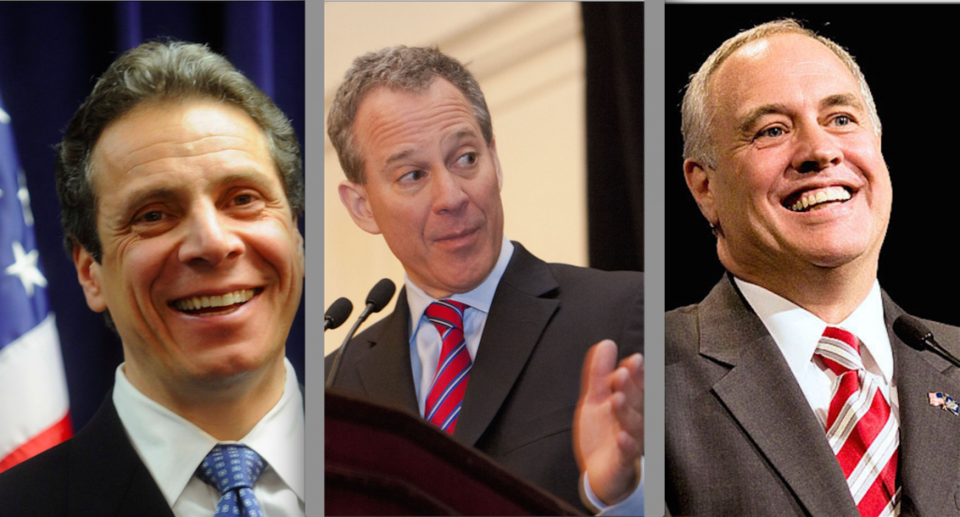 It was "a rough night for a lot of the causes we care about in America," said Eric Schneiderman during his acceptance speech Tuesday night, referring to the major GOP gains made in seats all around the country.
But still, dreams were dashed for Republicans-- in New York, at least-- as Democrats locked in all three statewide offices.
By midnight Wednesday, Andrew Cuomo already had become the clear winner in his reelection bid for New York State Governor with 1,304,704 votes, compared to Rob Astorino's 920,450. The Green Party's Howie Hawkins finished with 144,008 votes.
"Thank you for four more years," he yelled over hundreds of roaring supporters while his father former Gov. Mario Cuomo stood by his side. "We're going to do more great things. We're going to take this state even higher. You ain't seen nothing yet."
In his acceptance speech, his plans for the state sounded not unlike his speeches on the campaign trail:
"We are just getting started," Cuomo said. "We're going to raise the minimum wage for working families. We're going to pass the Women's Equality Act because discrimination and inequality against women stops in New York state.
"We're going to pass public finance. We're going to pass the DREAM Act. We're going to attack property taxes that are strangling New York homeowners. And we will not stop until our education system is the best in the nation because our children don't deserve second best."
Democratic Attorney General Eric Schneiderman and Comptroller Tom DiNapoli also cruised to victory in their bids for reelection, locking in the other two statewide offices.
With two-thirds of precincts reporting, Schneiderman held the lead 58-39 percent against his GOP opponent John Cahill, an attorney and former top aide to Gov. George Pataki.